Leave your wallet at home and pay with your mobile phone
| 26.02.2018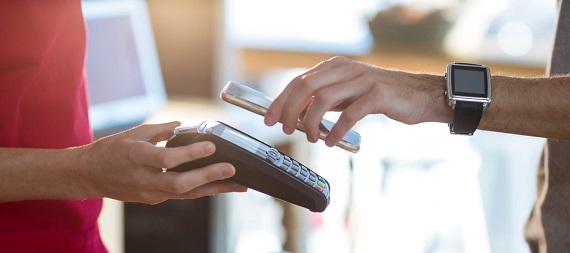 In Slovakia we have been using our mobile phones for payments since 2012. We were even the first European country to introduce mobile payments on iPhones. Mobile payments on Android devices followed; though it depended on each specific mobile network operator. Special SIM cards were necessary as well as NFC mobile phones that allowed making mobile payments. And this is another area of progress. Today, we use our phones to make contactless payments thanks to HCE (Host Card Emulation) technology that does not need any specific mobile network operator for mobile payments. What is sufficient is the app MobilePayTB.
Where can I pay with my mobile phone?
MobilePayTB allows you to make payments at places that accept contactless card payments as the application has a full list of your available cards. You only choose which card should be used for the payment, bring your mobile phone close to the terminal and the payment is made within seconds.
How can I pay with my mobile phone?
MobilePayTB is used like contactless cards. If the amount to be paid is below €20, you don't even need to unlock your phone. You only have to light up the display and bring the phone close to the terminal. For higher amounts you need to open the app, select the PAYMENT + PIN option, enter your PIN code directly into the app and bring the phone close to the terminal.
Data connection not needed
MobilePayTB allows you to make contactless payments online and offline. Thus, you will not have problems with any payment abroad, even without an internet connection. Please understand that contactless payments by mobile phone work in the same way as payments made with a standard payment card, with the aggregate daily limit for PIN-free payments of €60. This means that the limit for contactless payment cannot be exceeded if your mobile is lost or stolen.
Safe online payments
n addition to contactless mobile payments, MobilePayTB also offers other functions. A very interesting one is the possibility to generate a one-time card number for online payments; this functionality makes online purchases safer than ever. The app will only provide the vendor with a so-called token, i.e. one-time card data. Such data can only be used only for one transaction, which is a measure to prevent any misuse. In this way your card details have maximum protection against misuse.
What do I need to use MobilePayTB ?
MobilePayTB is an application available for all clients of Tatra banka with an Android smartphone version 4.0 or higher. NFC smartphones with the Android operating system version 4.4 or higher are necessary to make contactless payments. This technology does not require any specific mobile network operator or any special SIM card as it was in the past.
www.tatrabanka.sk | Dialog: *1100 | Tatra banka a.s.
https://www.tatrabanka.sk/en/about-bank/innovation/innovative-banking/