Three tools that keep your finances under control
| 14.02.2018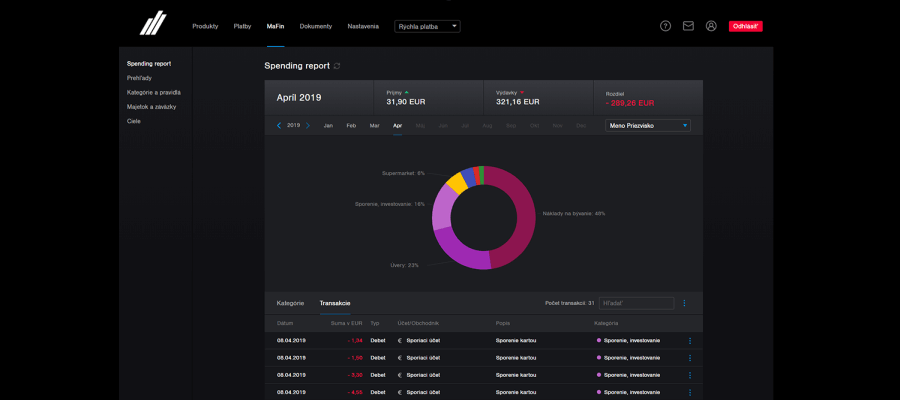 FinMa can provide you with a quick overview of your overall financial situation. FinMa stands for financial management and it is always at hand. MaFin can be found directly in Internet bankingTB and in Tatra banka mobile app.
FinMa gives you three tools that will provide you with information about your past income and expenditures, your current assets and the financial reserve you need to create to achieve your future goals.
Spending report is the first tool; it is an interactive donut chart with various financial categories, distinguished in color, that are expressed as a percentage of total expenses for the month. It is also perfect to set caps for individual items. If the limit is exceeded, you are automatically notified by the Spending Report that you have spent more than you intended. Let's say the maximum amount you are willing to spend on clothes in a month is €200; you set a cap of €200 in the Spending Report and if the limit is reached an exclamation mark appears next to this item.
Assets and Liabilities Balance is another useful tool; it allows you to see an overview of your financial situation. Moreover, you can add your assets outside Tatra banka to the overview, such as your car, real property or liabilities, such as leasing or borrowing from a friend. In this way you have an overall overview of your financial situation in one place and at any time you need it.
www.tatrabanka.sk | Dialog: *1100 | Tatra banka a.s.
https://www.tatrabanka.sk/en/about-bank/innovation/innovative-banking/three-tools-that-keep-your-finances-under-control/