Notification of fraudulent e-mails
| 26.10.2015
Dear clients,
We would like to notify you of fraudulent action called phishing. It is a suspicious e-mail communication with the aim to obtain sensitive data of clients.
A fraudulent e-mail makes an impression that the sender is Tatra banka. It contains a reference to a fraudulent website and asks the clients under different pretences to enter personal and identification data (e.g.: name, surname, telephone number, PID and password for Internet bankingTB, payment card number and CVV code).
Please note that Tatra banka never asks from its clients verification of their personal data in this manner. This applies both to e-mail and telephone communication. Do not reply to such an e-mail or click on its attachments or links. In the future it is necessary to immediately contact the bank in similar cases via DIALOG Live.
Example of fraudulent website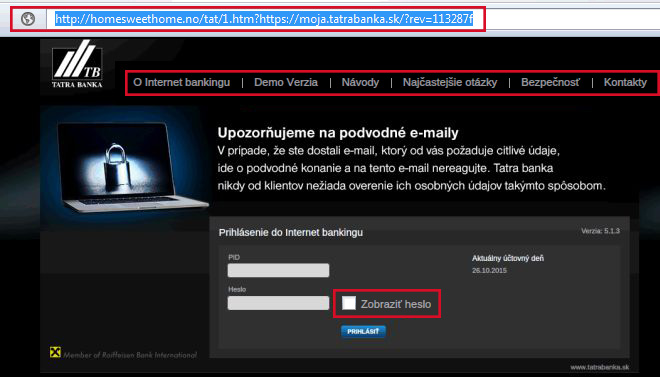 The communication channel between the client and Tatra banka is secured by SSL technology. This means that after you log in Internet bankingTB, you are connected via a secure connection. The secure connection can be identified on basis of the URL address which starts as https://moja.tatrabanka.sk or according to a hanging lock which is displayed in the right bottom corner of your browser. After clicking on the symbol of the lock, information about who issued the certificate, to whom the certificate was issued, validity period, serial number and control imprint is displayed. The certificate of the server moja.tatrabanka.sk was granted by the renowned certification authority Symantec. This certificate servers for verification of the identity of the server to which you connect via SSL protocol.
Official website of Tatra banka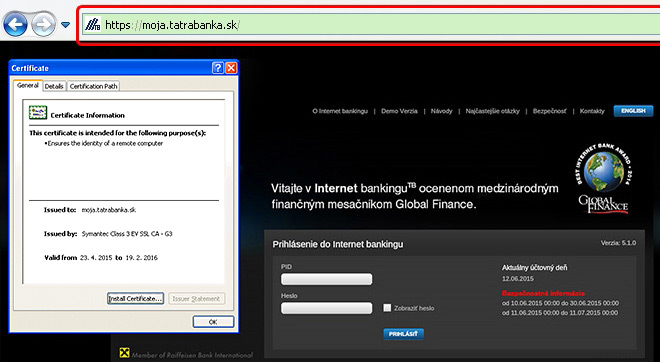 Yours faithfully,
Tatra banka
www.tatrabanka.sk | Dialog: *1100 | Tatra banka a.s.
https://www.tatrabanka.sk/en/about-bank/news/notification-fraudulent-mails/