A card created by the voice
| 01.06.2015
Tatra banka introduces the new limited edition credit card devoted to the talented soprano Adriana Kučerová. The stylish design on the 12th limited edition credit card is the result of a combination of an exceptional voice and unique technology.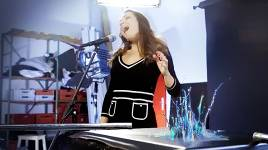 Tatra banka's clients can get a credit card depicting the unique soprano voice through cymatics - an attractive sound visualization method. Adriana Kučerová evaluates positively her new experience with the technology: "I was absolutely fascinated by the process of creation, the way it produced colors and by beautiful images that can be created using this process. I was spellbound."

When creating the design of the limited edition credit card, the soprano with her voice transformed into the visual form the aria Je veux vivre (I want to live) from Gounod's opera Romeo and Juliette.
Look at how the card design was created: https://www.youtube.com/watch?v=Y41e-NbptKY
For the twelfth year, Tatra banka has devoted its limited edition credit card to a distinguished Slovak figure. Tatra banka's previous limited edition credit cards have been devoted to P. Barabáš, A. Brunovský, J. Satinský, K. Kállay, P. Lipa, M. Kren, Ľ. Feldek, E. Šille, R. Roth, the young sportsman M. Kližan and the director J. Króner.
All Tatra banka's clients can apply for a private limited edition VISA credit card from 1 June 2015 until stocks last.
A stylish card featuring many benefits: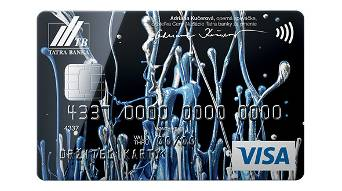 100 percent discount on the monthly fee with monthly payments of at least €300. Clients who make payments of €150 will get a 50 percent discount on the monthly card fee.
47-day interest-free period - if clients repay the full charged amount within this maturity period, there is no interest assessed.
A €30 summer bonus will be credited to all clients who buy the new private VISA credit card and make payments of at least €300 (single purchase or total) from June 1 to August 31, 2015 (payments must be cleared by August 31, 2015).
On the occasion of launching the limited edition credit card, Tatra banka also introduces the new Facebook Voice art app, in which a user's voice will revive colors, creating a unique work of art.

Contact for further information:
Zuzana Povodová
Spokesperson
zuzana_povodova@tatrabanka.sk
02/5919 1557
www.tatrabanka.sk | Dialog: *1100 | Tatra banka a.s.
https://www.tatrabanka.sk/en/about-bank/press-releases/a-card-created-voice/