A month in the Little Finance Academy
| 06.04.2017
6,505 pupils from 260 schools around Slovakia have spent a month in the Little Finance Academy. In the Academy they have learnt to responsibly manage their money.

EDULAB is a non-profit organization that has for several years increased the popularity of using modern educational technologies and pointed out the benefits and importance of modernizing education. With its partners, Tatra banka and Agemsoft, EDULAB has used the project learning concept to built the project of the Little Finance Academy, through which children in the first grade of elementary school have gained knowledge in financial literacy in a playful way.

The Little Finance Academy viewed by a teacher
"I have a rule that if I want learning to be interesting to my pupils, it must be 100% fun for me too. Then I can motivate, energize, inspire them or provoke them to act. I try to gradually infect children with my enthusiasm. And this was the case with the project of the Little Finance Academy, which is something new for me, a land unknown and mysterious. Also children were very excited. Role plays in the 1st grade are a proven classic and playing at architects, journalists, bankers is an excellent driving force. The variety and diversity of the activities during project implementation will make sure that children are led to everyday active approach needed to achieve the desired objective, " explained project perception Gabriela Kapjorová, teacher at Pavol Országh Hviezdoslav Elementary School in Trstená.

"Teaching environment is conservative, not only here, but also elsewhere in the world. But we know that at the same time, many teachers seek ways to make their work more efficient, innovative and make the school a little more interesting for children. We are gradually working on this. The most important is to create self-confidence and show teachers that they can do it and there is no need to worry about technology or other teaching methods. And then it works by itself. There was a keen interest in the Academy on the very first registration date when the capacities were already more than full," said Ján Machaj, Director of the non-profit organization EDULAB.

The Little Financial Academy is built on three pillars:
1. Methodological Handbook – teachers can implement in their teaching more than 60 educational activities supplemented with interactive exercises and motivational videos. The Methodological Handbook is created by working teachers and uses innovative educational methods such as teamwork, peer education, role plays and the like.
2. Digital educational content – pupils can also learn through games at home, together with their parents they will find interactive exercises, motivational videos and supplementary materials on www.kozmix.sk, which will help them to improve their knowledge in a playful way.
3. Our Town game – children learn best through play and experiences. The game is thus based on a simple principle – children themselves create their own money, their class currency. During their lessons their teacher leads them through various activities to gaining new knowledge, rewarding the effort and skill of pupils with the created class currency. With this money they then buy from the teacher the material for the construction of their (paper) town. In simple situations they practice the necessary skills – what is income, what expenses, what a budget and how to manage all this sensibly. Playing a game promotes teamwork – pupils work in groups, each of which takes care of a part of the town. This game also supports creativity because the town is created according to pupils' imagination and plans. And in the end they also train their presentation skills, when they together present the town to their parents.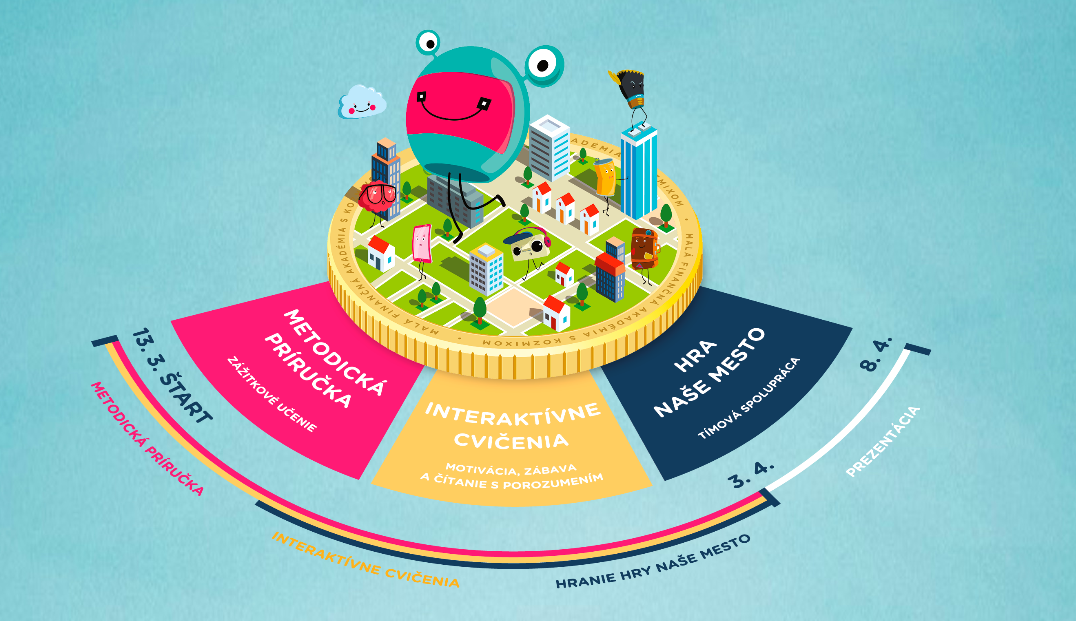 Picture: The picture represents project learning phases at the Little Finance Academy.

The project of the Little Finance Academy was prepared by the non-profit organization EDULAB with the financial support of Tatra banka and technical support of Agemsoft. "Many people say that they understand money, but surveys and practical experience prove the opposite. Therefore we consider it necessary to lead children at elementary schools to financially responsible behavior. We believe that the project of the Little Financial Academy will contribute to improving the financial literacy of children and become an inspiration for other companies interested in improving education in Slovakia," added Peter Matúš, Member of the Management Board of Tatra banka in Charge of Retail Banking.

All project activities are based on the national financial literacy standard, a document that precisely specifies the target requirements for various school grades. The activities are always designed to meet the requirements defined in this standard. As part of the project, EDULAB also cooperates with working teachers, so it is mainly inspired by their experience and imagination.

The Little Finance Academy is designed particularly for pupils of the 3rd and 4th year of elementary school and will continue at the participating schools until 8 April 2017 at the latest. Project results will be published after processing project deliverables.

Project information is available on akademia.kozmix.sk.
Media contact:
Milan Kisztner
neuropea
+421 917 764 896
kisztner@neuropea.com
Zuzana Povodová
Tatra banka
+421 903 641 846
zuzana_povodova@tatrabanka.sk
www.tatrabanka.sk | Dialog: *1100 | Tatra banka a.s.
https://www.tatrabanka.sk/en/about-bank/press-releases/a-month-little-finance-academy/