Banking Technology Award for Tatra banka's innovations
| 26.11.2014
Tatra banka was one of two banks to receive the Judges' Special Mention at Banking Technology Awards presented in London last week.
On November 20th, 2014, the best IT projects were chosen from among 120 entries submitted by thirty global banks as part of the 15th annual Banking Technology Awards.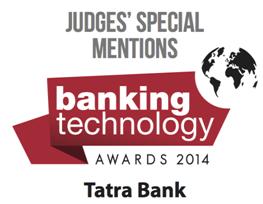 Tatra banka received a Judges' Special Mention for the services including Voice Biometrics (Hlasová biometriaTB), 3rd generation Internet bankingTB, Tatra banka, Mobile payments and Tatra banka VIAMO. This award is presented to companies whose services impressed the judging panel for their innovation, execution and impact.
"We are extremely pleased that Tatra banka made an impression in an international banking competition. Services awarded by a Judges' Special Mention are special given their added value for clients: today clients only need a smartphone to make various transactions, make contactless payments at stores, pay for goods in an e-shop or settle accounts with friends for small payments. And moreover, clients only need a mobile phone to withdraw cash from an ATM as well," said Juraj Bojkovský, Director of the Electronic Distribution Channels Division at Tatra banka.
3rd generation Internet Banking
Internet bankingTB has been the most frequently used tool to make payments by Tatra banka clients for a long time. Less than 3 percent of transactions are now made via branches, while Internet bankingTB and the Tatra banka mobile application account for more than 40 percent of transactions. In total, 97 percent of transactions at Tatra banka are made electronically. It is used at least once a month by about 250,000 clients - making about 1.7 million transactions every month.
Tatra banka mobile application
More than 160,000 users have activated the Tatra banka application. Almost 70 percent of them actively use it at least once a month. Clients most frequently check their current account and credit card balances and movements or enter payment orders.
Tatra banka VIAMO
Currently, over 60,000 clients use Tatra banka's VIAMO to pay their friends and acquaintances - with monthly payments totaling more than € 500,000. The average transaction amount is almost € 20, and has been growing.
Mobile Payments mobile application
Tatra banka has the second largest number of clients using the Mobile Payments service in Europe. We have issued more than 13,500 cards. In the past 3 months, our clients have made mobile payments totaling more than € 500,000, with the average payment of € 17.
Voice Biometrics (Hlasová biometriaTB)
For more than a year, Tatra banka's clients only need their voice to address their bank issues. More than 200,000 clients have created their voice samples so far and the service has quickly become very popular. The identity of about 30,000 clients is verified by their voice every month, which is more than 85 per cent of all callers.


For additional information, please contact:

Marína Masárová
Spokesperson
marina_masarova@tatrabanka.sk
02/5919 1593
0911 328 007
Zuzana Povodová
Media Relations Manager
zuzana_povodova@tatrabanka.sk
02/59191557
www.tatrabanka.sk | Dialog: *1100 | Tatra banka a.s.
https://www.tatrabanka.sk/en/about-bank/press-releases/banking-technology-award-tatra-bankas-innovations/