Financial results for 2013
| 28.03.2014
Last year was successful mostly for housing loans and consumer loans for any purpose. Slight increase recorded also deposits from customers. Consolidated after-tax profit reached level of € 97.2 mil. The consolidated capital adequacy ratio was 16.6 per cent.
"The banking environment in Slovakia continued to be challenging in the previous year. From the perspective of Tatra banka, one of the challenges was definitely the preparation for the implementation of SEPA payment standards and the gradual tuning of the systems in line with the needs of the ECB supervision. However, our clients primarily expect from us high quality services regardless of requirements of the regulatory authority or economic situation on the market. Therefore I am glad that last year we successfully introduced new banking services and thus increased our client's satisfaction regarding their daily financial needs," said Igor Vida, CEO and Chairman of the Board of Management of Tatra banka.

Key financial indicators
The consolidated after-tax profit of the Tatra banka Group slightly decreased by 6.1 per cent year-on-year or € 6.4 million to € 97.2 million. The decrease in profit was affected by the optimization of organizational structure within the Group. This was also the reason for an increase in the cost-income ratio from 52.4 per cent in 2012 to 55.8 per cent in 2013 (calculated without influence of special bank levy, such a calculation better express operating effectiveness).
A special government levy on selected financial institutions, so called bank tax, totaled € 31.8 million, a year-on-year increase of 12.4 per cent (€ 3.5 million).

Development of income and expenses
An increase in net interest income was the result of a growing number of client loans and a decrease in interest expense on long-term deposits. Cost reduction was associated with optimization of the liabilities side of the bank's balance sheet and with the decrease in rates on financial markets in 2012, which was reflected in term deposits with some delay. Both these effects contributed to the increase in net interest income by 6.4 per cent to € 295.9 million.
Net commission and fee income was up 4.2 per cent year-on-year to € 114.8 million. The growth in fee income was due to a higher number and amount of cashless transactions via payment terminals, which was assisted by their growing number and even more frequent use of innovative payment methods such as contactless and mobile payments.

Development of assets
Loans to customers grew by 3 per cent to a total of € 6.58 billion. The increase in loans to customers was mainly attributed to housing loans and consumer loans for any purpose. Compared to 2012, Tatra banka's loan portfolio secured by property granted to private individuals increased by more than 10 per cent. The bank's Any Purpose Classic Loan (Bezúčelový úverTB Classic) portfolio grew by more than 16 per cent in 2013, outperforming year-on-year market growth. There was a slight decrease in loans provided to the corporate segment.
The share of non-performing loans in the total portfolio decreased from 5.2 per cent to 5.0 per cent, which shows a better quality of the bank's loan portfolio than that of the entire banking sector.

Development of liabilities and equity
Deposits from customers increased to € 7 billion. The growth was recorded particularly in current accounts. There was a decrease in term deposits.
The consolidated ratio of loans to deposits was 93.9 per cent as of 31 December 2013, which gives Tatra banka Group sufficient space for expansion of its credit portfolio.
The consolidated capital adequacy ratio was 16.6 per cent as of 31 December 2013, increasing by 137 basis points year-on-year, which was substantially more than the value requested by the National Bank of Slovakia.

Another year of innovations
In 2013 Tatra banka continued to be an innovator on the Slovak banking sector. Thanks to enhanced Contactless mobile paymentsTB (for users of Android smartphones serviced by O2 and Orange mobile operators) Tatra banka clients were able to perform as many as 30,000 mobile payments with a total volume of almost € 420,000 by year-end 2013. Tatra banka continues in being the only bank in Slovakia that offers this kind of banking service innovation. This is one of the reasons why VISA Europe chose Slovakia as its "hero market" in 2013.
Tatra banka clients used mobile banking services in 2013 also by means of the Tatra banka application. Thanks to the gradual functional enhancement of the application and the increasing penetration of smartphones in Slovakia the number of the Tatra banka mobile application users has more than tripled, while the number of activated applications exceeded 100,000. Number of transactions executed via the Tatra banka mobile application more than tripled in 2013 compared to 2012.
Tatra banka clients also continued to use the possibility of drawing the pre-approved Non-specific loanTB nonstop via the 24/7 mobile application. In 2013, almost 4 per cent of pre-approved Non-specific loansTB with a total volume of EUR 5.5 million were provided through Tatra banka mobile application.
In June 2013 Tatra banka introduced unique peer to peer payments in cooperation with VÚB bank and company VIAMO that significantly simplified cashless money transfers between bank accounts. Sending money through Tatra banka VIAMO has quickly become very popular and the application was utilised by more than 33,000 Tatra banka clients until the end of 2013.
Spending reportTB functionality in Internet bankingTB allows clients to keep track of their incomes and expenses by means of interactive graphs and is another unique service that was introduced last year.
Tatra banka as the first bank in Slovakia and one of the first banks in Europe has brought its clients Voice biometricsTB via DIALOG Live in 2013. Since its establishment in June 2013 the service has recorded a massive response from clients and DIALOG Live created more than 110,000 voice samples by year-end 2013. DIALOG Live started to offer clients the service MortgageTB with online consultation in terms of extending its services in November 2013. A client is not only able to hear a mortgage loan specialist but also see him/her online and this way get professional advise without the necessity of visiting a branch office.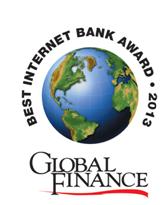 Continuing efforts of Tatra banka resulted in more than 88 awards in total in the 23 years of its operation on the market.
Tatra banka was awarded another three prestigious awards by the international magazine Global Finance in 2013:
Best Consumer Internet bank in CEE
Best Web Site Design worldwide
Best in Mobile Banking worldwide
Contact for media:

Marína Masárová
spokesperson
marina_masarova@tatrabanka.sk
02/5919 1593
www.tatrabanka.sk | Dialog: *1100 | Tatra banka a.s.
https://www.tatrabanka.sk/en/about-bank/press-releases/financial-results-2013/