Higher level of Internet banking TB
| 26.11.2015
Tatra banka innovates again. This time it offers new Internet bankingTB features including an overview of Assets and liabilities and an extended online card management, including payment card blocking. There are also new elements in the graphic display of product.
Tatra banka's clients can use new features of Internet bankingTB that extend clients' options to manage their own funds. The introductory Dashboard screen has also been upgraded.

New graphical elements

The introductory Dashboard screen has been replaced with a new graphic display of products.

"The Dashboard is composed of widgets - graphical elements displaying information about client's products (account, credit card, loan, supplementary pension saving, TAM funds), exchange rates, Spending reportTB and Tips and news. The Dashboard also facilitates quick access to Internet bankingTB bookmarks, for example to the Accounts bookmark or Pending payments bookmark," said Julia Gregáňová, Head of the Internet Banking Development and Support Department.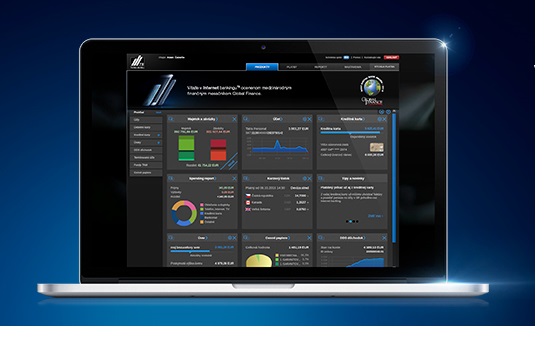 "A total of 16 various widgets are available to choose from in order to create your own Dashboard, depending on which information and products you find most relevant. Widgets can be added, removed or reordered by clicking on icons," added Gregáňová.

Picture 1: New graphic display of the Dashboard composed of widgets
Higher security with Online card management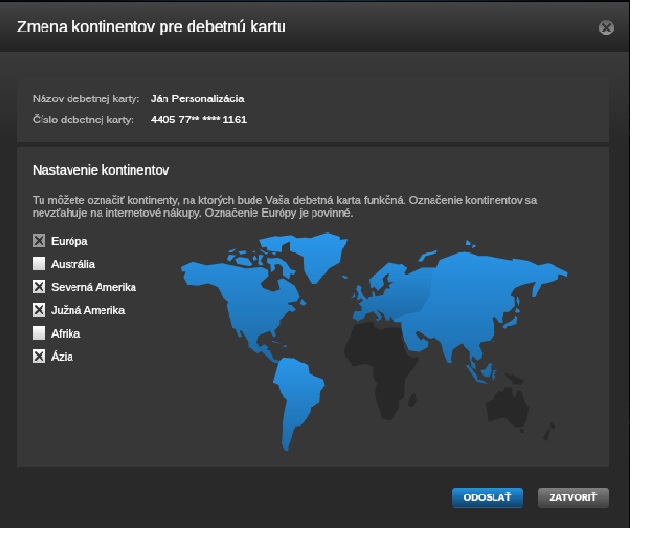 Security comes first for Tatra banka. That is why with the Online card management service, you can now choose continents on which you want to allow payments via payment terminals and ATM withdrawals. Just a few clicks to change a continent so you can simply protect your card from any skimming and misuse in countries you do not regularly visit.



Picture 2: Continent management in Internet bankingTB
You can also manage limits on credit and debit cards such as maximum daily limit, cash limit and internet limit.
Another new feature is payment card blocking. If necessary (card theft/loss) you can quickly block your payment card to prevent undesired card use.

Better overview of assets and liabilities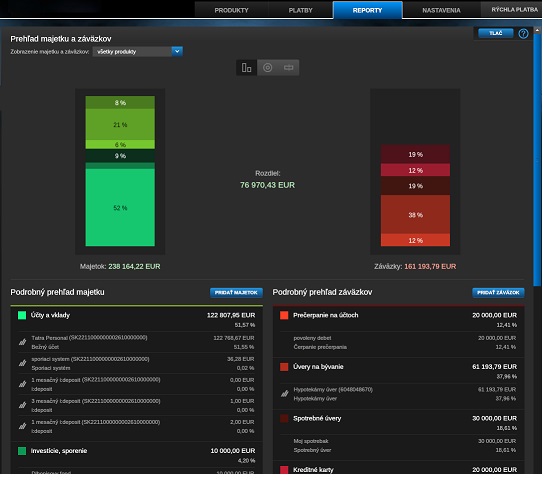 The new feature Assets and liabilities offers a clear view of all your assets and liabilities with Tatra banka. Moreover it offers an option to record financial products outside Tatra banka or your other own assets and liabilities. The list is displayed in a clear table with a number of graphic display options.





Picture 3: View of the new Assets and liabilities feature

Contact:
Zuzana Povodová
Spokesperson
zuzana_povodova@tatrabanka.sk
02/5919 1557
0903 641 846
Mária Mahútová
PR Manager
maria_mahutova@tatrabanka.sk
02/5919 1186
0911 407 285
www.tatrabanka.sk | Dialog: *1100 | Tatra banka a.s.
https://www.tatrabanka.sk/en/about-bank/press-releases/higher-level-internet-banking-tb/