Increasing financial literacy in Slovakia
| 24.04.2015
In cooperation with Challengest, Tatra banka prepared a challenge for students, in which they could apply their knowledge and try to find a solution to increase financial literacy in Slovakia. The winners won an internship with the bank and also professional preparation for a job interview.
Students thoroughly considering the issue most frequently pointed out the danger of poor awareness of advantages of individual financial products. Great emphasis was put on creating a financial reserve or monitoring expenses.
Interesting statistics: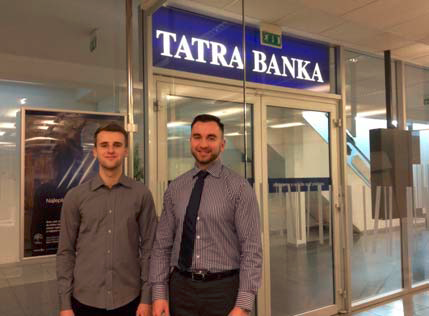 90% of students expect the bank to educate them about finances
70% of students recommend using online communication
40% of students are interested in managing their finances through mobile apps
30% of students would welcome education at schools where they study
"The change in the target group is necessary, because we cannot force people to be interested in something. Consequently, it is necessary to raise a generation that will understand how important it is," says Jozef Bedlek, who focused in his work in increasing financial awareness through online campaigns.
Internships took place from February to April this year, according to winners' preferences. The winners chose the time and the branch as well. The internships took place in Bratislava and Košice.
"We aim to provide students in particular with experience and valuable information from the field, which, according to their own words, they lack. In this case it was through the days spent directly in the center of all banking action - at a Tatra banka branch," says Branislav Vargic, Director of the Human Resources Division.
"My internship took place at the branch on Štúrova 14/28 in Košice. I learned about the work of service consultants, financial advisors, personal bankers, managers, as well as the branch manager. But I did not just observe. I was actively involved in personal meetings with clients and the staff willingly answered all my questions," says Kamil Kubík, a winner who was the first to try work at a branch.
The next meeting with students
We would like to draw the attention of those interested in innovations and the world of technologies to the upcoming Night of Chances Technology career event. Nextria will bring together the most interesting representatives of well-known companies and the brightest IT students.
When: April 28, 2015
Where: FIIT, Ilkovičova 2, Bratislava
Program:
Students have the opportunity to learn about the practical application of technologies and also discuss professional topics and their future employment opportunities with company representatives.
18:00 panel discussion in the presence of V. Matouš (CIO, Tatra banka)
For more information visit: https://nightofchances.com/
More about Challengest
Challengest is an organization that connects students and companies through tasks, or challenges, assigned to students by companies. By solving the challenges they not only gain valuable experience, but often win interesting prizes. Tatra banka is the main partner of Challengest. In the past this cooperation resulted in Tatra banka Private banking Challenge and CEO Challenge that were extremely successful with students.
Very soon we will also learn who has become the winner of our challenge that has just been completed and focused on the loyalty program. The most successful student will not only get a gift card with €100, but also the opportunity to be personally involved and influence further work with the student segment in Tatra banka.

Contact for further information:
Zuzana Povodová
Spokesperson
zuzana_povodova@tatrabanka.sk
02/5919 1557
www.tatrabanka.sk | Dialog: *1100 | Tatra banka a.s.
https://www.tatrabanka.sk/en/about-bank/press-releases/increasing-financial-literacy-slovakia/