Investments in 2020: "Stocks will be necessary"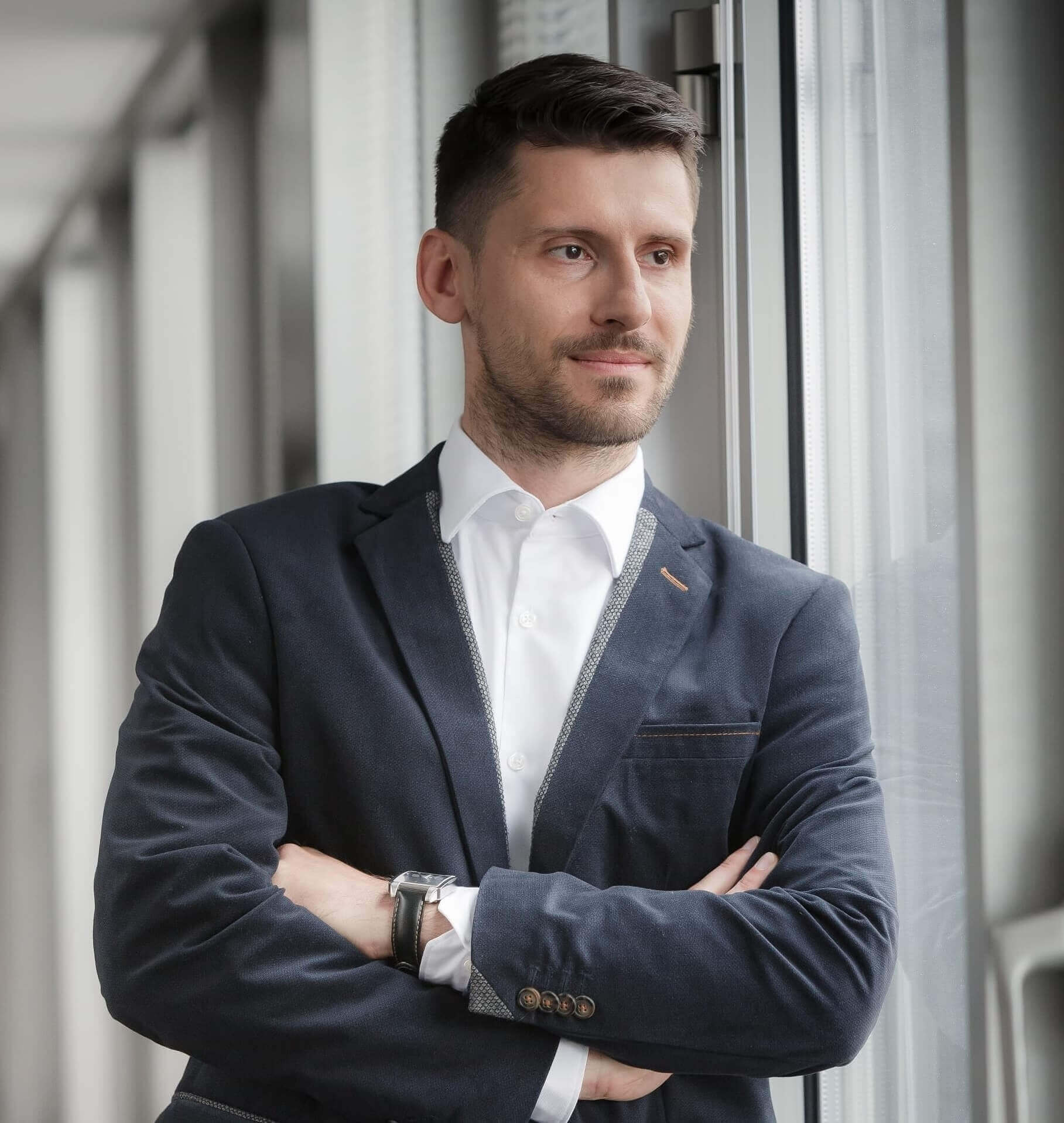 Autor: Boris Fojtík, ekonomický analytik Tatra banky | 27.01.2020 | 3 min. read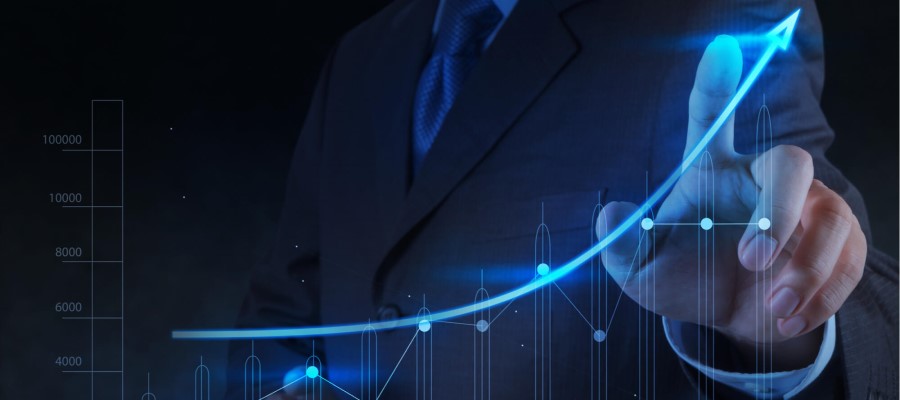 At the time of low interest rates, it is necessary to seek solutions with a return potential. Mutual FundsTB again achieved excellent results in 2019.
Main facts:
Customers' assets increased by EUR 116.5 million thanks to Mutual FundsTB
The average performance of Mutual FundsTB was 5.9%
All funds currently on offer recorded positive returns
Investment in mutual funds represents an effective and modern method of increasing savings. A mutual fund gives even people without any investment experience an opportunity to increase their funds through financial markets. It is simple for customers because all investment decisions are made for them by professionals. They can thus devote their time to more fulfilling activities.
Tatra Asset Management, the largest Slovak manager of mutual funds, which manages Mutual FundsTB for Tatra banka, has a reason to be satisfied. "Our customers had the most successful year in our history. Expressed in figures, we increased their assets in Mutual FundsTB by EUR 116.5 million. The average performance achieved by all our mutual funds was 5.9% in 2019," said Marek Prokopec, Chairman of the Management Board of Tatra Asset Management.
"A simple rule applied in 2019. The higher the share of stocks, the better the achieved result. Most popular conservative funds, such as Smart FundTB, Premium HarmonicTB and Balanced FundTB, saw excellent returns of +5.3% to +5.8%. More dynamic funds, such as Dynamic Balanced FundTB, Premium StrategicTB or Dynamic Alpha FundTB earned their shareholders from +8.5% to +9.1% last year. The most dynamic investors saving in pure equity funds could earn 14.4% in the European Equity FundTB, 18.1% in New MarketsTB and even 28.7% in the American Equity FundTB. "On the background of zero rates it is a fantastic result," added Martin Ďuriančik, Vice-Chairman of the Management Board of Tatra Asset Management.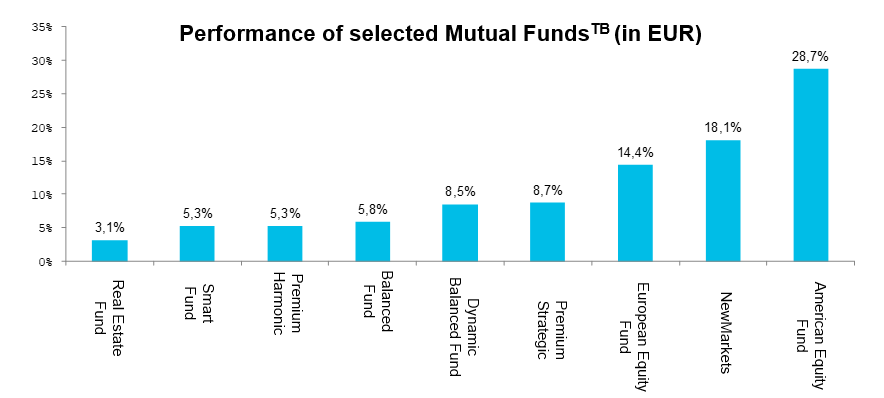 "We are living on the background of zero rates, with standard deposit products offering no return and unable to protect clients' money from inflation. 2020 should be another year when stocks will be necessary. The expected gradual improvement of global economic data, easing of the trade war and a slight increase in business profitability should maintain the bullish (growth) trend in stocks. Equity funds as well as mixed funds containing an equity part can benefit from this. Bond funds will face a challenging period, in addition to low to negative returns on a wide range of maturities of safer government bonds, less support from central banks can be expected, which will push bond yields up and bond prices down," said Michal Májek, Member of the Management Board of Tatra Asset Management.
Every investor should invest in a share of stocks that corresponds to the investor's risk return profile and investment objective. Conservative clients should invest at least 20% in stocks, moderately dynamic clients from 40% to 50%. Average clients should not try to select the stocks of individual companies, it is much more convenient and meaningful for them to invest in a mutual fund with the desired share of stocks in its portfolio. This is the main reason why mixed funds (funds investing in stocks, bonds, real estate investments or commodities) are among the most popular in Slovakia.
For additional information, please contact:
Boris Fojtík, Spokesman, press@tatrabanka.sk, +421 903 641 846
Marketing communication notice: Investment in a mutual fund entails risk and past performance does not guarantee future returns. The value of a mutual fund investment and the related return may go up or down and the shareholder may not get back the full amount invested. The Statute, Prospectus, and Key Investor Information for mutual fund investors are available at Tatra banka, a. s. branches in Slovak. Mutual funds were created and are managed by Tatra Asset Management, správ. spol., a. s., with its registered office at Hodžovo nám. 3, 811 06 Bratislava. Up to 100% of the value of the assets in TAM-REF, TAM-EAF, TAM-SMF, TAM-BLF and TAM-DBLF may be invested in transferable securities and money market instruments issued or guaranteed by an Organization for Economic Cooperation and Development member state. Funds in TAM-PHF, TAM-PSF, TAM-SMF, TAM-BLF and TAM-DBLF may also be invested in investment certificates of money, bond, equity and other open-end mutual funds. Official abbreviated names of mutual funds managed by Tatra Asset Management, správ. spol., a. s., contained in the notice: TAM-EAF TAM - European Equity Fund | TAM-AAF TAM - American Equity Fund | TAM-NMF TAM - NewMarkets | TAM-PHF TAM - Premium Harmonic | TAM-PSF TAM - Premium Strategic | TAM-REF TAM - RealEstate Fund | TAM-SMF TAM - SmartFund | TAM-BLF TAM - BalancedFund | TAM-DBLF TAM - DynamicBalanced Fund |.
www.tatrabanka.sk | Dialog: *1100 | Tatra banka a.s.
https://www.tatrabanka.sk/en/about-bank/press-releases/investments-2020-stocks-will-be-necessary/