Limited offer 2,500 favorable mortgage loan
| 10.04.2015
Tatra banka celebrates its 25th anniversary and on this occasion launches a limited offer of 2,500 mortgage loans with a uniform 2 percent interest rate.
Mortgage loan from Tatra banka now has its limits
• it is only with a 2 percent interest
• it is only offered with a 3-year fixed rate
• it is only for the first 2,500 clients

Advantages:
• mortgage can be arranged without presenting proof of employment income
• cheaper property assessment within 24 hours
• property and loan repayment ability insurance arranged directly at a branch
• credit card for up to 12 months free of charge

A household with a mortgage loan from Tatra banka saves on instalments
Model example:
Loan amount: 70,000 €
Repayment period: 30 years
Monthly instalment at market rate: € 286 (average market rate for February 2015 is 2.75 percent)
Monthly instalment with Tatra banka's offer: € 259 (with a limited rate of 2 percent)
With interest from Tatra banka, a household will save € 324 on monthly instalments a year that can be used for example to buy a new appliance or enjoy a summer vacation.
The amount saved for the entire repayment period is € 9,7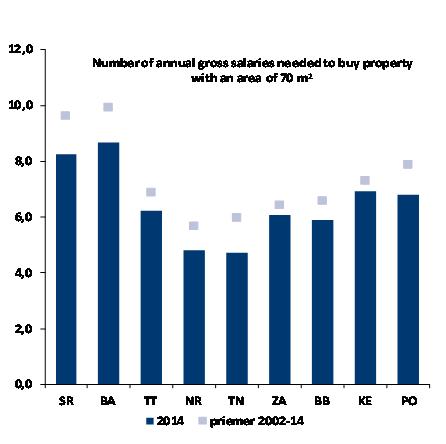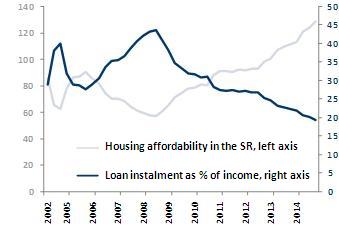 20.
The most favorable terms in the history of Slovakia
Situation in the Slovak real estate market is currently extremely positive. This is evidenced by a number of indicators of housing affordability.
"With the last year's decrease in interest rates on housing loans in the eurozone, housing loans are now provided at the most favorable terms in the history of the Slovak Republic. Low interest rates combined with a fall in real estate prices in recent years have resulted in the highest affordability of housing since 2002," explains Boris Fojtík, an economic analyst.


Less than 9 gross average annual salaries were needed to buy a flat in Bratislava with an area of 70 m2 in 2014, while historically the average value is about 10 annual salaries.
Regions like Nitra or Trenčín require less than 5 gross annual salaries to buy a flat, which is again the saving of one gross annual salary compared to historical average.
Contact:
Zuzana Povodová
Spokesperson
zuzana_povodova@tatrabanka.sk
02/5919 1557
www.tatrabanka.sk | Dialog: *1100 | Tatra banka a.s.
https://www.tatrabanka.sk/en/about-bank/press-releases/limited-offer-2500-favorable-mortgage-loan/