My name is Pepper, I'm the first humanoid robot in Tatra banka branch
| 03.12.2018
From this day, Tatra banka employs the first robot. Pepper is a humanoid robot with a mission to help clients with selected bank transactions.

Who is Pepper?
Pepper is a genuine humanoid companion designed to be able to communicate with you in a natural and intuitive way through its sensors and voice. Pepper is kind, cute and full of surprises.
The Pepper robot was designed by SoftBank Robotics Europe, a company with a leading position in humanoid robotics, whose robots are currently used in more than 70 countries worldwide in various areas of research, education, retail, healthcare, tourism, hospitality and entertainment. More than 20,000 Pepper robots have been sold to date, and you can meet him most frequently in the land of the rising sun, Japan.
Pepper and his senses
He has four microphones located on the head, which allow him to recognize the posture of a person, to communicate and also identify the emotions transmitted by voice.
He is able to fully function in an environment thanks to a 3D camera and two HD cameras he can also identify faces and their emotions.
He uses a tablet to help you decide, inform you of new offers and also to express his own opinions through the tablet.
He can freely move in space, with a maximum speed of 3 km per hour. Pepper is able to keep balance, recognizes people and obstacles to minimize the risk of collision.
He is equipped with a high-capacity battery that provides him with approximately 12 autonomous hours, he weighs 32 kilos and is 120 cm tall.
He has many sensors: two ultrasonic transmitters and receivers, six laser sensors and three obstacle detectors located in his legs. Pepper also has touch sensors in his hands that are used for social interaction.
He uses artificial intelligence in the form of cognitive calculation services, based on which he adjusts his behavior and supplements his knowledge database in real time.
Pepper in Tatra banka
From now on, in addition to branch staff, Tatra banka's clients at selected branches will also be served by the humanoid robot Pepper. Starting this week, Pepper will introduce himself in the Tatra banka branch at the Bory Mall shopping center. Then he will then set out on a big tour of selected branches throughout Slovakia.
"I believe that artificial intelligence is one of the most influential technological trends today," said Michal Liday, Chairman of the Management Board and CEO of Tatra banka. "This trend has a huge potential to significantly influence the future of our lives. Today we offer visitors a unique experience of a branch of the future, because the robot Pepper is not only entertaining, but mainly helpful in branch transactions," added Michal Liday.
What can Pepper do?
The first banking humanoid robot will willingly introduce to you the most frequently used branch services. His task is not only to welcome clients when they enter, but mainly to help them with various banking transactions while saving their time.
This digital assistant can help with financial transactions such as deposit and withdrawal and recommends that clients use a cashomat, which makes their life much easier. As a digital assistant, however, the robot can do much more – he will be happy to help you install mobile banking, retrieve a forgotten PIN code to your card, open an account using face biometrics, draw a loan within 10 minutes, arrange travel insurance and provide you with many other services. Pepper can also appreciate feedback and clients can evaluate him.
Pepper also features a module designed for entertainment, in which clients will learn basic information about robots while discovering that robots can also be funny. He will be happy to have a selfie taken with you. If you upload your shared photograph on your Instagram profile with a hashtag #peppertb, you will be entered in a competition for Ozobot robot, Pepper's smaller friend.
After the pilot phase we expect expansion of Pepper's knowledge and integration of services that will be personalized and tailored to clients.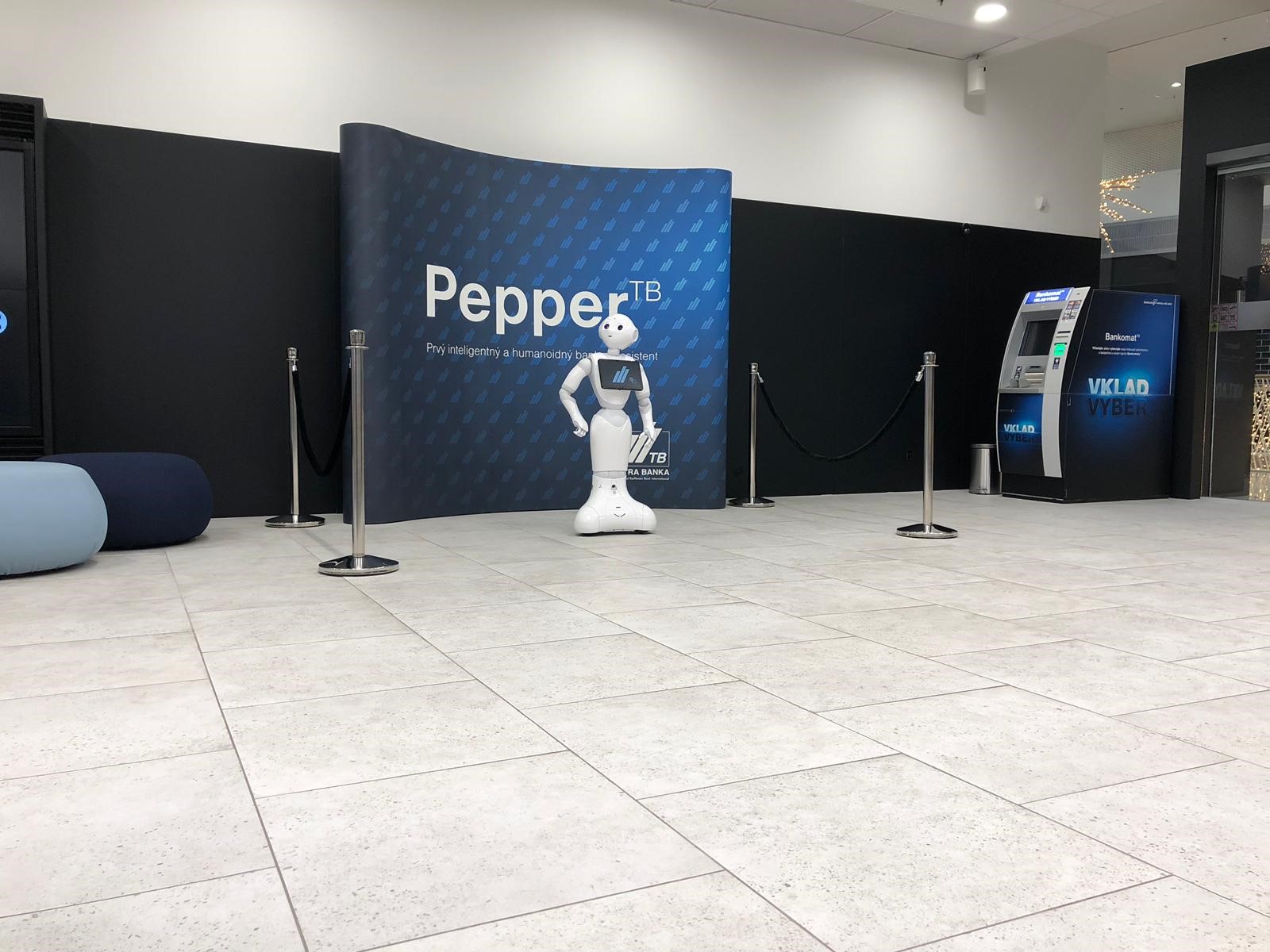 Brief robot history
Machines played a critical role in industrial revolutions. People were relieved of routine work, which enabled them to use their creative potential to a greater extent. The current industrial revolution uses new IT technologies and integrates them very fast not only in innovative companies, but also directly in the consumer segment. Humanoid robots are one of these categories. They have intelligence and gradually appear in factories, offices, airports and retails stores.
We know robots as various forms of "mechatronic" devices (a combination of mechanics, electronics or computers) that may perform tasks carried out by people, but need not necessarily look like humans. More sophisticated robots can recognize human emotions such as happiness, fear, sadness etc. through sensors. Based on their recognition and a number of other parameters they can offer a completely new customer experience.
Media contact:
Zuzana Žiaranová, spokesperson
zuzana_ziaranova@tatrabanka.sk
02/5919 1557, 0903 641 846
www.tatrabanka.sk | Dialog: *1100 | Tatra banka a.s.
https://www.tatrabanka.sk/en/about-bank/press-releases/my-name-is-pepper-im-first-humanoid-robot-tatra-banka-branch/