New version of Tatra banka VIAMO app
| 14.09.2017
A new version of the Tatra banka VIAMO app is now available, introducing a number of useful new features and a complete redesign. The new version is more practical and easier to use.

"Currently almost 110,000 clients use the Tatra banka VIAMO app. More than 70 vendors, 3 courier services, 6 universities and several non-profit organizations now participate in the VIAMO service," explained Lukáš Mochňák, Head of the Mobile Application and Web Development Support Department of Tatra banka.

Interesting statistics (data provided by VIAMO):
VIAMO service users make monthly transactions of €1.85 million
Average payment value has increased from €27 to €37 year-on-year
40% of the total volume of money transfers are constituted by payments of over €150
VIAMO service is used more during working days than weekends: least on Saturday, 7.75% and most on Thursday, 17.79%.
New features in the Tatra banka VIAMO app

1.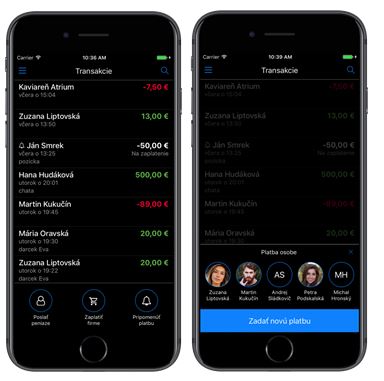 Graphic design
The new design introduces a more intuitive control, more clarity and similarity to the Tatra banka app.

2. List of most frequent recipients
In addition to the option to enter a payment and send a reminder, the bottom menu also lists 5 most frequent recipients to be automatically prefilled in a payment or reminder.

3. Payment reminder to several persons
A reminder of the same amount can be sent to up to 5 recipients at the same time. It is thus easy to collect money for a gift or settle a lunch via a reminder.

4.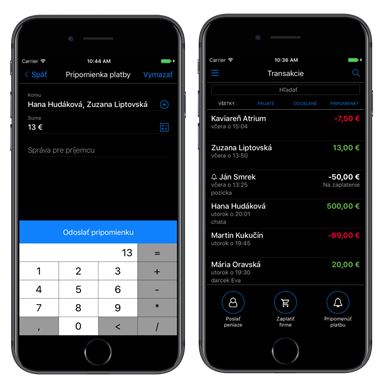 Calculator
Both a reminder and a payment contain a calculator which makes it easy to calculate the desired amount. The resulting amount from the calculator is automatically prefilled as the payment or reminder amount.

5. Search
Search is possible by transaction type (received payment, sent payment, reminder) or by details contained in the list of transactions (amount, recipient, description). Search from the transaction detail will find all transactions from the given recipient.

6. Widget
The list of the most frequent recipients with the payment reference.

7. Other changes
Support for iPhone Plus and tablets/iPad
Extended transaction history – 300 most recent transactions available
Users will find all details about new features directly in the app, in part New features. The new version of the Tatra banka VIAMO app is already available at the Android 4.1+ operating system app store and will also be available within hours at the app store for iOS 9+ operating system.


For additional information, please contact:
Zuzana Povodová
Spokesperson
zuzana_povodova@tatrabanka.sk
02/59191557
www.tatrabanka.sk | Dialog: *1100 | Tatra banka a.s.
https://www.tatrabanka.sk/en/about-bank/press-releases/new-version-tatra-banka-viamo-app/