Now you can use VIAMO to pay for goods and services
| 08.10.2014
Delivery services, discount web portals, and contributions to foundations. Tatra banka's VIAMO app can now be used to pay to businesses and organizations. It is fast and simple.
About a year since the introduction of VIAMO, our clients can now use this application to pay for goods and services. They simply run the current version of the Tatra banka VIAMO, select from the list of businesses and foundations, or just scan a business's VIAMO QR code. The transaction is then confirmed using a four-digit PIN code.
"Currently, almost 60,000 clients use Tatra banka's VIAMO to pay their friends and acquaintances - with monthly payments totaling more than € 500,000. The average transaction amount is almost € 20, and has been growing. Extending the use of VIAMO to include payments for goods and services expands the use of this app, for example to delivery of goods when you do not have the necessary cash available," said Pamela Babuščáková, Head of the Mobile Applications and Web Development Department at Tatra banka. In a recent survey 89 percent of respondents who use VIAMO said that they would like to use the app to pay for goods and services as well.
Benefits for clients:
When making an e-shop purchase, our clients do not need a payment card, and they do not need to log in to Internet Banking and use additional payment authorization devices;
When receiving goods delivered via a delivery service or courier our clients do not need cash, they can simply pay via the Tatra banka VIAMO app, select the business or scan the VIAMO QR code on the business's website.
Benefits for businesses:
Instant overview of payments received and information about payments at the time goods are accepted;
Option of receiving a cashless payment and doing business with a an attractive group of users who prefer using a mobile phone to order goods and services;
Elimination of working with cash.
Benefits for foundations:
A simple way for donors to donate funds;
Fast contribution to a good cause by using a mobile phone.

In this initial phase it is possible to pay for food delivered by Ham.sk, for purchases made at www.zlavadna.sk, to top-up credit on an ISIC card of the University of Economics in Bratislava, and to make contributions to Tatra banka Foundation, UNICEF, Kvapka nádeje, Nadácia Pontis, Magna Deti v núdzi, Plamienok, Liga proti rakovine, Únia nevidiacich a slabozrakých Slovenska and others. The list of businesses and organizations will be gradually extended.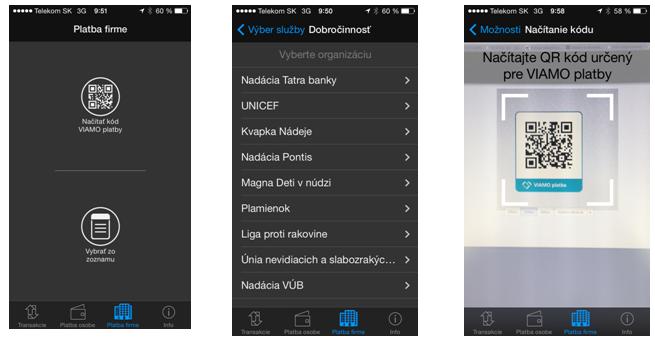 The Tatra banka VIAMO app is available at iOS and Android app stores. A new version for the Windows Phone operating system will be available in autumn. The app can be used to make payments by clients with a current account in Tatra banka and also by clients with a current account in any Slovak bank, who have a Slovak phone number, to receive payments.
The daily and transaction limit for VIAMO payments via Tatra banka is currently € 150; from October 15, 2014 the limit will increase to € 200.
For additional information, please contact:

Marína Masárová
Spokesperson
marina_masarova@tatrabanka.sk
02/5919 1593
Zuzana Povodová
Media Relations Manager
zuzana_povodova@tatrabanka.sk
02/59191557
www.tatrabanka.sk | Dialog: *1100 | Tatra banka a.s.
https://www.tatrabanka.sk/en/about-bank/press-releases/now-you-can-use-viamo-pay-goods-services/