Standing Order feature offered in new version of the Tatra banka mobile application
| 17.06.2014
Use of the Tatra banka application has surpassed the threshold of 1,000,000 logins per month. Now we are offering the newest version of this application featuring comprehensive management of standing orders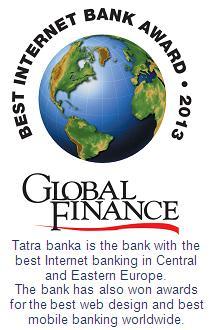 .
More than 130,000 users have activated the Tatra banka mobile application. Almost 70 percent of them actively use it at least once a month. Users most frequently check their current account and credit card balances and account movements, or enter payment orders. Users of the Tatra banka application make more than 250,000 transactions per month totaling approximately € 60 million.
Feedback from active users has particularly been the reason for regular improvements of the bank's mobile banking features.
Recently, we were told that standing orders are the most desired feature, so their comprehensive management has been added to the application allowing:
displaying the list of current standing orders
showing their details
setting up a new payment order
changing or cancelling a standing order
The Standing Orders feature can be found in the user's current account details. The new version of the application is already available for Android systems and versions for iOS and BlackBerry10 will be added soon.
The version for Windows Phone will come out this fall.

Contact for additional information:
Marína Masárová
Spokesperson
marina_masarova@tatrabanka.sk
02/5919 1593 | 0911 328 007

Zuzana Povodová
Media Relations Manager
zuzana_povodova@tatrabanka.sk
02/59191557
www.tatrabanka.sk | Dialog: *1100 | Tatra banka a.s.
https://www.tatrabanka.sk/en/about-bank/press-releases/standing-order-feature-offered-new-version-tatra-banka-mobile-application/