Tatra Academy opens its gates, students can get € 30
| 23.03.2015
We have looked at how students treat their money in an account. The outcome includes interesting statistics, a new payment card design, and in particular a unique cooperation between Tatra banka and Lokal TV producers on the preparation of the third round of the finance academy.
There are a number of reasons why parents should consider setting up a bank account for their teenagers:
safety - students do not carry cash in their pockets, but use a payment card

students love online shopping, but often use complicated payment methods or lend their parents' cards

an account gives a student the feeling of independence and teaches a student how to manage money sensibly

while in the past mostly university students worked in temporary jobs, currently this also concerns secondary school students
More responsible than it would seem
"Almost half of our students have downloaded the Tatra banka application, while half of them also regularly use the application most frequently to check their account balances and transactions," Nadežda Palušová, Segment Manager at Tatra banka praises students.
Students use payment cards most frequently:
at grocery stores

at fashion stores

for past-time activities

for travel

Half of students actively save, short-term objectives are dominated by small electronics, clothes, travel and hobbies. In the long-term boys tend to save mostly to buy a car and girls to buy a vacation or for travel. Both girls and boys have the same interest in saving for their own housing.
No restrictions and free
A Student Account from Tatra banka is free of charge for students. Students aged 15 to 20 only need their ID card to open a Student Account. Students over 20 must also show a full-time study certificate. Student Account facilitates unlimited:
payments using the Tatra banka app
refund of cash to friends using the Tatra banka VIAMO app

payments by a debit card or with a mobile phone

use of Internet bankingTB

acceptance of payments (pocket money from parents or from temporary jobs)

Tatra banka ATM withdrawals using a card or mobile phone

use of e-mail statements

SMS notifications of one's account transactions

payment of invoices using standing orders and SEPA direct debits

use of Spending reportTB to arrange one's expenses

saving through the Savings system
€ 30 to a new Student Account
"Various surveys confirm for a long term a relatively low level of financial literacy in Slovakia. From discussions with students, however, we know that they are concerned about the issue of finances. This is why we actively participate in their education not only directly in cooperation with schools, but also through the online Finance Academy opened for the third year in a row. Through this Academy we teach young people for what and when to use an account, where they can pay by a card or how to have their money under control in a simple way with electronic banking," explains Nadežda Palušová.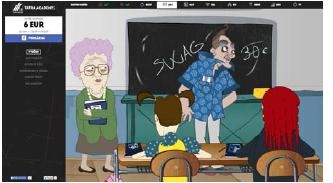 On the website www.tatraacademy.sk students will experience an unusual school day accompanied by a cartoon character of Menežerista known from a Lokal TV series. Students have 10 tasks to be solved with the assistance of the entire class: Romeo the footballer, Linda the chick, Vinco the slacker, Jana the bookworm, Ingrid the metal fan and Oliver the hipster. Students get € 3 for each task solved, i.e. a total of € 30 that Tatra banka will credit to their newly-opened Student Account after successfully completing the academy.
"This time, we chose a cartoon form that allows addressing students in their language and being in a place where they spend most of their time," adds the segment manager. The campaign runs from March 23, 2015 to June 30, 2015 and is open to all students aged 15 to 26 who open their Student Account from March 16, 2015 until the end of the academy.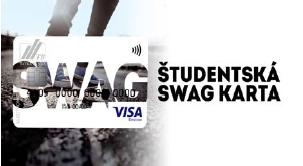 Those who pay have a SWAG
The new design of a student payment card was created by students at the Private Academy of Fine Arts and Design in Bratislava. SWAG is currently a very popular expression among the young to refer to a unique style of clothing or overall demeanor.
Contact:
Marína Masárová
Spokesperson
marina_masarova@tatrabanka.sk
02/5919 1593
0911 328 007
Zuzana Povodová
Media Relations Manager
zuzana_povodova@tatrabanka.sk
02/5919 1557
0903 641 846
www.tatrabanka.sk | Dialog: *1100 | Tatra banka a.s.
https://www.tatrabanka.sk/en/about-bank/press-releases/tatra-academy-opens-its-gates-students-can-get-30/