Tatra banka clients have paid almost €1.7 million via VIAMO
| 07.02.2014
After eight months since the introduction of the service, VIAMO has been used by almost 40,000 registered clients of Tatra banka, who have paid almost €1.7 million this way.
Although the average amount per transaction made via Tatra banka VIAMO is approx. €9, increasingly more clients are paying amounts over €50. As a result, we have increased the transaction limit from €50 to €150 per transaction as of February 1, 2014. The daily limit remains at the level of €150.
The Tatra banka VIAMO application continues to win fans with men accounting for more than 65 percent. Most users are from the Bratislava Region (33 per cent), followed by the Košice Region (11.76 per cent) and Žilina Region (10.75 percent). The service is popular with students (almost 25 per cent of users), but is more frequently used by adults. It is most often installed by clients aged 25 to 40, which confirms its universal character and all-round use.
Thanks to its simplicity, VIAMO is a popular means to send money to friends and relatives for a lunch or a gift, to make other small payments, or for parents to send some pocket money.
According to our surveys, the majority of clients wish to use VIAMO also to pay for goods and services - for example to top-up their mobile phone credit, to make e-shop payments, etc. The main advantage of the VIAMO service in such events is the option to make the payment also when clients have no cash and retailers do not use payment terminals. The launch of peer-to-business payments is scheduled for the first half of this year.
How VIAMO works: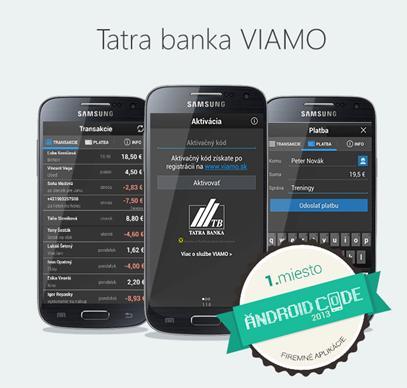 Clients install the Tatra banka VIAMO mobile application. Then, they link their Slovak telephone number to their account number at www.viamo.sk. From then on, they can simply send money up to €150 per transaction/day to the phone numbers of their friends stored in the phone contact list. The application is safe, with each transfer confirmed by the sender by entering the PIN code. Unregistered beneficiary instantly learns of the transfer from an SMS message containing instructions on how to receive the payment, a registered beneficiary only receives the transfer notification. The service works for iOS and Android phones. Money can be sent to anyone at any bank in Slovakia without requiring the beneficiary to use a smartphone.
In the 3rd year of the Android Code 2013 competition, the Tatra banka VIAMO application won in the Corporate Applications category. 87 Slovak applications participated in the competition. The winners were chosen by an expert jury.

Contact for additional information:

Marína Masárová
Spokesperson
marina_masarova@tatrabanka.sk
02/5919 1593

Zuzana Povodová
Media Relations Manager
zuzana_povodova@tatrabanka.sk
02/59191557
www.tatrabanka.sk | Dialog: *1100 | Tatra banka a.s.
https://www.tatrabanka.sk/en/about-bank/press-releases/tatra-banka-clients-have-paid-almost-1.7-million-via-viamo/