Tatra banka has the best web design and social media strategy in the Central and Eastern Europe
| 24.07.2015
Tatra banka has won the Best Consumer Digital Bank in Slovakia award for the 13th time. Global Finance, an international monthly magazine also awarded our web site design and our social media strategy as the best in the region of the Central and Eastern Europe.
The winners of the Best Consumer Digital Bank Award (formerly known as the Best Internet Bank Award) were chosen based on the following criteria: strength of strategy for attracting and servicing digital customers, success in getting clients to use digital offerings, growth of digital customers, breadth of product offerings, evidence of tangible benefits gained from digital initiatives, and web/mobile site design and functionality.
"Our clients expect us to deliver fast and simple services, round-the-clock availability, and comfortable access to funds wherever they are. We have been successful in satisfying these needs also thanks to new technologies that form an essential part of our Internet bankingTB and mobile banking," says Juraj Bojkovský, Director of the Electronic Distribution Channels Division.
13 awards for Tatra banka's digital banking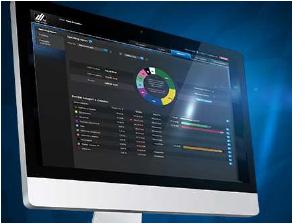 Tatra banka launched its Internet bankingTB as the first in Slovakia in 1998. At the beginning, clients could change their password and view online their account balance and transactions.
Today it is used at least once a month by about 250,000 clients making about 1.8 million transactions every month. The number of transactions via Internet bankingTB is growing by almost 9 percent every year. In 2014 customers made a total of 21.4 million transactions in this way.
The share of electronic transactions at Tatra banka is more than 97 percent. This means that only about 2.5 percent of transactions are made at a branch or via the call center.
We offered our clients a number of improvements in 2014:
direct debits in Internet bankingTB were modified to meet the SEPA requirements
the innovative Spending reportTB service was extended to include the summary and spending in categories on the credit card, the color print option and interactive help
to simplify work with Internet bankingTB, the bank implemented a duplicate payment in account transactions (creating a payment order with the same parameters) and the option to create a copy of a standing order
with the new Credit card payment order functionality in Internet bankingTB clients can make payments and pay invoices for goods and services using their credit card
the new bookmark Debit cards allows clients to keep track of their debit cards and limits related to their use
in July 2014, all Internet bankingTB clients could start making batch payments
The award-winning digital banking also includes the Tatra banka app regularly used by 150,000 clients. This application has undergone significant changes over the last year. The most significant was application redesign and upgrade to version 2.0 for mobile phones with Android and iPhone operating systems.
This application allows Tatra banka's clients to use many useful features conveniently in their tablet or track their expenses graphically illustrated in the Spending reportTB service.
The general public has also noticed a unique feature of the Tatra banka app - ATM withdrawal with a mobile phone. According to a survey it is one of the most popular Tatra banka's services with 90 percent of users considering ATM withdrawal with a mobile phone as unique and 99% considering it innovative. Users mostly appreciate qualities like speed, simplicity and safety.

Best Web Site Design in Central and Eastern Europe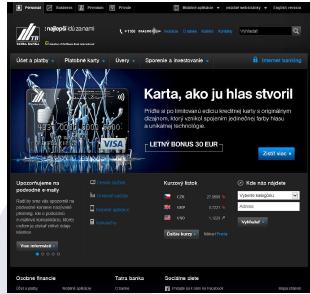 The web site for Tatra banka is not only the web showcase of its products. Web design is in particular about simple use. Our efforts in web development are aimed at providing visitors with information and services that save time.
To know the visitor of our web is the most important prerequisite for the right banking web development. We are constantly updating and extending this knowledge mostly using standard web analytics tools.
This also allowed us to be the first bank in Slovakia to offer responsive display of our web sites on mobile devices.
We realize that certain banking products can be perceived as complicated, so along with constant optimization of navigation we also offer services such as product guides or product comparison, where clients can see the benefits of different products before visiting a branch. Various models help clients with search on our web, such as Clients' frequently asked questions or Search hints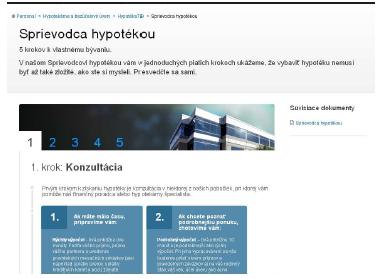 .
As the only bank in Slovakia we also offer web site designers a public access through the API interface to our data about branch and ATM locations, exchange rates, interest rates and selected calculators.
Worth mentioning is also the successful launch of online applications for Tatra PersonalTB service package last year that allows clients to open a service package without the need to visit a branch. This year we have recorded more than a 150 percent increase in the number of applications against last year, which confirms the right step in the banking web development strategy.

Best on social media in Central and Eastern Europe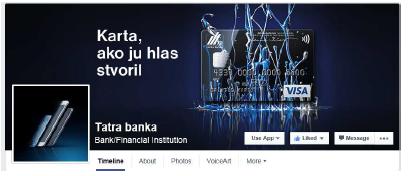 Among all Slovak banks, Tatra banka has the highest number of active fans who, in particular, deserve thanks for this award. We do our best to prepare a really interesting content for them. We intentionally avoid artificial acquisition activities such as fan recruitment via competitions.

Our fans appreciate the latest information about our products and services, awards, activities of the Tatra banka Foundation, job offers and an interesting video content.
The growth in the number of fans is continuous and organic thanks to a well-devised strategy and the offer of an interesting and relevant content. Recently, we have passed the threshold of 50,000 fans on Tatra banka's Facebook.

Contact:
Zuzana Povodová
Spokesperson
zuzana_povodova@tatrabanka.sk
02/5919 1557
www.tatrabanka.sk | Dialog: *1100 | Tatra banka a.s.
https://www.tatrabanka.sk/en/about-bank/press-releases/tatra-banka-has-best-web-design-social-media-strategy-central-eastern-europe/