Tatra banka introduces the first digital personality in Slovakia
| 27.06.2020 | 2 min. read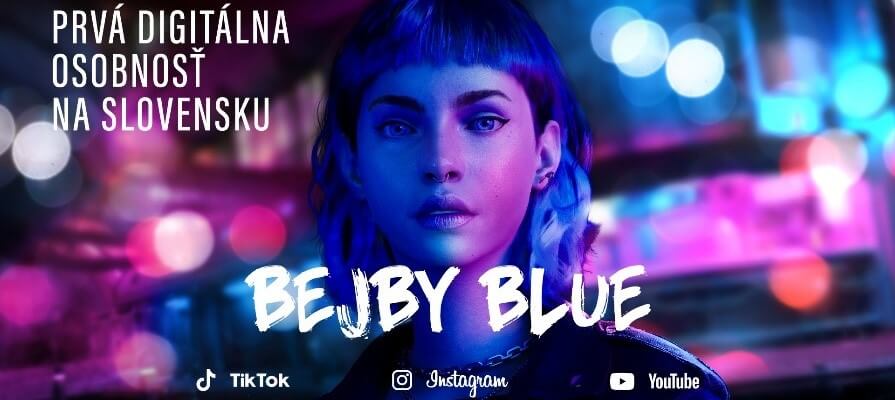 Tatra banka again pushes the boundaries of perception of the digital world. The bank is the first in Slovakia to create – in cooperation with THIS IS LOCCO agency – a digital personality – Bejby Blue, the face of the new student campaign.
"I am Bejby Blue and I am digital. I was born of infinity of dreams, the dreams of the digital age of unlimited possibilities. What was once unimaginable, is common today. Everyone can become what they want. Just show your digital personality. I am the proof of that, this age has created me," says Bejby Blue in the introductory campaign video.
Follow Bejby Blue profile on social media:
The digital world opens new opportunities to become visible and show one's talent. In the new campaign, Tatra banka has thus decided to motivate students to find courage and start making their dreams come true. It is important to start, just like Bejby Blue. She becomes the first digital influencer in Slovakia and the face of the new Tatra banka student campaign, during which she herself begins to fulfil her musical dream.
Tatra banka offers a Student Account for all personalities that are brave enough to show up in the digital world. Students can open the account online, via the Tatra banka app from anywhere. The complete process takes a few minutes and the account is instantly active. In addition, during the campaign students will get a EUR 30 bonus with the new Student Account and they already compete for technological innovations, which are yet to come to the market, being the prizes from the future.
Student Account benefits:
100 % discount on the account maintenance fee
account opening online via smartphone
ATM withdrawal with a smartphone
option to send money via VIAMO
the best mobile banking *)
payments in style via smartphone
stylish holographic payment card
*) The Tatra banka mobile app, which is one of the most frequently downloaded and the most popular in Slovakia on Google Play, has repeatedly confirmed its victory in the SmartBank of the Year survey.
Campaign credits:
Client: Tatra banka
Agency: THIS IS LOCCO
Creative Director: Juraj Kováč
Art Director: Martin Janák, Adrian Mery
Copywriters: Juraj Kováč, Dano Vachuna, Sandra Conortová
Account Manager: Juraj Rusnák
For additional information, please contact:
Linda Lalinská, PR Manager, press@tatrabanka.sk, 0911 407 285
www.tatrabanka.sk | Dialog: *1100 | Tatra banka a.s.
https://www.tatrabanka.sk/en/about-bank/press-releases/tatra-banka-introduces-first-digital-personality-slovakia/