Tatra banka offers a 7-year fixed favorable interest rate
| 18.08.2015
At the time when mortgage rates reach their lowest levels, it is useful to fix them for as long as possible. This is why Tatra banka offers its clients something new - a Mortgage Loan (HypotékaTB) with a 7-year fixed favorable interest rate.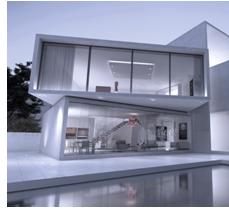 Purchasing an apartment or a house and its funding through a mortgage loan mostly represents the largest financial investment in clients' entire lives. Therefore, deciding the length of a period of the fixed interest rate has a significant impact on clients' financial expenses.
Seven years of certainty
An advantage of a 7-year fixed rate is that instalments remain the same for 7 years. With this fixed rate clients have a guarantee that their instalments will not change even when there is a sharp increase in market rates. This allows clients to anticipate their expenses and plan their family budget better and in a long-term.
A disadvantage of shorter fixed rates, along with the risk of changes in the rate of instalment, usually is that with every change in interest rates clients must devote time to considering a new offer, comparing it and making further arrangements. This time can be saved with terms that guarantee a longer fixed-rate period.
Clients can choose a seven-year fixed rate to purchase, build or reconstruct a property, or repay previously granted loans. Clients can also choose this fixed rate with a Home Equity Loan (Americká hypotékaTB), an any purpose loan designed to finance anything. Interest rates that Tatra banka offers for a 7-year fix start at 2.75 percent.
Mortgage loans grew 30 percent
"In the first 7 months of 2015, Tatra banka provided more than 8 thousand loans secured by real estate, with a total amount of €420 million. Compared to the same period last year, it is an increase of more than 30 percent," said Daniela Vantuchová, Head of the Retail Credit Department.
Interest rate development over time
Currently, an absolute majority of new housing loans are provided with a fixed rate for 2 to 5 years. Since 2009, interest rates on these loans have gradually decreased from more than 6 percent to less than 2.5 percent in 2015. At the same time, during the second quarter of 2015 there was a relatively significant increase in long-term interest rates.

At the moment, we are in a situation when considering a long-term fixing of interest rate is more justified than on most occasions in the past. The main reasons include a combination of the historically lowest rates and, based on historical comparison, little difference between long-term and short-term interest rates.
The following graphs show the development of German government bonds. The current level of 7-year yield is close to their historical minimum.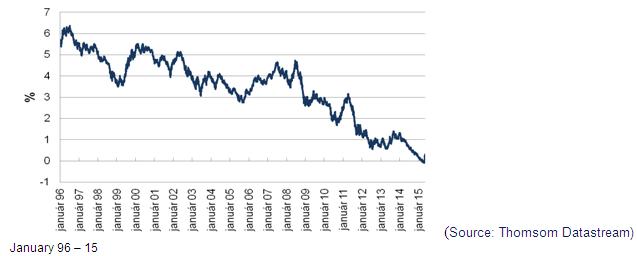 The second graph shows the difference between a 7-year and a 3-year fixed rate, which is currently well below the long-term average.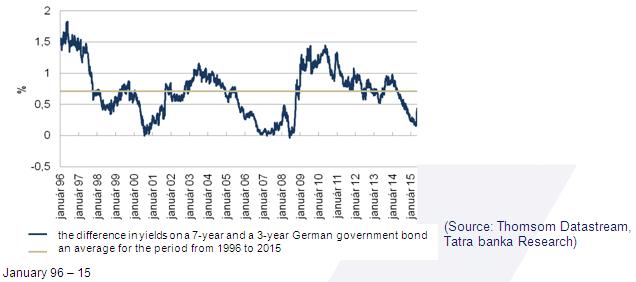 The graph shows that in the periods of 2000 and 2006 to 2008 the difference between a 7-year and a 3-year rate was even lower, or actually negative for a short period. However, at the same time, the amount of the 7-year rate at that time was several times higher than at present.
Today, clients can take advantage of a favorable combination of generally very low interest rates and little difference between long-term and short-term rates, and profit from it.
Contact:

Zuzana Povodová
Spokesperson
zuzana_povodova@tatrabanka.sk
02/5919 1557
www.tatrabanka.sk | Dialog: *1100 | Tatra banka a.s.
https://www.tatrabanka.sk/en/about-bank/press-releases/tatra-banka-offers-7-year-fixed-favorable-interest-rate/