Tatra banka Provides a Solution for Face Identification
| 14.05.2018
Tatra banka is the first bank in Slovakia which introduces Face biometricsTB innovation enabling you to open an online account where you can send the money immediately, withdraw them from the ATM or make transfers. Additionally, you can use the account opened through Face biometricsTB without management fees all year round.
Biometrics makes the lives of our clients easier for 7 years already:
2011 Digitalized signature
More than half a million of the clients have created dynamic specimen signature and use it when visiting the branch (67%).
2013 Voice biometrics
More than 353,000 of the clients are verified by their voice when calling the DIALOG Live call center (50.2%).
2014 Face biometrics
We have launched a web form for creation of an online account for the first time. You just attached your photo that was compared with your ID card. This idea was ahead of it's time and the market was not ready for it.
As an example, we're attaching a photo sent by our client :-)
2018

Online accounts are there for years. However, the word online usually meant only online electronic request. After its completion, the client had to wait for a courier or visit a branch to activate their account and bring it into use.

In Tatra banka, we decided to bring an online account where you can send the money immediately, withdraw them from the ATM or make transfers. An account that is available also for those who don't have any account yet. To make this happen, legislative changes and further development of biometric technology were needed.

Legislative changes

One of the very few legal ways to verify identity of an individual remotely was transfer of a monetary amount from the client's account in another bank, so called penny payment. By transferring a minimum amount, for example 1 cent, the responsibility for person's verification was devolved to the bank from which the money were transferred. A new client was disadvantaged by the necessity to have an account in another bank and the duration of bank-to-bank transfer (1 business day) to which the account activation is tied. Less control, based only on client's name verification during the transfer, posed a risk to the bank.

Provisions of the amendment to the Money Laundering and Terrorism Financing Act came into force 15 March 2018.

The amended Act enables the use of such electronic means as electronic signature, electronic ID, mobile apps on smart phones or tablets. Banks can thus verify clients' identity through new technologies without being present at a branch.

The use of new technologies in this field is supported also by EU directive and its aim is to set the same regulatory environment for all banks.

World technology trends
In several EU and euro area countries the clients can already open an account or do another bank business without visiting the bank in person. Identity verification is performed via modern technologies.

Some foreign banks offer their clients an opportunity to shoot the ID and then make a selfie or short video. The software receives essential characteristics from both and verifies if the person is alive and the document valid. At the same time, it verifies if the person on both photos is the same and whether it is selfie of a living person (not a photo, a dummy or pre-recorded video). It evaluates the match rate and either opens an account immediately or asks for other ways of identity verification.

Another option is identity verification during account creation via assisted video call, used for example by German bank N26.

Advantages of the Face biometricsTB
security
fully automated solution
immediate feedback
time saving up to 70%
identification of the person's presence
suitable photo according to ICAO standards (face position, turning, inclination, sharpness, contrast, brightness, viewing direction, mouth position,
eyebrow position, glasses impact, etc.)
verification if the person is alive
biometric comparison of the photos (face, ID photo, register of the Ministry of Interior of the Slovak Republic) and person's identification
verification of document's data
In a survey, the respondents appreciated mainly time saving:
"It's stylish and the world is coming to it anyway, it will be used everywhere. I don't want to visit a branch. I don't have time, so it saves me a deal of time."
Security

From security point of view, we consider the new way of identification at least so safe as the identification at a branch. The clients can be sure that the communication is protected on the same level as hundreds of thousands of operations of the current Tatra banka app users. The communication is encrypted, personal data including photos don't leave Tatra banka servers, except for secure online demand from the Ministry of Interior of the Slovak Republic. During the process, the bank evaluates all necessary information according to regulator's rules (KYC – Know Your Customer, AML, FATCA, etc.).
How does it work:
Download the Tatra banka app
Insert basic data
Verify your phone number
Create PIN for the app
Scan your identity card and shoot your face – the bank immediately verifies your document's validity and your identity against the Ministry of Interior database
Confirm contract documents
Enter password and e-mail for statements, contact data for debit card delivery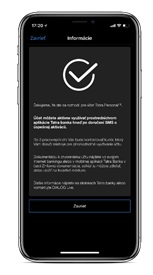 Your account is active:
You don't wait for approval in any waiting list, your account is active immediately. You can receive the money immediately. The Tatra banka app enables you to:
- make transfers up to €3,000 per day
- withdraw from ATM with a cellphone up to €500 per day
- use many other mobile banking functions
You receive by courier or at branch:
debit card
Card and reader
Internet bankingTB password
single paper contract about electronic communication
Non-purpose consumer credit After pilot phase!
Existing customers can apply for non-pre-approved credit by cell since December 2017. This option will be available also for new clients who have identified biometrically from July.

The whole process of credit arrangement will run directly through the app:
with income verification
with offer approval
with while-you-wait use
Face biometrics will be available in the new version of Tatra banka app within the next few days. You can download it from Google Play or App Store into devices with Android 4.1 or iOS 9 and higher.

Additionally, you can use the account opened through Face biometricsTB until 31 August 2018 without management fees all year round. We are looking forward to new faces in Tatra banka :-)
Media contact:
Zuzana Žiaranová, Spokesperson
Tatra banka
02/5919 1557
0903 641 846
zuzana_ziaranova@tatrabanka.sk
www.tatrabanka.sk | Dialog: *1100 | Tatra banka a.s.
https://www.tatrabanka.sk/en/about-bank/press-releases/tatra-banka-provides-solution-face-identification/