Tatra banka wins an innovative communication award
| 16.09.2014
As part of Hermes - Communicator of the Year awards, Tatra banka has won the Innovative Communication Award. The expert jury has also awarded the bank with third place in the Banking category.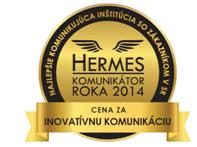 On Friday, September 12, awards were handed out to banking, insurance, telecommunications, retail chains and private banking institutions that have the best communication with customers. Institutions from the said categories could receive the public award, jury award, and also become the absolute competition winner.
Ten jury members from advertising, media buying, PR, digital marketing, research, marketing journalism and academic institutions evaluated the best communicating institutions in five categories. Tatra banka won third place in Banking.
The organizer also awarded institutions in each category for their innovative communication approach. Tatra banka received the Innovative Communication Award in the Banking category.
Tatra banka has been introducing innovative banking products and services for a long time. Since last year, our clients were the first to use Voice Biometrics (Hlasová biometriaTB), the first banking application for Google Glass, and a mortgage loan with online consultation. The latest service offered by the bank is ATM cash withdrawal with a mobile phone. Tatra banka was also the first bank in Slovakia to introduce the 24-hour DIALOG Live contact center and the first Internet bankingTB. Later, other innovative communication methods for clients were added, including the first Virtual branch on Facebook, online call via Tatra banka web, Facebook, Twitter, LinkedIn, and also TatraChatTB.
The jury decided in three phases - in phase one, MEDIAN SK chose five companies in each evaluated category, except for private banking, based on a quantitative research. Phase two involved mystery calling in cooperation with the Department of Marketing Communication of the Faculty of Arts, Comenius University and AKO research agency. The last phase was deciding by the jury based on the results from the first two phases. The jury also considered the results of institutions in PR, advertising, direct marketing, personal sale, sale support, sponsorship program, corporate philanthropy, corporate identity, and innovative communication approach in the period from October 2013 to August 2014.
For additional information, please contact:
Marína Masárová
Spokesperson
marina_masarova@tatrabanka.sk
02/5919 1593

Zuzana Povodová
Media Relations Manager
zuzana_povodova@tatrabanka.sk
02/59191557
www.tatrabanka.sk | Dialog: *1100 | Tatra banka a.s.
https://www.tatrabanka.sk/en/about-bank/press-releases/tatra-banka-wins-an-innovative-communication-award/