Tatra banka's private banking has defended its leading position
| 23.11.2015
Tatra banka has again confirmed its clear position as leader in the private banking segment. The bank has been named the Best Private Bank in Slovakia by three prominent magazines – World Finance, Global Finance and most recently The Banker.
It is for the second time that The Banker magazine has presented Tatra banka with the award for the Best Private Bank in Slovakia. "It is a great feeling when in the global financial center – Singapore – you receive an award for Slovakia on the podium with global private banking icons," says Katarína Boledovičová, Director of the Private Banking Division.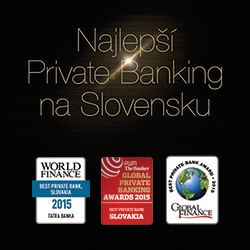 Unique private banking services offered by Tatra banka were appreciated not only by the panel of judges, but also by representatives of foreign banks. "I was pleased by the words of praise of colleagues who acknowledged that we shift the boundaries of the banking business in private banking as well. They valued very highly our stress test initiative, particularly praising the possibility to adjust a client's portfolio to such client's expected behavior. The stress test allows us to prepare a client for a negative appreciation of the portfolio or find a more suitable strategy for the client. We also gained respect for security, not only for payments, but also for confirming financial transfers, orders for buying and selling securities via mobile signature that increases clients' comfort. Also our innovations were evaluated positively, including voice biometrics and mobile payments," says Katarína Boledovičová.
The panel of judges evaluated bank performance, portfolio management, asset allocation, risk management, growth strategy, customer service, ethical factors, business models, staff retention and innovation. "From the aforementioned evaluation criteria we see as very important the growth and stability of assets managed by private banking, because this parameter expresses our clients' trust, which we highly appreciate," concludes Katarína Boledovičová.

Leader in the Slovak market
Tatra banka's private banking is the leader in the Slovak market and manages the funds
of more than 3,000 clients with a total value of more than € 1.8 billion. The amount of assets substantially increases every year. Private banking clients take the opportunity to invest in solutions of foreign managers, with these allocations growing more than 300 percent this year. With a totally open product architecture, our clients use more than 3,800 investment products, Wealth managementTB service (efficient system of financial asset management), Art consulting (professional art consultations), including AllExclusiveTB app (offers from the world of luxury) and safe deposit boxes accessible 24/7.
Contact:
Zuzana Povodová
Spokesperson
zuzana_povodova@tatrabanka.sk
02/5919 1557
0903 641 846
www.tatrabanka.sk | Dialog: *1100 | Tatra banka a.s.
https://www.tatrabanka.sk/en/about-bank/press-releases/tatra-bankas-private-banking-has-defended-its-leading-position/