Tatra banka's Private Banking is the Best in Slovakia
| 01.10.2015
Tatra banka's private banking was evaluated as the best in Slovakia by World Finance international magazine.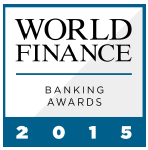 The winners of the sixth year of the World Finance Banking Awards have been announced. In the Best Private Bank 2015 category, the panel has awarded the highest award to Tatra banka. The evaluated criteria included bank performance, financial ratios, variety and clarity of products and services, cutting edge and innovative CRM systems, sales and growth within existing client structure, geographical spread, ease of current account functionality, offer of alternative financial products and growth strategy.
"Every year we introduce a number of innovative solutions with the aim to simplify client communication with the bank, make the management of financial assets more convenient, speed-up entering orders for sale and purchase of securities and to ensure convenient transfers between accounts. All this while ensuring maximum confidentiality and security. We highly appreciate that our effort was also awarded by the prestigious magazine World Finance," said Katarína Boledovičová, Director of the Private Banking Division at Tatra banka.
Innovative portfolio stress-test
"We are the only private banking to come up with a unique innovation of portfolio stress-tests this year, at a time of stock market peaks. This is why we were able to prepare our clients for the fall that came in August this year," explains Katarína Boledovičová.
MobileSignTB app
Tatra banka was the first to introduce the MobileSignTB app to simplify work with investments. With this application clients can make transactions by a simple confirmation through their mobile phone. The MobileSignTB app also represents a revolutionary way of entering payment orders. Clients can transfer their money or pay invoices even abroad conveniently and safely, without the need to visit
a branch.
Leader in the Slovak market
Tatra banka's private banking is the leader in the Slovak market and manages the funds of more than 3,000 clients with a total value of more than € 1.8 billion. The amount of assets grows substantially each year. Private banking clients use the option of investing in the solutions of foreign managers the amount of which has recorded more than a 300 percent growth this year. Due to the entirely open product architecture our clients use more than 3,800 investment products,
Wealth managementhTB service (efficient system of financial asset management), Art consulting (professional art consultations), including AllExclusiveTB (luxury offers) and safe deposit boxes with 24/7 access.
For several years, Tatra banka's private banking has proved that it meets its clients' expectations. This is also confirmed by achievements and awards presented by reputable foreign institutions. This year, Tatra banka's private banking has won three prestigious awards for excellent quality of services from Euromoney magazine.
Kontakt:
Zuzana Povodová
hovorkyňa
zuzana_povodova@tatrabanka.sk
02/5919 1557
0903 641 846
www.tatrabanka.sk | Dialog: *1100 | Tatra banka a.s.
https://www.tatrabanka.sk/en/about-bank/press-releases/tatra-bankas-private-banking-is-best-slovakia/