The new version of the Tatra banka app is optimized for watches
| 29.07.2015
Tatra banka is the first banking app in Slovakia that is adapted to intelligent watches. It will allow clients to check their account balance or the list of the most recent payments via an Apple Watch and watches with Android Wear operating system.

"Based on the statistics we know that clients most frequently use mobile banking to check their account balance and their transactions and payments made. We have thus decided to use the innovation in wearable technology and further simplify their everyday banking experience. We believe that watches represent a perfect accessory to a mobile phone or tablet," explains Lukáš Mochňák, Head of the Mobile Application and Web Development Support Department.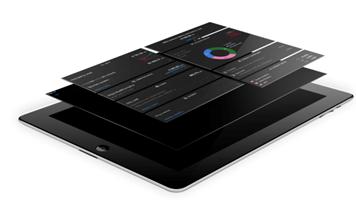 New generation of mobile banking

February 2015
Published the second generation of the Tatra banka app (for iOS, Android and BlackBerry 10) with a complete redesign, optimization for tablets, the Spending reportTB and a number of other improvements.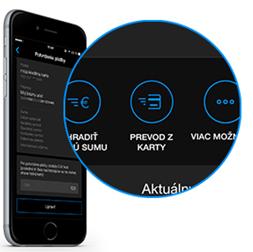 June 2015
We launched version 2.1 (for iOS, Android and BB10), that offered clients the option to enter a payment order from a credit card, provided information about the supplementary pension saving and also offered the print option and the option to share the detail of a current account transaction.

All published features have become instantly popular with our clients. A transfer from a credit card alone has been used more than 3300 times in one month and clients have transferred a total of more than €1,100,000.

The version for Windows Phone had not gone unnoticed either. It was extended to include features most frequently requested by users, namely the comprehensive management of standing orders and a list of loans drawn.

Coming soon...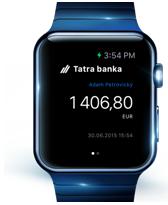 Optimization for intelligent watches
We are the first bank in Slovakia to let our clients check their current account balance and the list of the most recent transactions through Apple Watch and intelligent watches with Android Wear operating system. Clients only need to pair the Tatra banka app and their watch with their smartphone (with iOS operating system from version 8.2 and Android from version 4.3).
Push notifications
A push notification notifies a client of a new message in the Tatra banka app or Internet bankingTB. Our clients will be better informed about important events such as a failed payment or standing order, change in the permitted overdraft limit and many others.
Single payment under a standing order
If a standing order is not executed, a client will be able to simply create a single payment order with all default symbols according to the client's standing order. This requirement has been implemented based on clients' suggestions and confirms the fact that the best innovators listen to their clients' needs.
The upgrade also includes corrections of minor faults reported by users and interactive graphs that let clients learn more detailed information about the values displayed in the current account or exchange rate details.
Best digital banking in Slovakia
Tatra banka has won the Best Consumer Digital Bank in Slovakia award for the 13th time. Global Finance, an international monthly magazine also awarded our web site design and our social media strategy as the best in the region of the Central and Eastern Europe.
Interesting statistics for the app: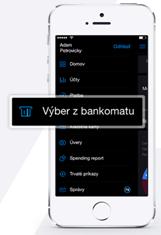 150,000 regular users
180,000 devices (14% tablets/86% smartphones)
66% Android, 31% iOS, 3% WP
60% are men, 40% women
most users are aged 17 to 20 and 30 to 40
on average users login to the app 12 times and enter 5 payment orders a month.
an average value of a payment order is €252
Most innovative application feature
In less than a year since its launch 30,000 users have tried an ATM withdrawal with a mobile phone. They have made 285,000 withdrawals totaling €17,000,000. According to a survey it is one of the most popular Tatra banka's services with 90 percent of users considering an ATM withdrawal with a mobile phone as unique and 99 percent considering it innovative. Users mostly appreciate its parameters like speed, simplicity and safety.

Contact:
Zuzana Povodová
Spokesperson
zuzana_povodova@tatrabanka.sk
02/5919 1557
www.tatrabanka.sk | Dialog: *1100 | Tatra banka a.s.
https://www.tatrabanka.sk/en/about-bank/press-releases/the-new-version-tatra-banka-app-is-optimized-watches/