VIAMO brings a simple transfer of money from one mobile to another
| 07.06.2013
A telephone number alone is sufficient for sending money today. Company VIAMO brings a new mobile application that considerably simplifies cashless money transfers between bank accounts. The first to try it out are clients of Tatra banka and VÚB banka; however, money can be received also by clients of other banks.
"Today it is possible to pay with mobile in stores but to settle up fast with a friend for lunch was rather difficult with solutions available until this day," says Adam Marek, CEO of VIAMO, the creator of VIAMO service. "Turning on Internet banking service somewhere in the city just because you do not have the exact amount of cash and filling in account numbers many people do not even know afterwards usually ended with you owing money." This made VIAMO create a simple service where money transfer only requires what is at anybody´s hand - telephone number. The user installs the mobile application VIAMO of their bank and connects his/her Slovak mobile number with the account number with the bank. If the user wants to send somebody money, s/he just selects the person´s name from the phone book, enters the sum and confirms the payment by a PIN code. A non-registered beneficiary learns about the transfer instantly from a text message where s/he finds instructions to receive the payment. A registered beneficiary receives just a notification about the transfer. S/he needs no special facilities, s/he does not have to charge anything, money is transferred directly between bank accounts. The service currently works for telephones with operating system Android and iOS.
"It is important for success of the service that as many banks as possible join it. VIAMO is designed like an open ecosystem," explains A. Marek. First banks to join VIAMO are Tatra banka and VÚB banka. Their clients can download the application yet today and send money to a telephone number from their accounts. "The advantage of the service is that beneficiary can have the account open with any bank in Slovakia and s/he will receive money even if his/her bank does not provide VIAMO service yet. This should contribute to fast promotion of the service," adds A. Marek.
"We constantly work towards making bank services simpler and thereby making life of our clients more pleasant. VIAMO is such a service - a client makes a financial transaction without the need of using standard bank systems. We are glad to be the first along with VÚB banka to bring it to our clients," says Igor Vida, Chairman of the Board of Directors and CEO of Tatra banka.
"With VIAMO we bring our clients another possibility how to send money from their bank account to the beneficiary´s account simply and fast. Knowing the beneficiary´s telephone number is sufficient. I believe that this new service will join the range of favourite services of our bank," adds Ignacio Jaquotot, Chairman of the Board of Directors and CEO of VÚB banka.
VIAMO is a free service for clients of VÚB banka and Tatra banka, as well as for beneficiaries of transfers in other banks. All information about the service and applications to download are available on www.viamo.sk.
How does VIAMO work?
Service setup:

The user creates a profile on www.viamo.sk and connects his/her telephone number with a bank account. S/he downloads the free VIAMO application of his/her bank* from App Store or Google Play according to the telephone type. The application is activated by entering the activation code from VIAMO portal. The user subsequently chooses a PIN code for confirming money transfers.
Service use:

Step 1
The user selects in the application the beneficiary from the phonebook or directly enters the beneficiary´s telephone number.

Step 2
After entering the sum the user confirms the money transfer by PIN code.*
Step 3

The beneficiary instantly receives a message about the transfer (via the push notification or a text message).
a) If the beneficiary is already registered, money will be transferred to the account assigned to the beneficiary´s telephone number.
b) If the beneficiary is not registered yet, s/he will find information about how to register and take money in the text message. The payment will be sent for processing in the bank immediately after the registration.*
Technology and safety
Payment transactions are executed on bank accounts in EUR currency.

VIAMO never disposes of clients´ money.

The application operates on smartphones with iOS and Android operating systems.

Does not require Near Field Communication (NFC) or any other technologies.

Payment beneficiary can also be a regular telephone holder, not just a smartphone holder.

Transfers are secured by electronic signature and the entire system is based on the PKI infrastructure.
*PIN code is chosen by the user upon the application activation. Maximum daily limit for a VIAMO transfer is EUR 150 or EUR 200 for every registered account depending on the bank, maximum limit for a one-time payment is EUR 50.
*If a beneficiary has an account maintained with the bank that does not provide VIAMO yet, s/he can register as a beneficiary only.
What is VIAMO suitable for?
The survey executed by TNS Slovakia confirmed the assumption that users will be interested in VIAMO service: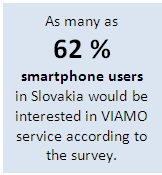 57 % respondents get in a situation when they need to borrow money at least sometimes

62 % would be interested in VIAMO service, three quarters thereof (74 %) would use it at least twice a month and one third (35 %) at least once a week

The majority of respondents (69 %) were interested in using the service among their acquaintances

Those who showed interest in using the service would make use of it spontaneously most frequently in the following situations (in %):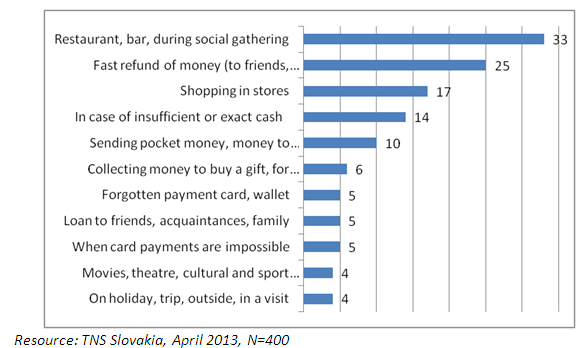 Who stands behind VIAMO service?
VIAMO, a.s.
VIAMO, a.s. is the author of VIAMO service it operates in collaboration with partner banks. A hundred percent owner of VIAMO, a.s. is mTrust, s.r.o. established in 2009 as an entity providing development and operation of highly secured electronic services for mobile telephones. mTrust services are based on long-term experience in the field of development and application of solutions using electronic signature. VIAMO, a.s. has a certified, highly available computing system dedicated to VIAMO service operation.

Tatra banka, a.s.
Tatra banka is a universal bank established in 1990 as the first Slovak private bank. In course of 23 years of its existence in Slovakia Tatra banka, a.s. has always provided its clients with above-standard solutions. Simpler access to daily banking for clients has been bank´s priority. That is why it has been offering unrivalled innovations on the Slovak market such as the first Internet banking (1998), first non-stop contact centre DIALOG for clients, first credit card Visa (1994), possibility of trading in gold without broker (2009), first native application for mobile banking (2010), first contactless mobile payments (2012), possibility of drawing a pre-approved non-specific loan via Tatra banka application in mobile and many others.

VÚB banka
With over 1.2 million clients, VÚB banka is the second largest bank in Slovakia. It was established in 1990 by allocation of part of commercial activities of Štátna banka československá in the territory of Slovakia and is a member of a strong international financial group Intesa Sanpaolo since 2001. According to Global Finance it belongs to ten safest banks in the central and east European region as the only bank in Slovakia. Besides VIAMO the bank will also launch a new Internet banking including the version for mobile appliances in June this year.
Media contacts:
VIAMO Peter Jančárik, jancarik@seesame.com, 0910 999 882
Tatra banka Marína Smolková, marina_smolkova@tatrabanka.sk, 0911 328 007
VÚB banka Alena Walterová, awalterova@vub.sk, 0904 755 195
www.tatrabanka.sk | Dialog: *1100 | Tatra banka a.s.
https://www.tatrabanka.sk/en/about-bank/press-releases/viamo-brings-simple-transfer-money-from-one-mobile-another/