VIAMO Successful In Apps RULEZZ 2014 Contest
| 07.05.2014
VIAMO, which facilitates money transfer between mobile phones, has won three awards in the national contest of mobile applications Apps Rulezz 2014.
VIAMO won the first prize at the yesterday's gala evening Apps RULEZZ 2014 in Bratislava as the most successful application for smartphones and finished second in the category of Branded Applications. The jury also awarded third place to VIAMO, a.s. in the category of Best Application Authors.
"The launch of Viamo was preceded by two years of hard work. Three awards in Apps RULEZZ 2014 are a nice reward for the whole team not only at our company, but also at banks that support the service," said Adam Marek, CEO of VIAMO, a.s.
In less than a year from its launch, VIAMO has been used by more than 60,000 users who have made 250,000 transactions totaling almost €4 million. VIAMO has proved useful particularly in situations previously dominated by cash, e.g. in the settlement of lunch bills, meetings with friends, cultural or sports events. Money transfer via VIAMO is very simple, all you need is a beneficiary's phone number.
"The number of clients using VIAMO clearly proves that the service is innovative and attractive. What clients welcome the most is how fast and easy to use it is. This award is a signal for us that the service has a potential of further growth," said Pamela Babuščáková, Head of Mobile Application and Web Development Department at Tatra banka.
"From the very beginning, VIAMO was designed mainly as a service that will simplify people's lives. It turned out that the key to success was a uniform development approach at banks. We are happy that the service has succeeded in this prestigious contest. It a motivation for us to bring other interesting services to our clients," said Radovan Ako, Innovations Manager at VÚB.
What is VIAMO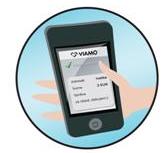 VIAMO is a service that facilitates simple and fast money transfers between mobile phones. All you need is a beneficiary's phone number. The use of the service requires a smartphone or a tablet with Android or iOS operating system, a Slovak mobile phone number and a current bank account. A user confirms every transfer with a PIN code. VIAMO service is currently provided by Tatra banka and VÚB banka, but money can be received by clients with account at any other Slovak bank. Both the application and the service are free. Complete information about the service and its activation is available on www.viamo.sk.
Media contacts:

Viamo Peter Jančárik
jancarik@seesame.com
0910 999 882

Tatra banka Marína Masárová
marina_masarova@tatrabanka.sk
0911 328 007

VÚB banka Alena Walterová
awalterova@vub.sk
0904 755 195
www.tatrabanka.sk | Dialog: *1100 | Tatra banka a.s.
https://www.tatrabanka.sk/en/about-bank/press-releases/viamo-successful-apps-rulezz-2014-contest/