We are celebrating 15 years of Internet Banking with 13 awards
| 25.07.2013
Yet again, Tatra banka has won the Best Internet Bank in Slovakia award. On top of that, the international Global Finance monthly evaluated our mobile banking and web design as the best in Central and Eastern Europe.
"A lot has changed since the origination of the first Internet Banking in Slovakia 15 years ago. Our clients expect us to deliver fast and simple services, round-the-clock availability, and comfortable access to funds wherever they are. Thanks to technologies that are used by increasingly more people, we can satisfy these needs," summed up Juraj Bojkovský, Director of the Electronic Distribution Channels Division.
Best Internet Bank in Slovakia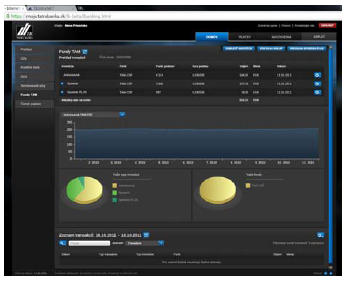 Tatra banka launched its Internet Banking as the first in Slovakia in 1998. At that time, it facilitated password change and the online viewing of account balance and movements.
The current third generation of Internet Banking offers clients a wide range of services, clear graphic display, and unlimited access to funds.
Innovative features include the filtering of transactions, quick search, creation and management of domestic payment templates, Quick Payment function, export options to pdf and csv formats, display of balance and product development in graphs (supplementary pension saving, Tatra Asset Management funds, account balance development), statements for accounting books, etc.
Tatra banka has won the Best Internet Bank in Slovakia award for the 11th time.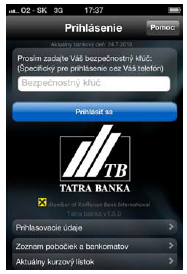 Bank with Best Mobile Banking in Central and Eastern Europe
Tatra banka has also won the Best in Mobile Banking in Central and Eastern Europe award. The application introduced for the bank's clients in 2010 was the first native Internet Banking application created in Slovakia. The Tatra banka application is available for iOS, Android and BlackBerry 10 operating systems.
Currently, Internet Banking via smartphone is used by tens of thousands of Tatra banka clients and their numbers are growing very dynamically. Almost three quarters of users are men (72%), with more than 70% of users from district towns, and more than one third from Bratislava. Despite the initial dominant position of iOS among smartphones, the majority of current Internet Banking users have smartphones with the Android operating system. The Tatra banka application for iPhone has
long been among the best applications in the Free/Finance category.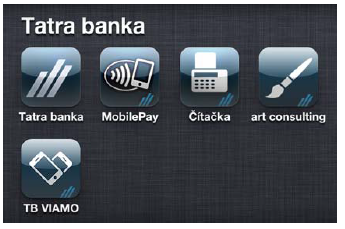 Besides the Tatra banka application for Internet Banking, Tatra banka clients can also use the following applications:
Mobile Payments (for contactless payment by mobile phone),
ČítačkaTB (authorisation and authentication tool for working with electronic banking),
ArtConsulting (catalogue of artworks for private banking clients)
and Tatra banka VIAMO (for easier money transfers).
Bank with Best Web Site Design in Central and Eastern Europe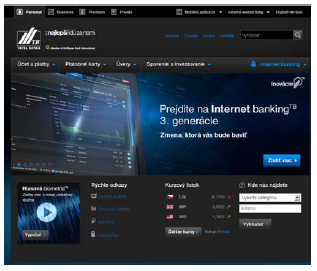 Tatra banka has won its third award in the Best Web Site Design category. The Bank redesigned its website in 2012, with the aim to create a website with the structure, information content and overall design that serve as the first point of contact with the bank.
Website redesign has brought faster and more intuitive navigation, with products available at one click. Added features of the website include interactive tools such as calculators, product guides and transparent comparison.
Contact for additional information:
Marína Smolková
Spokesperson
marina_smolkova@tatrabanka.sk
02/5919 1593 | 0911 328 007
Zuzana Povodová
Media Relations Manager
zuzana_povodova@tatrabanka.sk
02/59191557
www.tatrabanka.sk | Dialog: *1100 | Tatra banka a.s.
https://www.tatrabanka.sk/en/about-bank/press-releases/we-are-celebrating-15-years-internet-banking-13-awards/