We Pay Nearly 30 Percent More Transactions by Credit Cards in Summer
| 06.06.2014
A credit card is an excellent companion every day, but it is particularly ideal for travel and summer vacation. This is confirmed by summer statistics each year.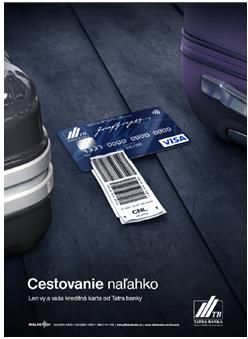 Our clients generally show the most interest in credit cards before the start of summer. During the summer, they also use a credit card for payments abroad more often than in other months. Last year, Tatra banka recorded a 26 percent increase in the number of credit card transactions abroad, with more frequent use of cards starting in June and lasting until September.
Generally, Tatra banka clients make most foreign transactions in Austria. During the summer, however, the top positions are held by traditional favorite holiday destinations - Italy, Croatia and the USA. Among young clients under 30 the Czech Republic, the USA and the United Kingdom are the top three countries. Unusual destinations, where Tatra banka clients have also paid by credit card, include Uganda, Haiti, Greenland and Togo. This further confirms that our credit cards are internationally accepted and can be used almost anywhere in the world.
Last summer, our clients made almost 200,000 transactions abroad totaling almost € 14 million.
A credit card is an essential companion on vacations, as one is usually required to book a hotel, a flight ticket, or to rent a car. It also provides clients with a financial reserve in the event of unforeseeable expenses, which means they need not be fully paid from the family budget and allow you to fully enjoy your vacation. The assistance of a credit card will certainly be appreciated in less pleasant situations such as unexpected medical treatment. Favorable travel insurance that protects against injury, flight delay or lost luggage will also be useful.
Vacation tips:
a card is safer than cash - money on the card is protected by your PIN code
do not keep your PIN code anywhere near the card and do not disclose it to anyone
if you cannot remember the PIN code, use the option of PIN code change via an ATM
if you have two cards (debit and credit), take both with you
check the validity of the cards that you take on vacation with you
use a credit card to make payments at retailers and do not let the card out of your sight when making a payment
use your debit card for cash withdrawals - it is cheaper
have the number for the bank's contact center saved in your phone
activate b-mail (SMS notification)

Contact:

Marína Masárová
Spokesperson
marina_masarova@tatrabanka.sk
02/5919 1593
www.tatrabanka.sk | Dialog: *1100 | Tatra banka a.s.
https://www.tatrabanka.sk/en/about-bank/press-releases/we-pay-nearly-30-percent-more-transactions-credit-cards-summer/