What do your children spend money on?
| 12.11.2018
According to a survey 9 out of 10 teenagers get pocket money in Slovakia We have also found out the average amount of pocket money and what children spend it on.
Parents give their children €22 per month
For the second time, Tatra banka carried out a big Kozmix survey, which was conducted on social media with the participation of almost 2,600 parents. About 1,800 parents participated in the first year and answered questions regarding pocket money. The results showed that average pocket money is €22.
Children in the Banská Bystrica Region get the highest pocket money, while children in the Košice and Prešov Regions the lowest. Girls get on average €3 less than boys, but they get pocket money at a younger age. The older the children, the more of them get pocket money. Every fourth child at the age of 6 and two out of three children at the age of 11 get pocket money, while only one tenth of 15-year-olds get no pocket money.
Children love sweets
This year the survey included an additional question: What do children spend their pocket money on? Almost 800 parents responded that children most often used their money to buy food and sweets. This option was chosen by 37% of respondents. Another third of children actively manages their money and save for something more valuable or for the future. Spending options also included clothes, electronics and gifts for others.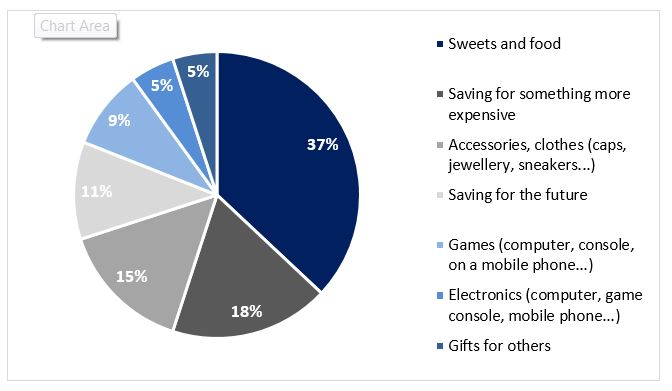 Tatra banka will help with monthly pocket money
Based on the survey results, Tatra banka has decided to support children and their parents by sending €22, i.e. the average monthly pocket money, to each new Children's Account. The parents just need to open an account for their children between 22 October and 16 December. The Children's Account incurs no maintenance fee and can be accessed by a parent via internet banking or via a mobile app. Parents thus have control of their children's money and can keep even better track of what they spend it on.
www.tatrabanka.sk | Dialog: *1100 | Tatra banka a.s.
https://www.tatrabanka.sk/en/about-bank/press-releases/what-do-your-children-spend-money-on/