Loan via mobile application
exclusively for Tatra banka clients

you can draw a loan in the Tatra banka mobile app within 15 minutes

Consumer LoanTB
for Tatra banka clients
anytime and anywhere.
Express disbursement of funds in 15 minutes

Favorable interest rate from 5,9 %
(representative example)

Insuring the ability
to repay loan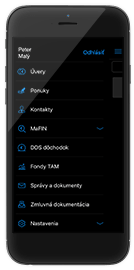 1/6
Open your Tatra banka mobile app and go to the Offers section.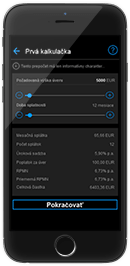 2/6
In the second step calculate an indicative amount of your monthly installment based on the chosen loan amount and repayment period.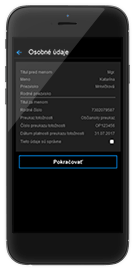 3/6
Then fill in your personal and additional data, or just confirm their accuracy.
You will probably only add certain information, for example, education, etc. All other data we have about you will already be completed, so you just need to check and confirm them.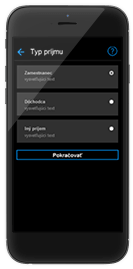 4/6
Choose the type of your income – in most cases it is not necessary to document anything.
After personal details, you enter your income information. For most types of income it is not necessary to document anything; we will verify the data in the database of Social Insurance.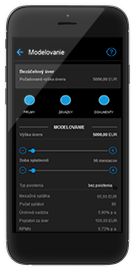 5/6
Model the loan amount and monthly installment that suits you best.
After verifying your income and the existing liabilities in the loan register (this takes about two minutes), you will learn about the maximum loan amount you can get and the interest rate, which remains fixed. In this step you can choose the loan amount and the monthly instalment that suits you best.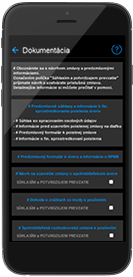 6/6
After loan approval and the signing of agreements directly in the mobile app the funds will be credited to your account within minutes.
After approving the loan in the amount chosen by you we will prepare loan agreements directly in the mobile app. After their acceptance you have the funds in your account within minutes.
Compare how much time you save by getting a loan via the Tatra banka mobile app

Do you need advice? Leave us your phone number and we will be glad to help you
Calculate the loan according to your expectations
Calculator for Consumer LoanTB Calculator for Refinancing LoanTB
You can find a specific calculation for your credit directly in your Tatra banka app.
Frequently asked questions
www.tatrabanka.sk | Dialog: *1100 | Tatra banka a.s.
https://www.tatrabanka.sk/en/personal/loans/loan-via-mobile-app/