Tatra banka POS - turn your phone into a payment terminal.
Are you a self-employed person or a small company? With the Tatra banka POS application, you manage your business directly from your pocket.

Simple and secure payments

Potential for higher sales

Possibility of contactless payment and payment by mobile phone
Advantages of the TB POS application from Tatra banka:
a convenient and fast way to receive payments anytime, anywhere
the total amount of funds has been credited to the account maintained at Tatra banka on the next working day,
contactless transactions are executed extremely quickly and their use is very simple for both the service and the paying customer,
you do not pay a monthly fee for using the application,
you can clearly see the transactions in one place,
you can accept payments with all VISA and MasterCard debit and credit cards,
you do not need any additional equipment.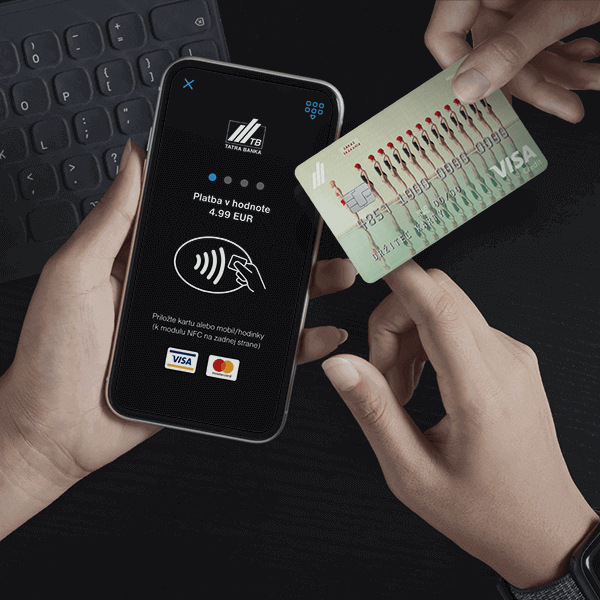 General information about POS terminals and TB POS application
+421 2 / 5919 7755
Technical support for POS terminals and TB POS application
+421 2 / 5919 3435
Technical requirements
The application is intended for mobile phones that have:
Android OS version 10.0 and higher
NFC antenna
access the Google Play Store
Accepted cards
The TB POS application accepts the following payment cards:
MasterCard, MasterCard Electronic, Maestro
VISA, VISA Electron, VPay
Download TB POS
Conditions for obtaining
To obtain and use the Tatra banka POS terminal in the mobile, all you need is:
own a business account in Tatra banka and a company registered in the OR SR or ŽR SR,
conclude an agreement on accepting payment cards,
meet the technical requirements for the installation and connection of the terminal.
www.tatrabanka.sk | Dialog: *1100 | Tatra banka a.s.
https://www.tatrabanka.sk/en/business/accounts-payments/receiving-payments/tatra-banka-pos/