Application Tatra banka
Do you like our Internet bankingTB? You will love our mobile app! Enjoy the benefits of the most award-winning mobile banking in Central Europe. Download the latest version.

Cash withdrawal by smartphone

Management of finances
MaFin

Choice of Lite or Full version

Online card management
Benefits of using the application
The Tatra banka application will make your life easier. Thanks to it, you no longer have to spend time in branches and you can arrange many things online.
With the Tatra banka mobile application, you can quickly and easily view account and credit card balances and movements, send payments, set up a standing order or direct debit, update personal data from your identity card, set daily limits on a debit or credit card as needed, and much more. Less demanding users can set up the Lite version of the application for even easier and more intuitive operation.
You can also apply for a consumer Digital loanTB or credit card through the application.
Create an account within 10 minutes
You can open a Digital accountTB without visiting a branch, even if you are not our client. The whole process in the application takes about 10 minutes and you can use the account immediately.
ATM withdrawal with a mobile phone
Withdraw cash from Tatra banka ATMs easily by mobile phone. You save time and avoid the risk of misuse of your card, all without a wallet. The one-time and daily limit for such a withdrawal is 500 EUR.
Click on the "ATM wihdrawal" icon on the bottom left of the login screen and generate a code to enter into the ATM.
MaFin Management of finances
Obtain an overview of your finances and plan your financial future thanks to the tools for management of your finances.
Spending reportTB
Monitor your income and expenses, create well-arranged categories and set up an independent overview for each of them.
Spending planTB
Look at the prediction of balance and future expenses for the next period.
Assets and liabilities
Compare the amount of your assets (deposits and investments) against your liabilities. You can gain a comprehensive overview by adding any other of your own assets or liabilities outside Tatra banka.
Our virtual banker AdamTB will be happy to help you with your questions. Its mission is to provide you with information about products and also to help solve your requirements. If he does not know the answer to your question, he will connect you to an operator who will be happy to help you with your request.
Opening savings
In the application you can open up to 15 savings for an account or Investment savingsTB into mutual funds. You can save or invest from any amount and change it at any time free of charge.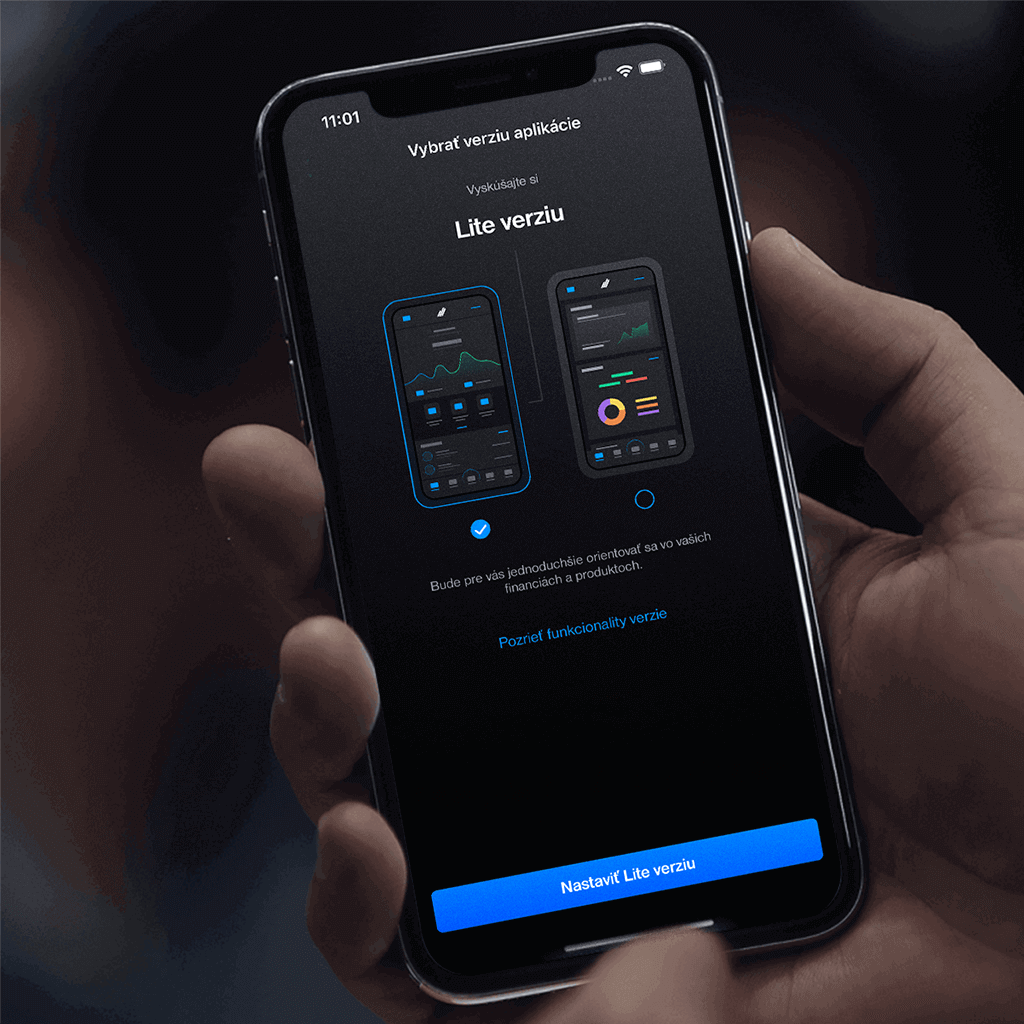 Lite version
The lite version provides easier and more intuitive access to account information, cards, savings or loans. Just 3 clicks are enough to enter the payment. It is therefore the ideal solution for students, young people as well as all users who want to orient themselves more quickly in the complex world of finance.
Download the app and start to use its benefits today:
News
In the new version 3.14 of Tatra banka app you can find:
Spending planTB - estimate of balance and expenses for the next period
Bug fixes and minor improvements to increase user satisfaction
Exceptional application features
The Tatra banka application represents a fast way to financial resources. It is loaded not only with innovations, but also with functionalities that are designed for everyday use.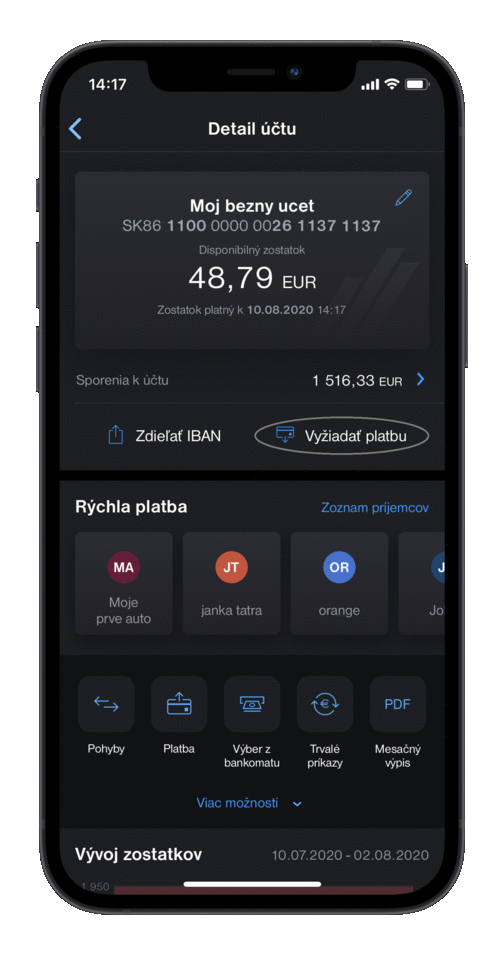 1/6
Payme
Payme is a quick and easy way to send payment details through your favorite chat apps on your smartphone. It doesn't matter if your friend has an account with another bank. Payme is here for everyone who has the application of any Slovak bank installed.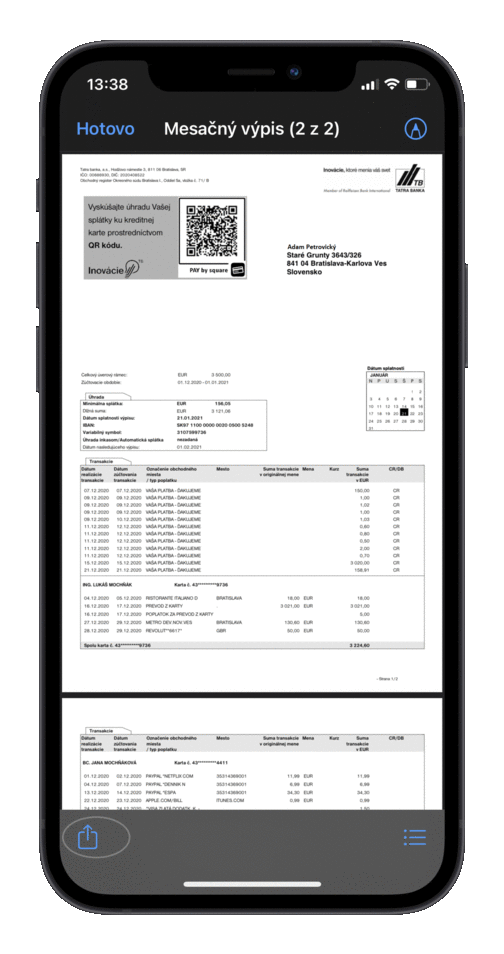 2/6
Payment of invoices
If you need to pay a pdf invoice via mobile phone, the easiest option is to share it directly in the Tatra banka application. The invoice must contain a QR code with payment details. The application reads this data and automatically pre-fills the payment order.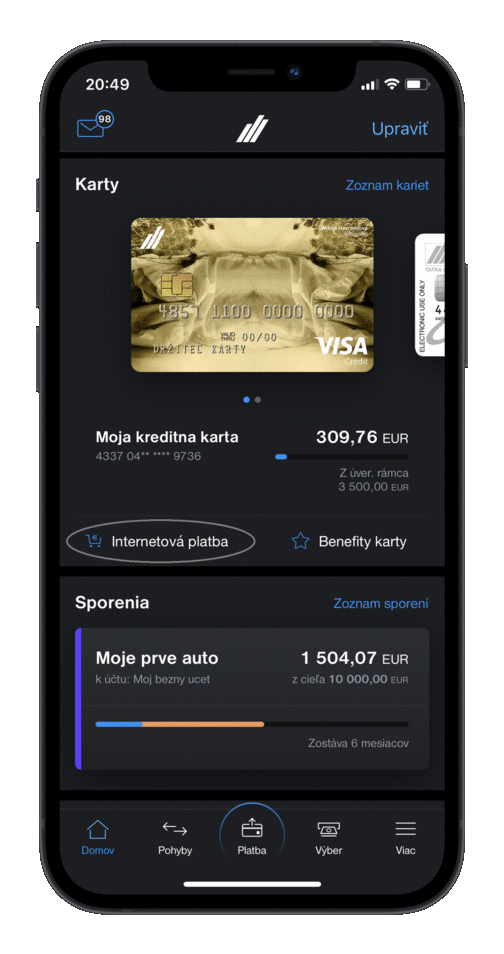 3/6
One-time card number
If you use your payment card for online purchases, we recommend that you generate a one-time card number with the highest possible security for each purchase.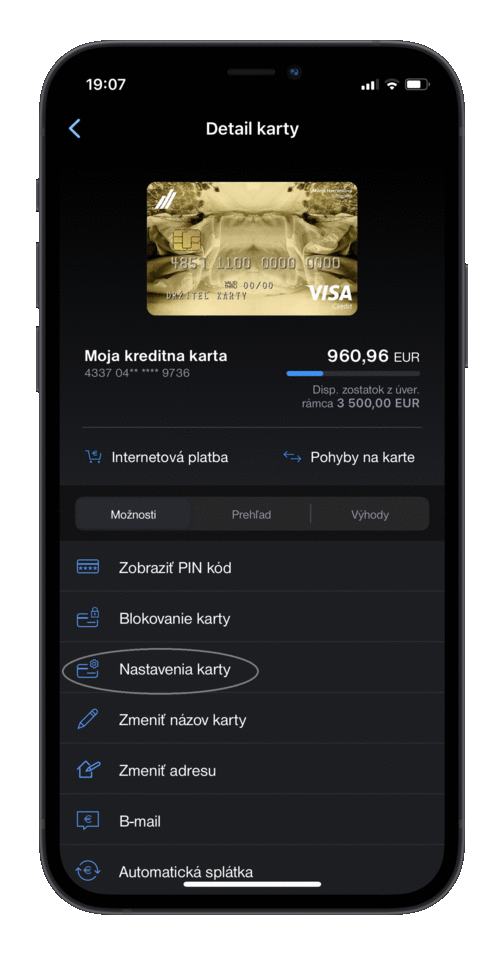 4/6
Payment card management
You can set limits on payment cards as needed and change them again at any time free of charge. To increase security, you can restrict the use of the card to selected continents only. For example, if you only travel in Europe, deactivate other continents. You can also immediately block or unblock the card.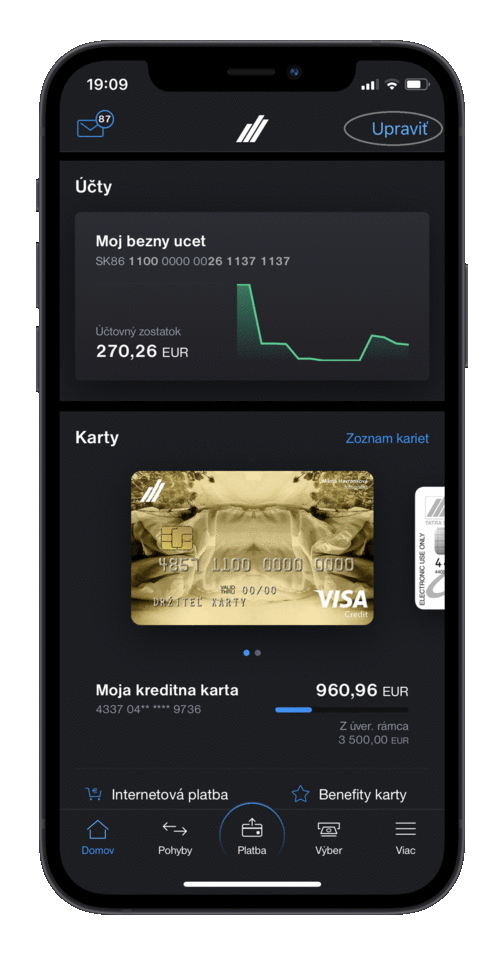 5/6
Custom home screen
Customize the look of your home screen. Set which widgets and products you want to display and in what order. You can find the settings directly on the home screen (in the upper right corner) or in the Application settings.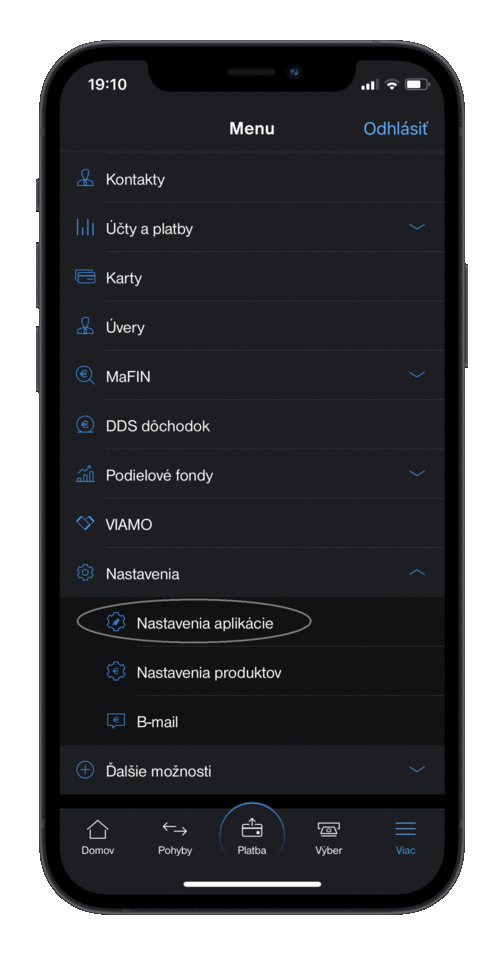 6/6
Automatic logout settings
If you want to stay logged in, even if you leave the application for a short time (e. g. when copying data from/to the application), just set the Background application option to "Max. 2 minutes ". The application will remain active during this time even after leaving it.
Other functions of the banking application
Accounts
With the Tatra banka app you always have available information concerning your current balance and movements on the account, as well as reports on an optional overdraft. You may export the information about movements and also send it to an e-mail address. Possibility to open a current account with the Tatra PersonalTB service package or Self emloyed accountTB.
Payments
In the application, you can implement standard and instant SEPA transfer orders, use the scanner of postal orders, invoices and IBAN. You can also create and manage predefined recipients, pending payments, as well as standing orders and direct debits.
Credit Cards
You have an overview of the balance and movements on the credit card, the possibility of quick payment of the amount due, you can also see the calendar of the nearest deadlines and maturities and you have the opportunity to make transfers from the credit card to any account in the Slovak Republic. You can also view your current PIN code in the application, change the limit, or add it to Google Pay/Apple Pay.
Debit Cards
You can track various information, movements and limit messages on your debit card. You can also view your current PIN code in the application, change the limit, or add it to Google Pay/Apple Pay.
Loans
You have available the basic information on an Any-Purpose consumer loan, mortgage loan or American mortgage. Self employers find in the application also information about BusinessLoanTB Expres and BusinessLoanTB Hypo.
Branches and ATMs
Here you will find a list and map of Tatra banka branches and ATMs, including an option to navigate or obtain more information on the selected branch and ATM
Demo
You do not have to log in every time. All functionalities of the application are available for you also in the DEMO regime without logging in.
VIAMO
You can activate VIAMO directly in application Tatra banka.
Online chat
If you have any questions, you can contact our virtual banker AdamTB.
Offers
As soon as a new offer is available for you, for example for a pre-approved credit card, an Any-Purpose consumer loan, optional overdraft, etc. we will let you know in the app.
Contacts
You can find the various ways to contact the bank here.
Supplementary Pension Saving program
Possibility of opening Supplementary pension savings. Overview of your contributions, total sum of savings and other information concerning your pension funding.
TAM Mutual Funds
Overview of your investments, possibility to open of Investment savings in Mutual fundsTB.
Inbox of messages and documents
You will not miss important messages (e.g. on overdue payments) and documents with automatically-sent notification of their acceptance.
Contractual documentation
An overview of selected documentation is also useful.
News
You can also use an overview of important information from the bank.
Foreign exchange rate list, including currency calculator
You can monitor the currently applicable exchange rates for foreign currencies and the exchange rate history and use the currency calculator.
Payment limits

3 000 EUR per accounting day and 30 000 EUR per month without additional authorization or with PIN authorization,
30 000 EUR per accounting day and 300 000 EUR per month in the case of additional authorization using the ČítačkaTB app or Card and ReaderTB
unlimited payments in case of additional authorization with the ČítačkaTB app or Card and ReaderTB, activation is required in the branch after checking the signature patterns on the account.

The stated limits do not apply to the case where the authorization means were allocated on the basis of the Agreement on the allocation of identification, authentication and authorization means concluded through a mobile application or internet banking. In this case, the daily limit is 3 000 EUR per accounting day and 30 000 EUR per month, regardless of the authorization tool used.

Standing orders: 3 000 EUR, depending on the date of the first payment and the date of payment chosen.

Withdrawal from an ATM by mobile phone: 500 EUR per accounting day and 5 000 EUR per month.
Security
Basic security rules thanks to which your finances are always safe also in your mobile
Do not disclose your login or card information to anyone. Recently, we have recorded several attempts to obtain login data from clients. Fraudsters often present themselves as the police or bank employees and subsequently misuse the data obtained. In addition to contacting by phone, various scams using email communication are common, which can link to a fake website. Therefore, be careful and do not disclose your login details to the Internet bankingTB service or the Tatra banka application - PID, password, PIN code to the application or to the payment card to anyone.
Do not use simple passwords. When creating PIN codes, avoid simple sequences of numbers (for example 1234 or 0000). Do not use the same password for your mobile banking that you use, for example, for your mobile phone.
Do not allow anyone to sign in to your mobile device with biometric data.
The Tatra banka application uses all the biometric data stored in the given mobile device for fingerprint registration/Face ID. If a third party has access to your device using biometrics, it is necessary to remove its biometric data from your device or not to enable biometric data on your mobile device.
Do not respond to email requests to change the password for the mobile or internet banking. The bank never asks for a change in your password via e-mail or over the phone.
Always log out from the secured app zone.
Use only a connection via secured Wi-Fi networks or via data services provided by mobile operators.
Deactivate the Tatra banka app if you do not use the device any longer or lose it. You can do so via Internet bankingTB or DIALOG Live contact cente.
Keep your smartphone safe. Install antivirus and anti-spyware program, regularly update your operating system and the Tatra banka applications and set an automated locking of your smartphone. Do not use mobile banking on any device on which "jail-break"/"root" has been installed.
Download and install only applications from an official shop with applications where the Tatra banka applications are also available (Google Play, App Store, App World).
Increase security of your funds in the Tatra banka app
Set the limits on payment cards according to your needs. If your limit is too high, decrease it. If you do not use the card for internet purchases, set the internet limit to 0 EUR.
Allow only the needed continents. If you travel exclusively within Europe, deactivate the option of using the payment card on the other continents.
Minimize the risk of the card skimming by using ATM withdrawals via mobile phone.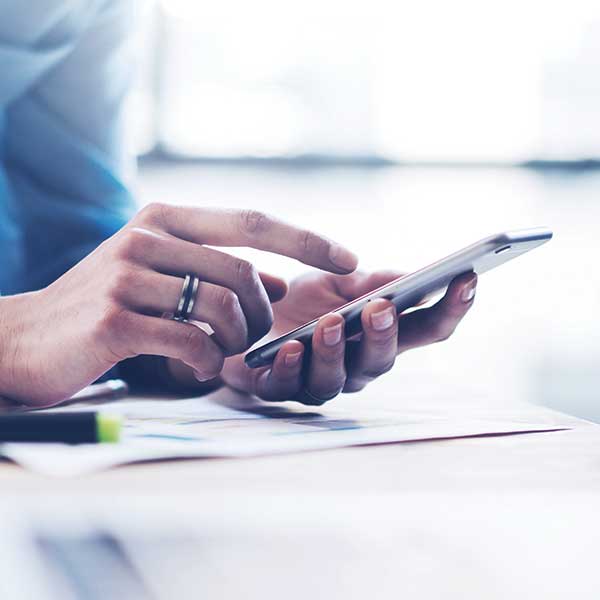 App activation
To use the application, it is necessary to have activated the Internet bankingTB service from Tatra banka and internet access.

For the first activation you will also need the Card and ReaderTB. For other signups, just enter the 4-digit PIN you create when you activate or use Fingerprint/Touch ID/Face ID. You also need to activate the app if you downloaded it and installed it on your new device.
Simplify your payments even more – download the ReaderTB application onto your smartphone and activate it via DIALOG Live.
Our Awards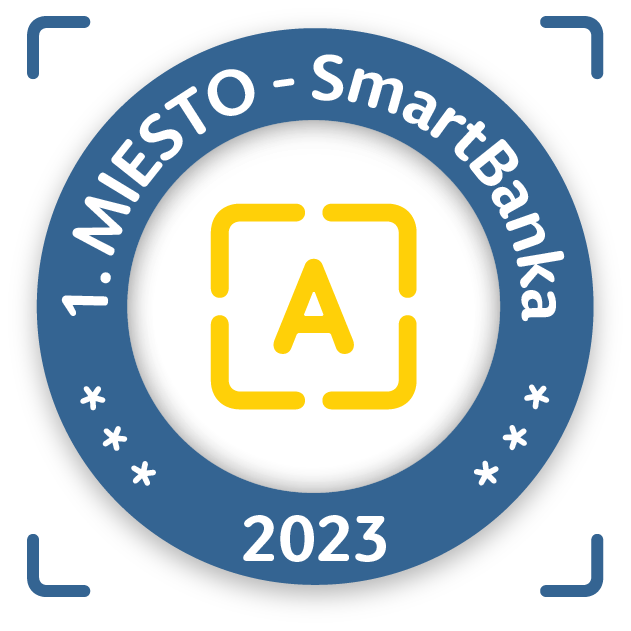 1st place
SMART BANK 2023
The best banking application
2nd place
TECHBOX
BANKING APPLICATION 2022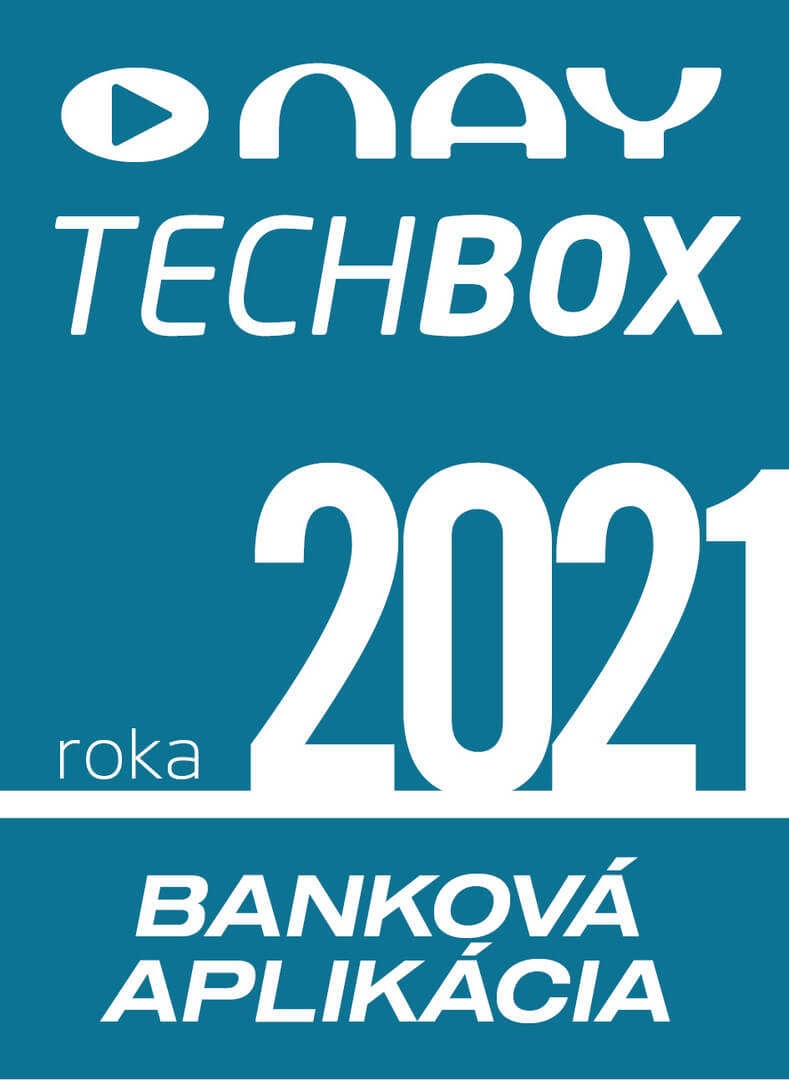 1st place
TECHBOX
BANKING APPLICATION 2021
Frequently Asked Questions
Download the app and start to use its benefits today:
www.tatrabanka.sk | Dialog: *1100 | Tatra banka a.s.
https://www.tatrabanka.sk/en/personal/account-payments/mobile-applications/application-tatra-banka/