Visa Standard Business
An ideal partner for your business

Efficient management of funds

Control and overview of corporate income and expenses

Combination of a flexible loan and an all-purpose payment tool

Interest-free period of up to 51 days
Benefits of using the Visa Standard Business card
As an entrepreneur you always want to be sure that nothing will take you by surprise and you have enough funds on your account for effective management of your business.
With the benefits of your Visa Standard Business you can fulfil this need. Look what benefits you will automatically get with it: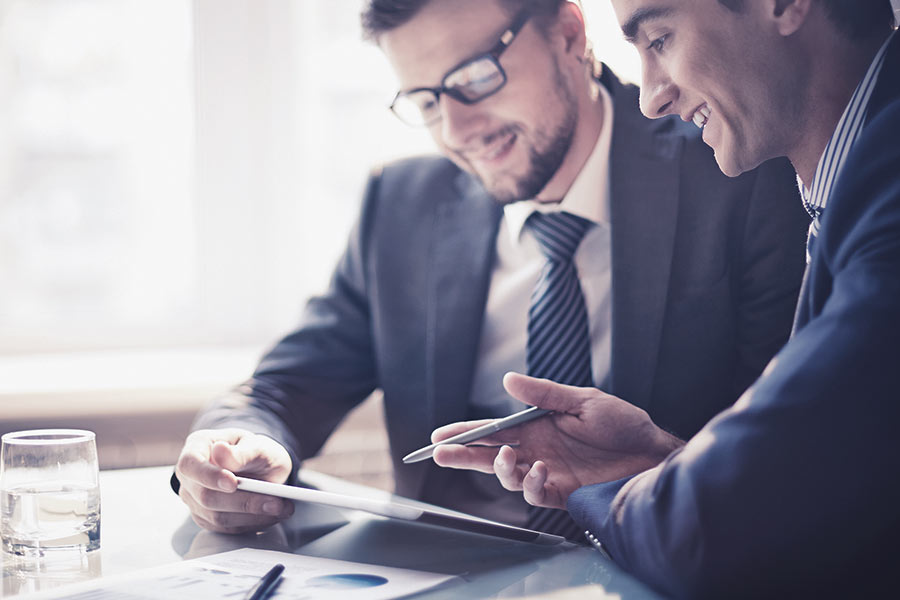 AirRefund - pay for your tickets with your credit card and in case of delay, cancellation or insufficient flight capacity, you can get your money back, in addition to a discount on the management fee.
Visa Luxury Hotel Collection Program provides premium benefits in more than 900 exclusive hotels worldwide. You will book a hotel and use your Visa Standard Business card to pay.
Visa Asistencia. An exclusive assistance service that will come up with and organize anything for you, you don't have to worry about anything.
Discounts for Visa partners. Take advantage of advantageous discounts with selected Visa partners from various areas when paying with your card.
You have funds for your business available at any time. You may use the funds at any time, regardless of the current balance on your business account or Self employed accountTB.
Online card management
Simply change the limits of your card and determine the continents on which you can pay with the card via the Tatra banka mobile application or via Internet bankingTB.
Economize on account charges and interests. Together with the card, the business account allows you to draw funds without interest charges for a period up to 51 days.
Business credit for your business trips. You can use the card to book air tickets, a hotel room or a rental car. It is accepted in more than 200 countries worldwide.
An e-statement to your e-mail address will provide you with a regular overview. You decide whether you need an e-statement in the PDF format for printing or archiving or in the CSV format for importing into your accounting system.
Easy payment order saves your time. You can also settle invoices for goods and services from your suppliers directly by your credit card or you can transfer funds to your business account.
Flexible repayments. You decide how much of the borrowed amount, in addition to the minimum instalment, you want to pay. You may do so with use of a direct debit, a payment order or a cash deposit.
Unique travel insurance. Travel without worries about holidays, business trips or shopping abroad. In cooperation with UNIQA, we offer you annual travel insurance for only 36 EUR and for seniors over 65 years 48 EUR. It is valid worldwide, and one trip can take up to 90 days.
Transaction complaint
The ordered goods have not been delivered to you? Or were you surprised by a transaction for which you did not enter your credit card information? You can enter a transaction complaint quickly and easily on your mobile via the Tatra banka mobile application.
Digital replacement card
If your payment card is lost or damaged, you can request a free replacement card via the Tatra banka mobile application, which you can use in just a few seconds.
Details
The Visa Standard Business credit card is an ideal tool for your business, with which you can manage the everyday operation of your company as well as any unexpected situations. It will also help you to handle any loss of income.
Your Visa Standard Business will never limit you.
The card is accepted worldwide and with it you will get an all-purpose payment tool and a flexible loan together with a 51-day interest-free period.
Total credit limit 650 – 5 000 EUR
Interest rate 19 % p. a.
The minimum instalment is 5 % of the amount owed (at least 15 EUR)
Monthly card fee 6 EUR
Monthly fee for an additional card 6 EUR
Credit card visual
The card shows a sketch of a dress designed by fashion designer Lukáš Krnáč for Adela Vinczeová at the Tatra banka Foundation awards gala evening, which was hosted by Adela and robot Pepper. Lukáš's iconic overexposed barcode label also appears on the dress.
Learn more about credit card visuals and artists themselves at ManifestTB.
Who is the card for?
The Visa Standard Business is an ideal option for companies and entrepreneurs who want to simplify their corporate activity or business trips.
Who can apply for the Visa Standard Business card?
limited liability companies and joint-stock companies registered in the Commercial Register of the Slovak Republic,
persons pursuing business under a trade license and registered with the Trade Register of the Slovak Republic,
persons pursuing business under a license other than a trade license, under special legislation that are not registered in the Business Register of the Slovak Republic or the Trade Register of the Slovak Republic,
an association of natural persons.
Are you interested in drawing a loan with use of your Visa Standard Business card? Then you must meet the following conditions:
have an active business without any change of legal form and type of bookkeeping for at least 24 months,
maintain business relations with the bank for at least six months,
pursue business in industries accepted by the bank,
present a financial statement for the two previous completed accounting periods and the up-to-date financial statements for the current year,
meet the requirements of Tatra banka's evaluation model.
Leave your phone number and we will contact you.
www.tatrabanka.sk | Dialog: *1100 | Tatra banka a.s.
https://www.tatrabanka.sk/en/business/payment-cards/visa-standard-business/