Gizka Oňová is the new face of the Tatra banka's student campaign
| 06.05.2019
In the new acquisition campaign, Tatra banka has decided to join forces with the queen of the Internet. The bank did not have to go far and has found one in Slovakia with the assistance of Studio Echt.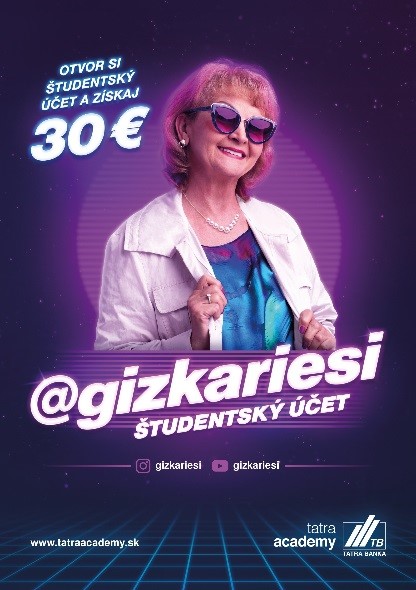 Every year, the bank comes with the Tatra Academy project. It is a student campaign communicating the option to open a Student Account. After opening, students are credited €30 into the account, which is a strong motivation to become a new client of Tatra banka.
The seventh campaign was prepared by Studio Echt, which chose Gizka Oňová as the new campaign face. The TV mother-in-law with a popular life motto "Idem, riešim!" (Let's go and solve!) has thus become the new ambassador of Tatra Academy.
The campaign headlined @Gizkariesi Študenský účet will be visible in the online space, with the agency focusing particularly on the video content. It is completed with a funny and daring, but also engaging and exciting content.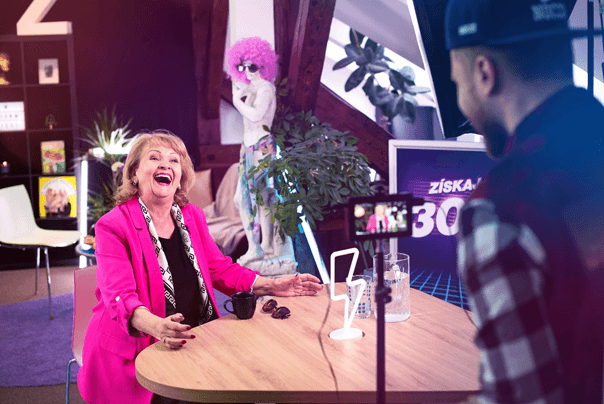 The core of the campaign is the website www.tatraacademy.sk. In addition, being the proper queen of the Internet, Gizka has created its Instagram and Youtube channels and her own Gizzy studio. In the introductory video she shocks the popular names of the Slovak showbiz – the radio presenter and youtuber Sajfa, influencer Moma and rapper Rytmus – by the online challenge prepared for them
Gizka Oňová's new merch
Students can win more than 50 "shocking" prices every month. This is Gizka Oňová's new limited edition merch, which cannot be bought from an e-shop. It was designed exclusively on the occasion of launching the new Tatra banka's student campaign.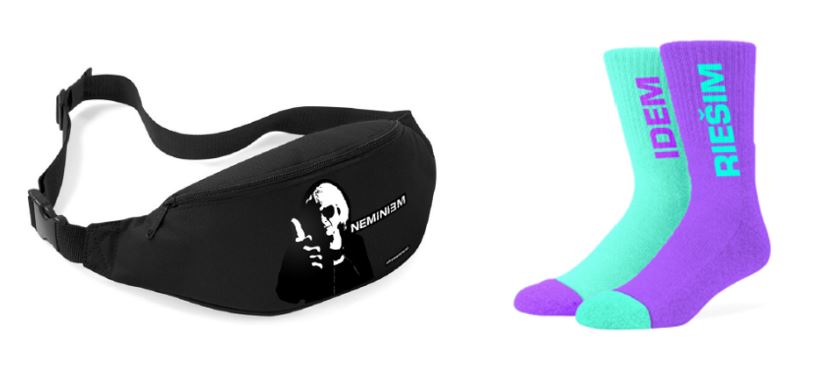 Jakub Ptačin from Studio Echt says: "It is more and more difficult to attract the attention of the young and the same faces keep repeating. We have decided to create a new influencer. Instead of rappers and youtubers, we have approached a legend, a lady. The new queen of the Internet. Gizka will tidy up not only the Internet, but basically everyone. The young will be part of her journey of discovering the Internet. She will entertain, but also enlighten them. All this sprinkled with her unforgettable expressions and authentic reactions to the today's world of the young."
Dominika Gaburová, Tatra banka Brand Manager briefly added: "It will be "shocking"."
Campaign credits
Client: Tatra banka
Agency: Studio Echt
Creative Director: Ondrej Kořínek, Pavol Kyselica
Art Director: Pavol Kyselica
Copywriters: Ondrej Kořínek, Marián Balog
Strategy Director: Jakub Ptačin
Account Manager: Ada Šimšíková
Camera: Boris Holečko
Graphic Designer: Viktor Mada
www.tatrabanka.sk | Dialog: *1100 | Tatra banka a.s.
https://www.tatrabanka.sk/en/about-bank/press-releases/gizka-onova-is-new-face-tatra-bankas-student-campaign/