Online purchases
Shop quickly and without worries in virtual stores and pay with TatraPay, CardPay and Tatra banka VIAMO
f you want to use the TatraPay service to pay for your online purchases, all you need is active access to Internet bankingTB.
Immediately after placing an order, the funds from your account will be credited to the merchant account.
You completely avoid handling cash.
How TatraPay works
After choosing an article in a virtual shop and filling-in all the required information on the order form, click on the TatraPay icon as the method of payment.
You will be immediately routed to the Internet bankingTB site. Upon log in, you will see an already filled payment order form.
Confirm the payment and the money from the account is immediately sent to the account of the virtual store operator.
You will then be redirected to the virtual store page again.
If you make a purchase in an Internet shop and want to pay by means of CardPay, it is sufficient if you own a VISA, MasterCard, Maestro, Diners Club or Discover payment card. That is all you need.
Simple and fast internet purchase
Payment security
How CardPay works
Select goods in an Internet shop, fill in all required information about the purchase and delivery address in the mail order and as the method of payment select payment card
Instantly you will be redirected to Tatra banka website where you fill in the required data in a secure environment - your card number, card validity, protection code and in case of 3-D Secure also password. If your card is engaged in the 3-D Secure programme, you will be prompted for identification by password that is known to you only.
The bank will subsequently make the payment in the authorisation centre.
The transaction will be accepted in a few seconds and you will be notified of its result on the website.
Afterwards you will be redirected to e-shop website.
VIAMO is a service where your clients can easily and quickly pay for your goods/services directly from their mobile phone.
Payment options for dealers in Tatra banka VIAMO app
VIAMO payment from the web
You can pay in the e-shop using the VIAMO QR code, which has the information necessary for payment. It does not matter whether you are browsing the e-shop via mobile or desktop. In both cases it is easy to pay directly through the Tatra banka VIAMO application.
VIAMO payment from the list
Choose a merchant or non-profit organization whose money you want to send directly from the list in the Tatra banka VIAMO application.
More information about Tatra banka VIAMO application.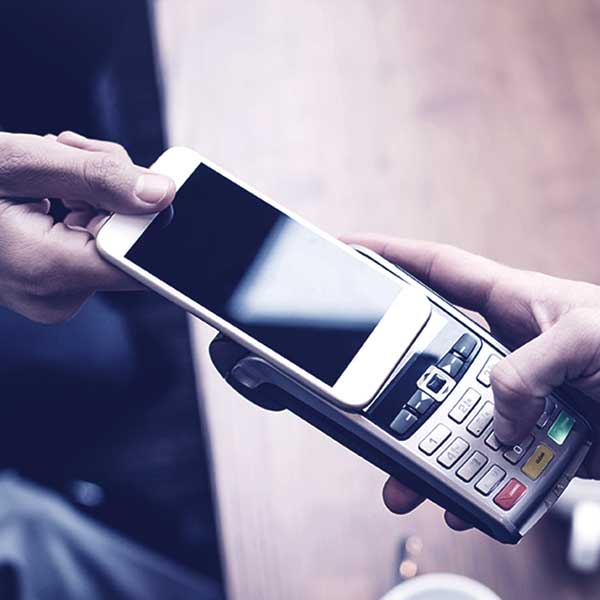 Pay with your iPhone, Apple Watch, and other Apple devices contactlessly, or at online merchants that support Apple Pay.
Pay online or in Safari
With your iPhone, iPad, and Mac, you can use Apple Pay to pay on the web in Safari.
With your iPhone or iPad
Tap the Apple Pay button.
Check your billing, shipping, and contact information to make sure that they're correct. If you want to pay with a different card, tap the next icon next to your card.
If you need to, enter your billing, shipping, and contact information. Apple Pay will store that information, so you won't need to enter it again.
When you're ready, make your purchase and confirm the payment.

iPhone or iPad with Face ID: Double-click the side button, then use Face ID or your passcode.
iPhone or iPad without Face ID: Use Touch ID or your passcode.
Apple Watch: Double-click the side button.

When your payment is successful, you'll see Done and a checkmark on the screen.
Pay with your NFC Android smartphone contactlessly, or at thousands of online merchants.
When you can use Google Pay
When you see these buttons at checkout or if the app or website offer Google Pay as a payment method, you can quickly pay using a card you saved in Google Pay.
Check out with Google Pay
At checkout, tap the Google Pay button.
If asked, choose a payment method and enter your shipping address.
Confirm your order.
www.tatrabanka.sk | Dialog: *1100 | Tatra banka a.s.
https://www.tatrabanka.sk/en/personal/account-payments/online-purchases/