Internet bankingTB
Internet bankingTB, awarded by Global Finance magazine, brings you not only exclusive design and intuitive operation, but also a number of attractive functionalities for easier work with your finances.

Customizable dashboard

Credit and debit card management

Simple management of personal funds

Domestic and foreign payments
Internet bankingTB benefits
Enjoy convenient access to your finances 24 hours a day, 7 days a week. Save not only your time but also money.
Set up the home page in your internet banking according to what information you are most interested in. You have various product and information widgets at your disposal, which you organize according to your preferred importance.
To log in to Internet bankingTB faster, log in using your PIN - 4 to 8-digit login code. You can set it using the PID, password and code from the Card and ReaderTB (or from the ReaderTB app). For more information on signing in with your PIN, see the Frequently Asked Questions section.
Forgot your login details? You can find out your PID on the Internet banking login page or reset the password for Internet banking.
Lost your credit card? Through Internet banking, you can block it, manage limits and allowed continents for using a payment card.
A perfect overview of your finances and assets will help you get the Spending report and Asset Balance, which you will find in the MaFin tab. Here you can also define your financial goals.
If you have an account in another bank, you can add the selected accounts to your Internet banking in the Accounts in other banks tab.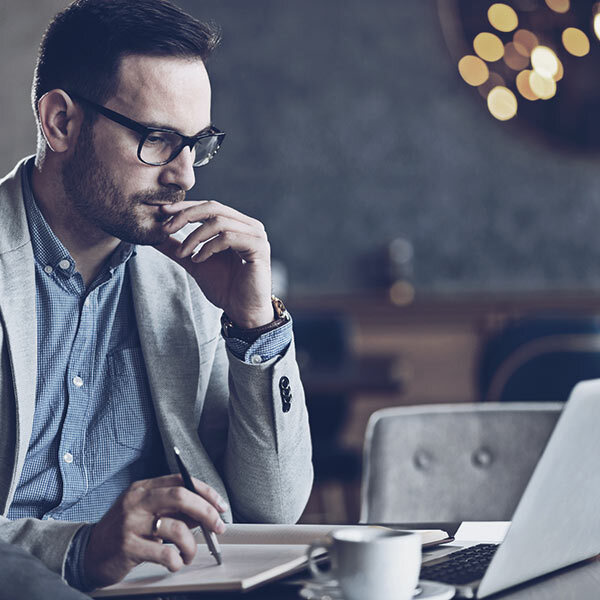 You can perform various active operations via Internet banking. In addition to standard payments and statements, you also manage standing orders, invest in funds, or manage your supplementary pension savings.
Functionalities offered by Internet bankingTB
Innovative Internet bankingTB from Tatra banka is literally packed with functionalities making your life easier:
Overview of accounts and account transactions,
display of balances and product development in graphs,
transactions export to PDF, CSV, TXT and XML formats,
monthly PDF statement,
domestic and foreign payments,
template management for domestic payments,
management of predefined domestic and foreign recipients,
bulk order,
standing orders,
credit card payments,
account and card notification management (b-mail service),
overview of term accounts,
management of deposits in Euro – i:deposit,
loans – information on selected types of loans,
online management and details of credit and debit cards,
SPS – a list of funds and the possibility of increasing the supplementary pension savings,
Mutual fundsTB – option to save or invest,
Spending reportTB – graphic overview of income and spending,
overview of assets and liabilities,
financial Goals for a better life,
document box,
contract documentation,
ReaderTB (ČítačkaTB) app activation
overview of mobile devices with applications MobilePayTB, Tatra banka and ReaderTB with the possibility of disabling,
management of browsers with a paired PIN for login with the possibility of disabling,
manage security settings for login and payments,
access consent management for third party applications.
Are you an entrepreneur? Use functionalities according to your needs:
request Internet bankingTB service – active without limit for a selected account at any Tatra banka branch,
set up the ReaderTB (ČítačkaTB) app in your mobile phone or activate the Card and ReaderTB to confirm payment orders,
define signature authorizations for the account in the Tatra banka branch and thus get the possibility to enter limitless payments with checking the account authorizations, sign payments with two signatures and import batch payments and generate statements for accounting.
Payment limits
Set your payment limits via Internet bankingTB according to you. You have three types of limits to choose from:
3 000 EUR per accounting day and 30 000 EUR per month, payment authorization not required
30 000 EUR per billing day and 300 000 EUR per month, with additional authorization required in electronic banking by the ReaderTB (ČítačkaTB) mobile app or by Card and ReaderTB,
unlimited payments for entrepreneurs, activation in the branch is required after checking the signature patterns on the account
There is a valid limit of 3 000 EUR for placing standing orders, regardless of the additional authorization set, with regard to the date of the first payment and at the same time the selected payment date.
MaFin - financial management via Internet bankingTB
New! Innovated Spending reportTB
The upgraded Spending reportTB will automatically categorize your income and expenses into the appropriate categories. Spending reportTB is available for current accounts with the Tatra PersonalTB service package and credit cards.
Benefits
categorization of expenses and income on the basis of labels indicating the type of transaction
possibility to choose your own beginning of the month, the day of the month from which the monthly expense report will be recalculated
the ability to choose your own period for displaying income and expenses
new gallery of icons
the ability to set the icon, color and budget for each category
clearer graphical display and interactive bar graphs
New categorization of income and expenses
The new version of the Spending report does not contain any predefined rules, but transactions are marked with a label, based on which they are classified into individual categories.
The label is the designation of the payment that most accurately characterizes the purpose for which it was entered, e.g. School, Supermarket, etc.
The original "Categories and Rules" and "Reports" tabs have been integrated into the Spending report tab as separate functionalities.
You can create your own rules for payment from the account based on labels, IBAN, variable symbol and payment reference.
For payment card transactions, you can create your own card payment rules, based on the label or merchant name.
The custom categories and rules you created in the old Spending Report have been transferred to the new Spending Report, except for rules that the new Spending Report does not support.
The rules for card transactions based on the type of trade have disappeared and been replaced by more detailed and accurate labels.
The payment rules based on the payment description have also expired and been replaced by labels.
Not all rules for excluded transactions are available in the new Spending report. Transactions need to be excluded from reporting again based on the rules available in the new Spending report.
The possibility of a one-off transfer of the transaction between categories has been retained.
Overview of expenses and income
Spending reportTB is built on an interactive graph, which shows all the categories in which you had expenses in the selected month, and their percentage compared to the total monthly expenses. When you click on a category, you will see all the expenses for that category. You can set a monthly budget for each such category.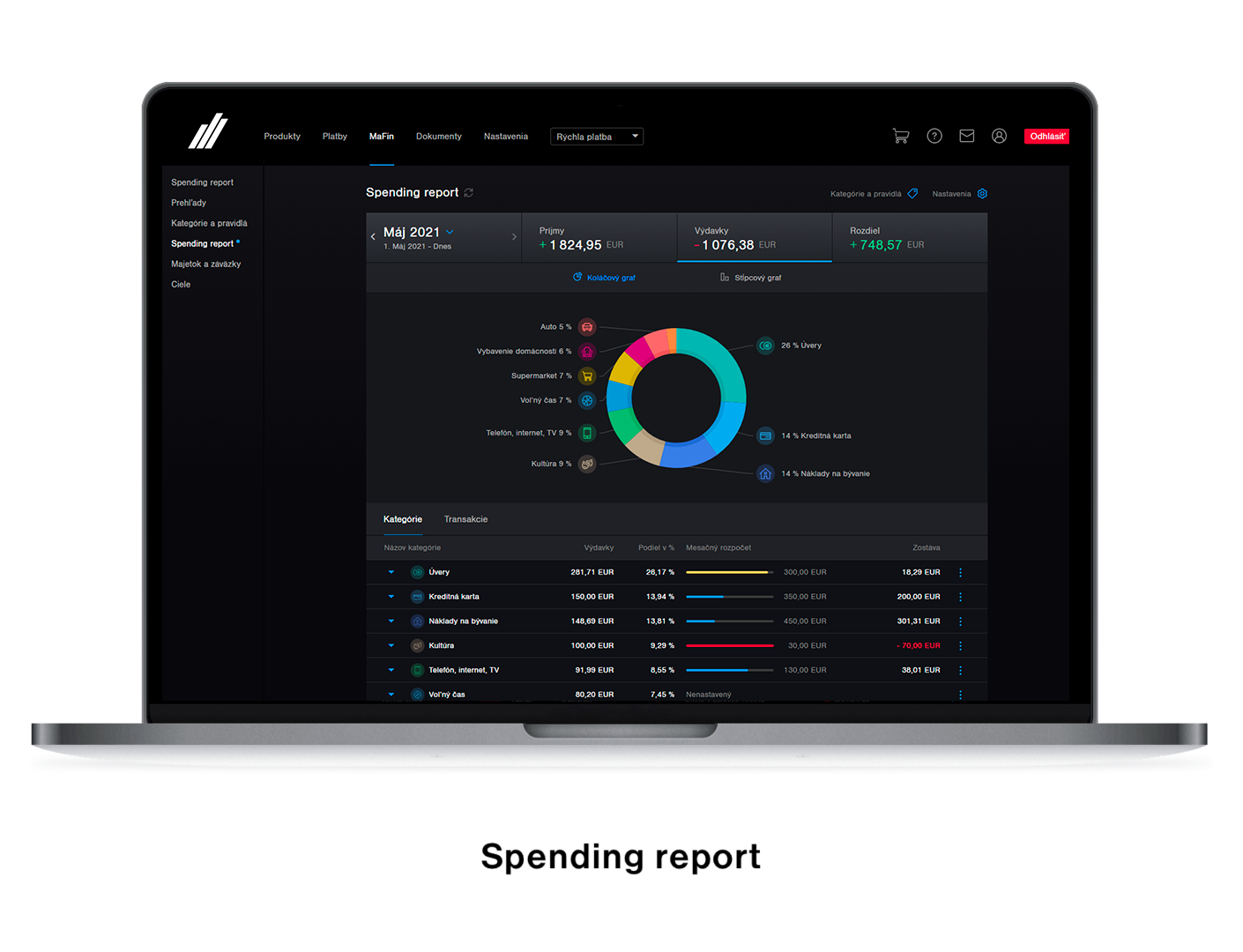 Goals in Internet bankingTB
Set short-term or long-term goals via Internet bankingTB and meet them much easier. Choose from a menu of preset destinations or create your own. We will help you estimate the target amount and determine the amount of monthly savings. You can then assign your products to the goal in Tatra banka, in another bank or any other product or property. You can view them in the form of a list or on a timeline. If some goals are more important to you than others, you can mark them and they will always appear in the list at the beginning. You can also add them to your home page (dashboard), thanks to which they will be visible every time you log in to the Internet bankingTB service.
Assets and liabilities balance
Assets and liabilities balance clearly displays all assets and liabilities that you have in Tatra banka, with several graphic display options. In addition, it offers you the opportunity to register financial products held outside Tatra banka, or other own assets and liabilities, which will give you a better overview of your overall financial situation.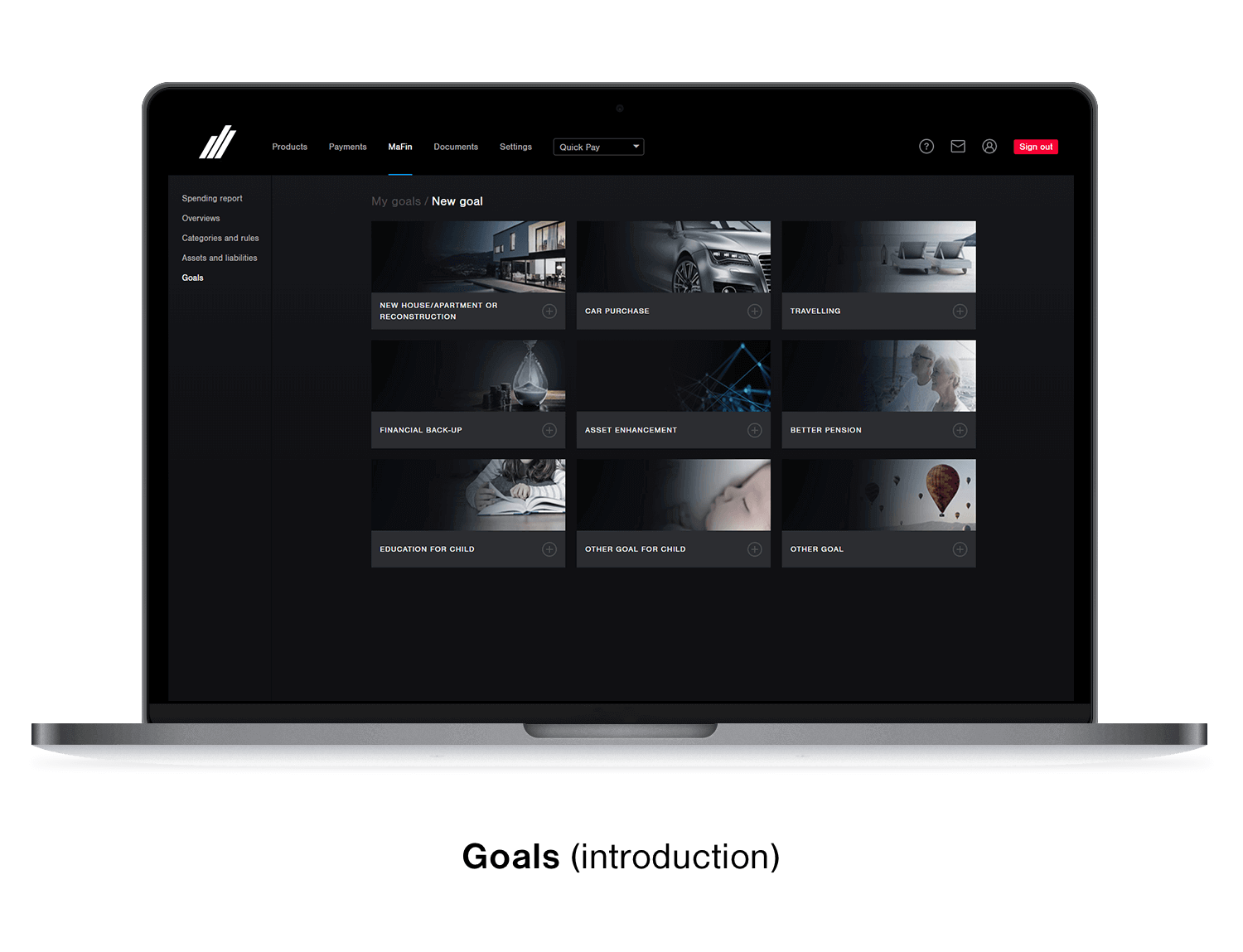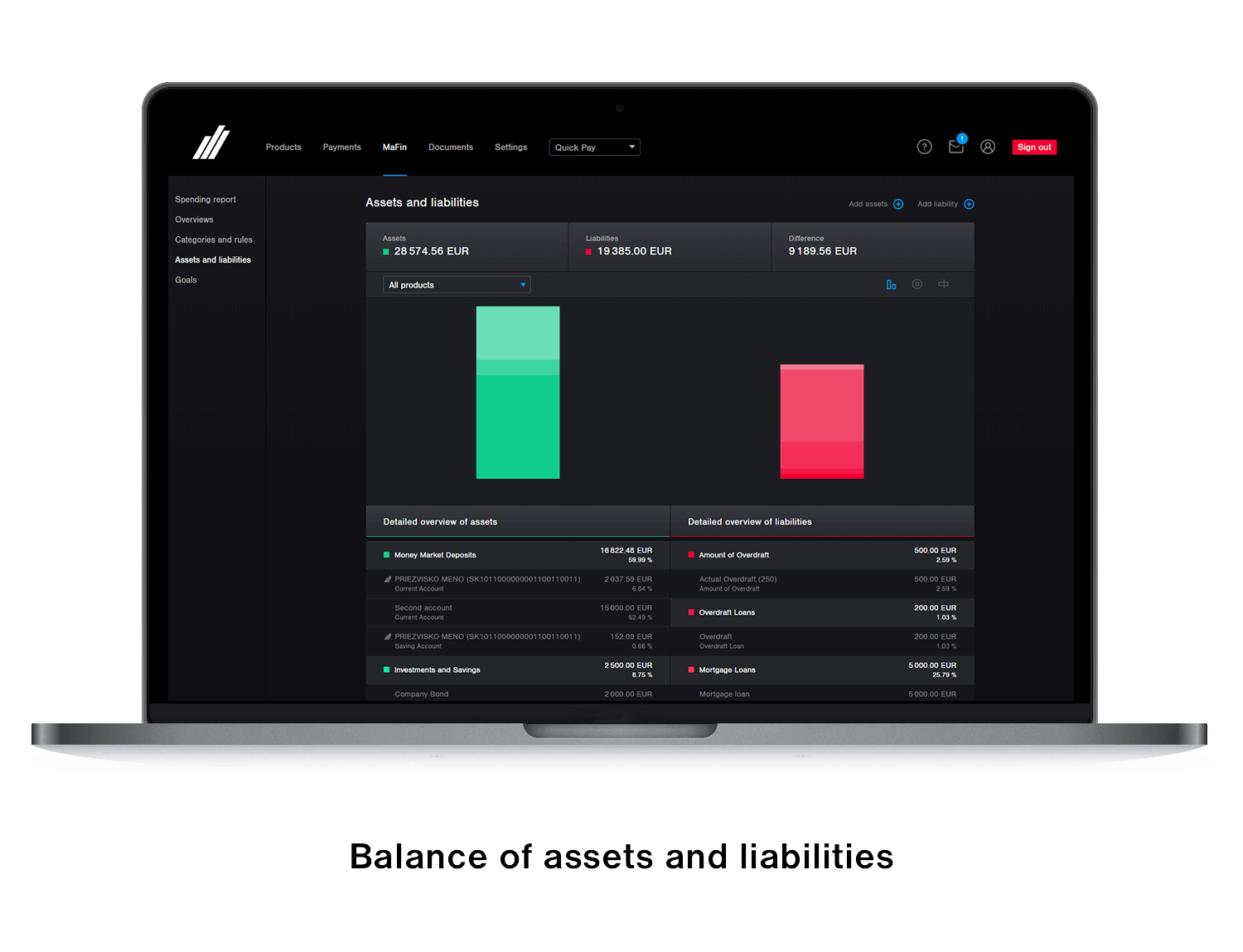 Online card management
Limit management
Manage limits - Select countries where they can't be used on your credit and debit cards, or block your payment card online.
Depending on your permissions and the standard scope assigned to the card type, you can control the following limits:
on credit cards: cash and internet limit,
on debit cards: maximum daily limit, cash limit and internet limit.
Continents
With your privileges, you can manage continents where merchant payments and ATM withdrawals will be allowed, making it easy to protect your card from skimming or misuse in countries you don't normally travel to.
Blocking
If necessary (card theft / loss), you can quickly block the payment card via online management and thus prevent its misuse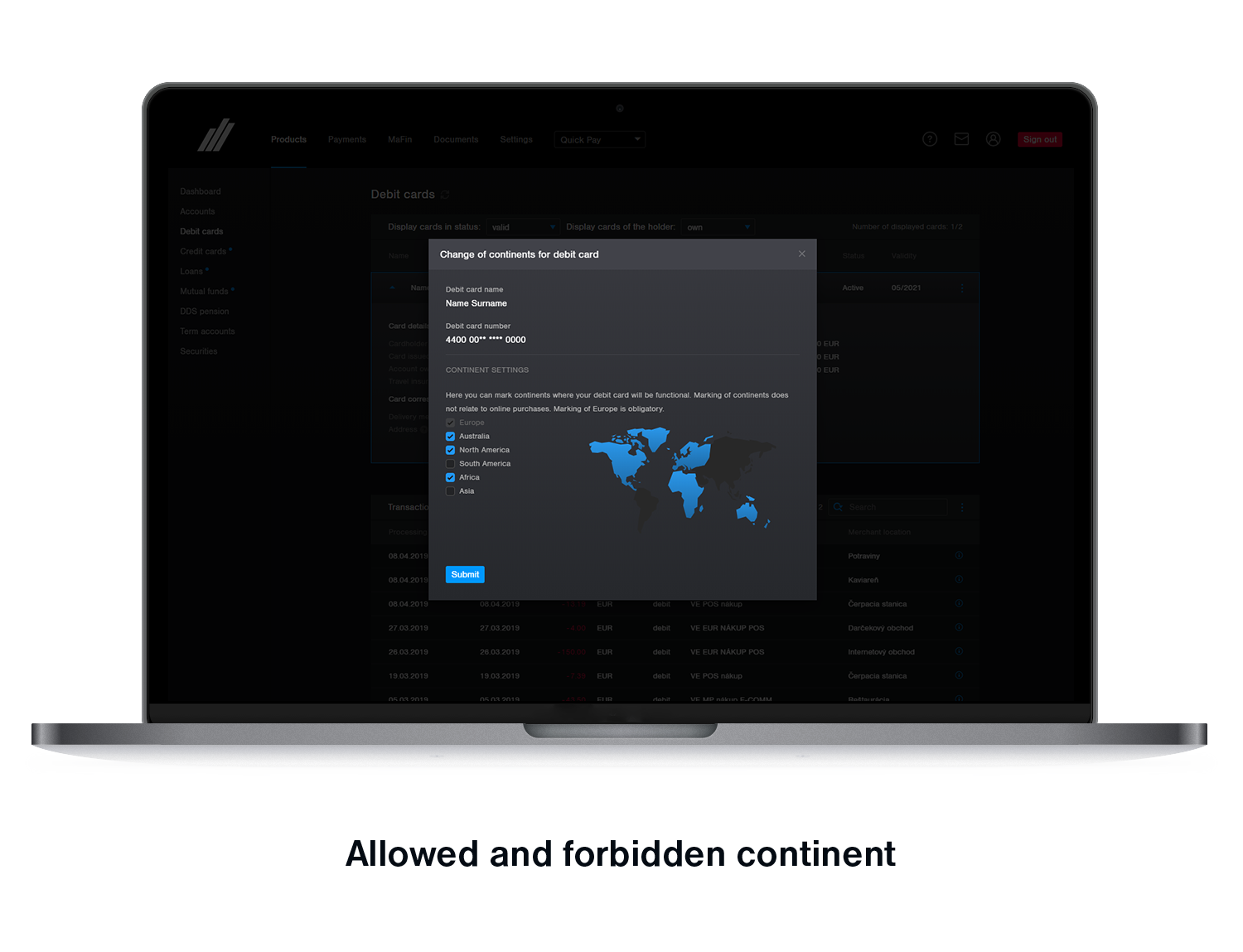 Frequently asked questions
---
www.tatrabanka.sk | Dialog: *1100 | Tatra banka a.s.
https://www.tatrabanka.sk/en/personal/account-payments/internet-banking/