Internet bankingTB service
Internet bankingTB, awarded by Global Finance magazine, brings you not only exclusive design and intuitive operation, but also a number of attractive functionalities for easier work with your finances.

Customizable dashboard

Credit and debit card management

Simple management of personal funds

Domestic and foreign payments
New version of payment order
You no longer have to decide which type of payment/form to choose.
One common dynamic form for all types of payments - domestic/SEPA and foreign.
All you have to do is enter the IBAN of the payee's account and the form will automatically adjust and display the individual fields needed to enter the payment.
Possibility to enter immediate payments within the daily limit of 3 000 EUR.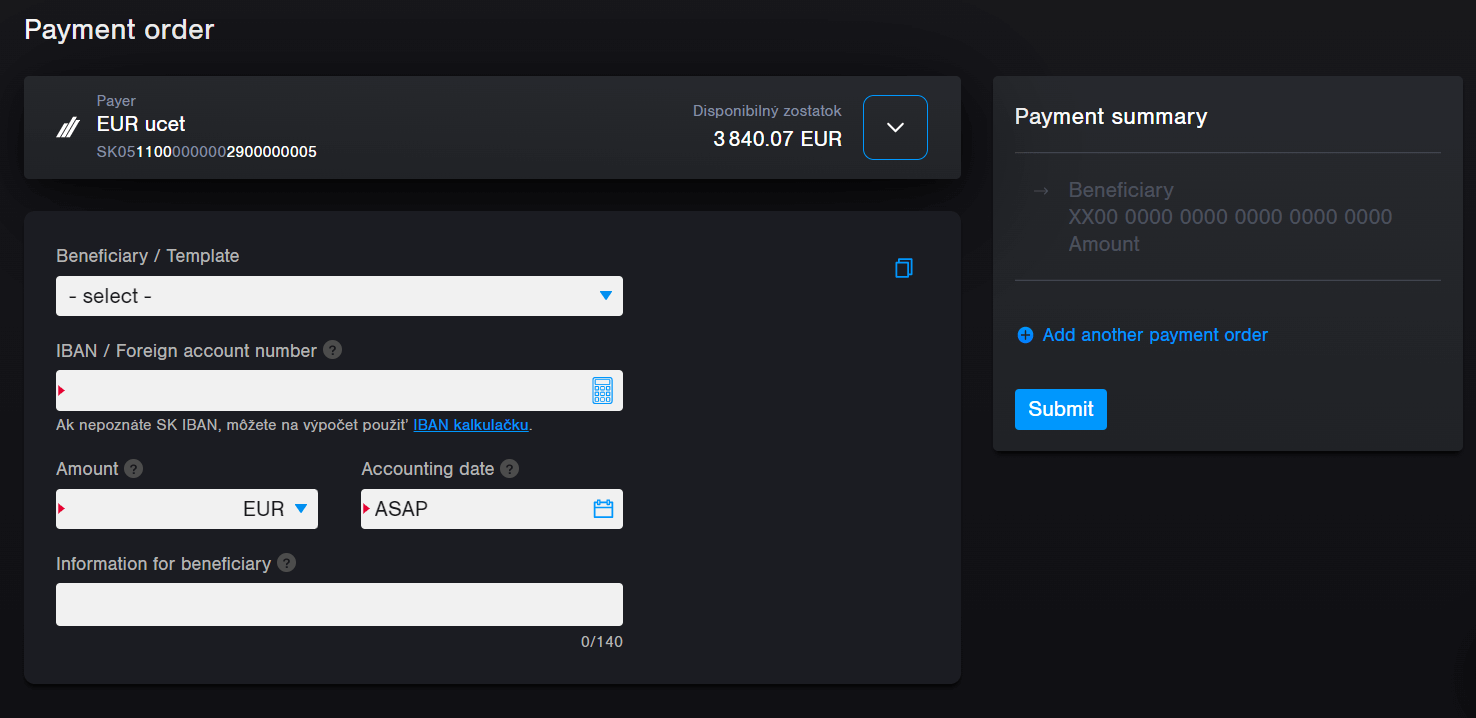 Internet bankingTB benefits
Enjoy convenient access to your finances 24 hours a day, 7 days a week. Save not only your time but also money.
Set up the home page in your internet banking according to what information you are most interested in. There are various product and information widgets available. To log in to Internet bankingTB faster, log in using your PIN - 4 to 8 digit login code. You can also use the set PIN to confirm payments up to EUR 3 000 EUR per day.
Forgot your login details? You can find out your PID on the Internet banking login page or reset your Internet banking password.
Have you lost your credit card? Through internet banking, you can block it, manage limits and allowed continents for using a payment card.
A perfect overview of your finances and assets will help you get the Spending report and Asset Balance, which you will find in the MaFin tab. Here you can also define your financial goals.
You can perform various active operations via internet banking. In addition to standard payments and statements, you also manage standing orders, invest in funds, or manage your supplementary pension savings.
If you have an account in another bank, you can add the selected accounts to your Internet banking in the Accounts in other banks tab.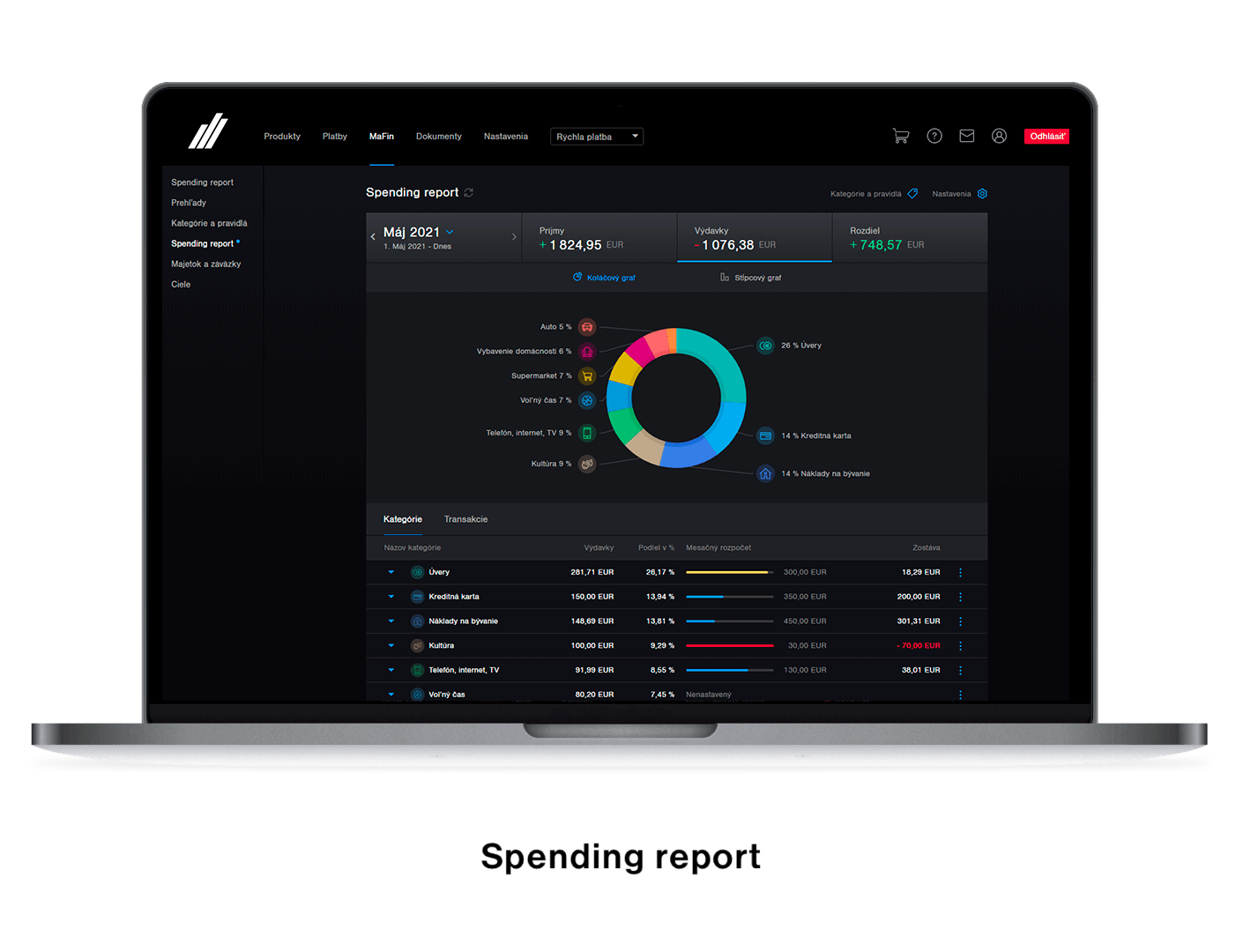 Functionalities offered by Internet bankingTB
Internet bankingTB from Tatra banka is literally packed with functionalities making your life easier:
Overview of accounts and account transactions,
display of balances and product development in graphs,
transactions export to PDF, CSV, TXT and XML formats,
monthly PDF statement,
domestic and foreign payments,
template management for domestic payments,
management of predefined domestic and foreign recipients,
bulk order,
standing orders,
credit card payments,
account and card notification management (b-mail service),
overview of term accounts,
management of deposits in Euro – i:deposit,
loans – information on selected types of loans,
online management and details of credit and debit cards,
SPS – a list of funds and the possibility of increasing the supplementary pension savings,
Mutual fundsTB – option to save or invest,
Spending reportTB – graphic overview of income and spending,
overview of assets and liabilities,
financial Goals for a better life,
document box,
contract documentation,
ReaderTB (ČítačkaTB) app activation
overview of mobile devices with applications Tatra banka and ReaderTB with the possibility of disabling,
management of browsers with a paired PIN for login with the possibility of disabling,
manage security settings for login and payments,
access consent management for third party applications.
Are you an entrepreneur? Use functionalities according to your needs:
request Internet bankingTB service – active without limit for a selected account at any Tatra banka branch,
set up the ReaderTB (ČítačkaTB) app in your mobile phone or activate the Card and ReaderTB to confirm payment orders,
define signature authorizations for the account in the Tatra banka branch and thus get the possibility to enter limitless payments with checking the account authorizations, sign payments with two signatures and import batch payments and generate statements for accounting.
Payment limits
Set your payment limits via Internet bankingTB according to you. You have three types to choose from:
3 000 EUR per accounting day and 30 000 EUR per month without additional authorization set
30 000 EUR per accounting day and 300 000 EUR per month, additional payment authorization is always required by the ReaderTB (ČítačkaTB) in mobile application or by the Card and ReaderTB
unlimited payments, activation in the branch is required with the definition of signature samples on the account and always additional authorization of payments by the ReaderTB (ČítačkaTB) in mobile application or by the Card and ReaderTB
In accordance with the legislative requirement for strong authentication, the maximum amount of an individual payment that can be made without additional authorization is 500 EUR. The above also applies when choosing the first option.
If you use a PIN to log in to Internet banking and you do not have an additional payment authorization set up, you do not need to confirm the Card and ReaderTB for payments over 500 EUR, you only need a PIN. The maximum payment limit that can be confirmed with a PIN is 3 000 EUR per day.
The stated limits do not apply to the case where the authorization means were allocated on the basis of the Agreement on the allocation and principles of the use of identification, authentication and authorization means concluded through a mobile application or Internet banking. In this case, the daily limit is 3 000 EUR per accounting day and EUR 30 000 EUR per month, regardless of the authorization tool used.
There is a valid limit of 3 000 EUR for placing standing orders, regardless of the option chosen, taking into account the date of the first payment and the date of payment selected.
MaFin - get an overview of your finances
Innovated Spending reportTB
The upgraded Spending reportTB will automatically categorize your income and expenses into the appropriate categories. Spending reportTB is available for Account for blue planetTB and credit cards.
Benefits
categorization of expenses and income on the basis of labels indicating the type of transaction
possibility to choose your own beginning of the month, the day of the month from which the monthly expense report will be recalculated
the ability to set the icon, color and budget for each category
clearer graphical display and interactive bar graphs
Goals
Set short-term or long-term goals via Internet bankingTB and meet them much easier. Choose from a menu of preset destinations or create your own. We will help you estimate the target amount and determine the amount of monthly savings. You can then assign your products to the goal in Tatra banka, in another bank or any other product or property. You can view them in the form of a list or on a timeline. You can also add them to your home page (dashboard), thanks to which they will be visible every time you log in to the Internet bankingTB service.
Assets and liabilities balance
Assets and liabilities balance clearly displays all assets and liabilities that you have in Tatra banka, with several graphic display options. In addition, it offers you the opportunity to register financial products held outside Tatra banka, or other own assets and liabilities, which will give you a better overview of your overall financial situation.
Frequently asked questions
---
www.tatrabanka.sk | Dialog: *1100 | Tatra banka a.s.
https://www.tatrabanka.sk/en/personal/account-payments/internet-banking/