Open Investment savingsTB to Mutual FundsTB
via mobile application or Internet bankingTB
Effective finance management
On this page, we bring you a few tips and useful tips
on how to take care of savings more efficiently and keep your personal finances under control.
How to manage personal finances as efficiently as possible?
How to create a financial reserve?
When and how to invest?
What solutions to choose?
Here are some tips on how to do this:
Think of yourself first and always set aside some of the funds you have left after deducting your monthly expenses.
Create a short-term financial reserve to cover planned expenses in the near future, such as holidays, term insurance, annual bills for housing, car service and possible repairs, but also to cover unexpected events, such as temporary loss of employment, etc.
Invest regularly. If your financial situation improves, increase the amount of your regular investment accordingly.
Use several solutions, taking into account the possibility of tying your funds in order to be as efficient as possible. Consider the most advantageous options for their appreciation and spread the funds into long-term, medium-term and short-term. If necessary, you will not have to reach for longer-term resources and terminate them prematurely, which could be disadvantageous, but you can let them continue to work. You will be able to ensure the need for funds from short-term sources, for example.
Use the time to your advantage. Even with a lower amount of regular investment, which has a time advantage, you can do more than if you start investing later in higher amounts.
Take care of your savings
To maintain a comfortable life, it is important not to spend all the money and savings, but to spend some of them and invest profitably. Make the most of the savings left over from the financial reserve by investing them more effectively. Investing will help you maintain and raise your current standard of living in the future. At the same time, you can protect your own funds from the negative impact of inflation.
Always have a financial reserve in place
In the first step, before the actual investment, it is good to have a sufficient financial reserve set aside. A stable financial reserve represents a part of your funds that you have at your disposal at any time and quickly. It will help you cope with unexpected life situations without having to reach for your investments. They can work in your favor and value your savings.

The financial reserve should be at least three to six monthly incomes

The security of the financial reserve and its stability are also important
Sufficient financial reserve of at least the amount of your 3-month income provides greater comfort, protection against unexpected situations and at the same time facilitates further decisions about longer-term but more effective valuation of savings, in order to maintain or increase the current standard of living.
--- WJdocId-58232 ---
income surplus as a basic prerequisite for creating savings (long-term reserves)
a financial reserve that adequately covers your expenses in the event of a lack of income
credit stability - an adequate amount of loans and repayments, with respect to assets and regular income
insurance of risks to secure family and property in times of unexpected crisis situations
regular retirement savings, as a source of income for the future
Take into account the impact of inflation on your savings
Inflation over time threatens the real value of savings. If money and savings are not further valued, they can lose their value significantly over time due to inflation. Simply put, with today's money you will be able to buy less in the future than you can buy at present. The price of products and services usually rises from year to year. If you do not take this into account when caring for your money and savings, your current standard of living may fall sharply in the future.

The value of your medium- and long-term funds should grow at about the same rate as the prices of goods and services rise

In the euro area, inflation of around 2 % per year is to be expected
An illustrative example shows the impact of 2% year-on-year inflation on 10 000 EUR over time.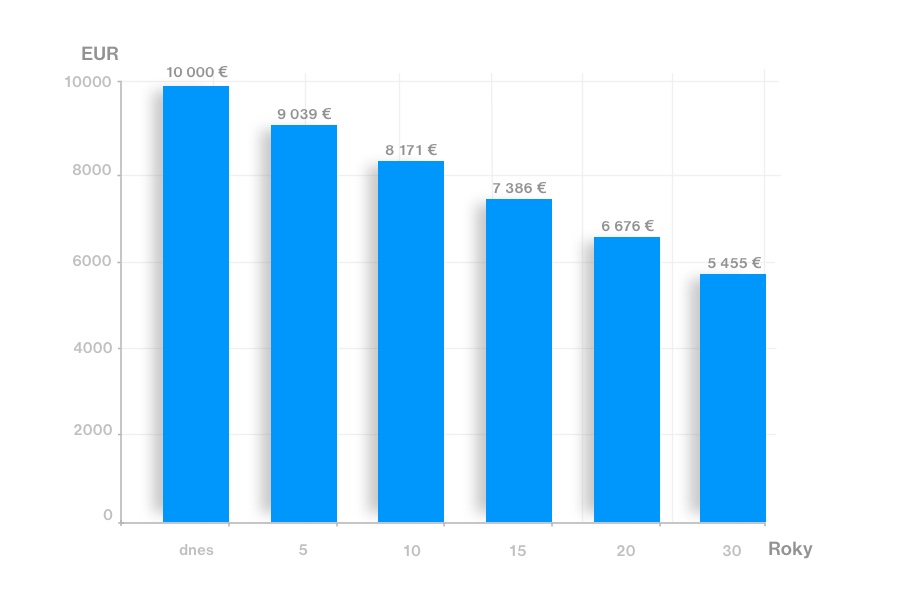 Invest
Investing is available to everyone today. Depending on your current financial possibilities, you can always decide whether to invest once or regularly. It is important to start. Even in small amounts, you can gradually build up financial assets thanks to investment savings so that you do not have to limit yourself and lower your current standard of living in the future. By investing regularly, you gradually build financial independence and take advantage of several benefits of regular investing, such as interest income and cost averaging.
The sooner the better
The sooner you start investing, whether regularly or once, the more effectively you use the potential of your savings and investments. In this case, time is working in your favor. Start gradually building your financial stability and independence.
Let's take an example of how time can play in your favor. The sooner you start, the less you need to invest regularly and strain your monthly budget. The later you start, the higher the regular investment needed to achieve the same amount of appreciation. An illustrative example shows and compares the amount of regular investment needed to reach a saved amount of 10 000 EUR with regular investment on a monthly basis over a period of 5, 10 and 20 years.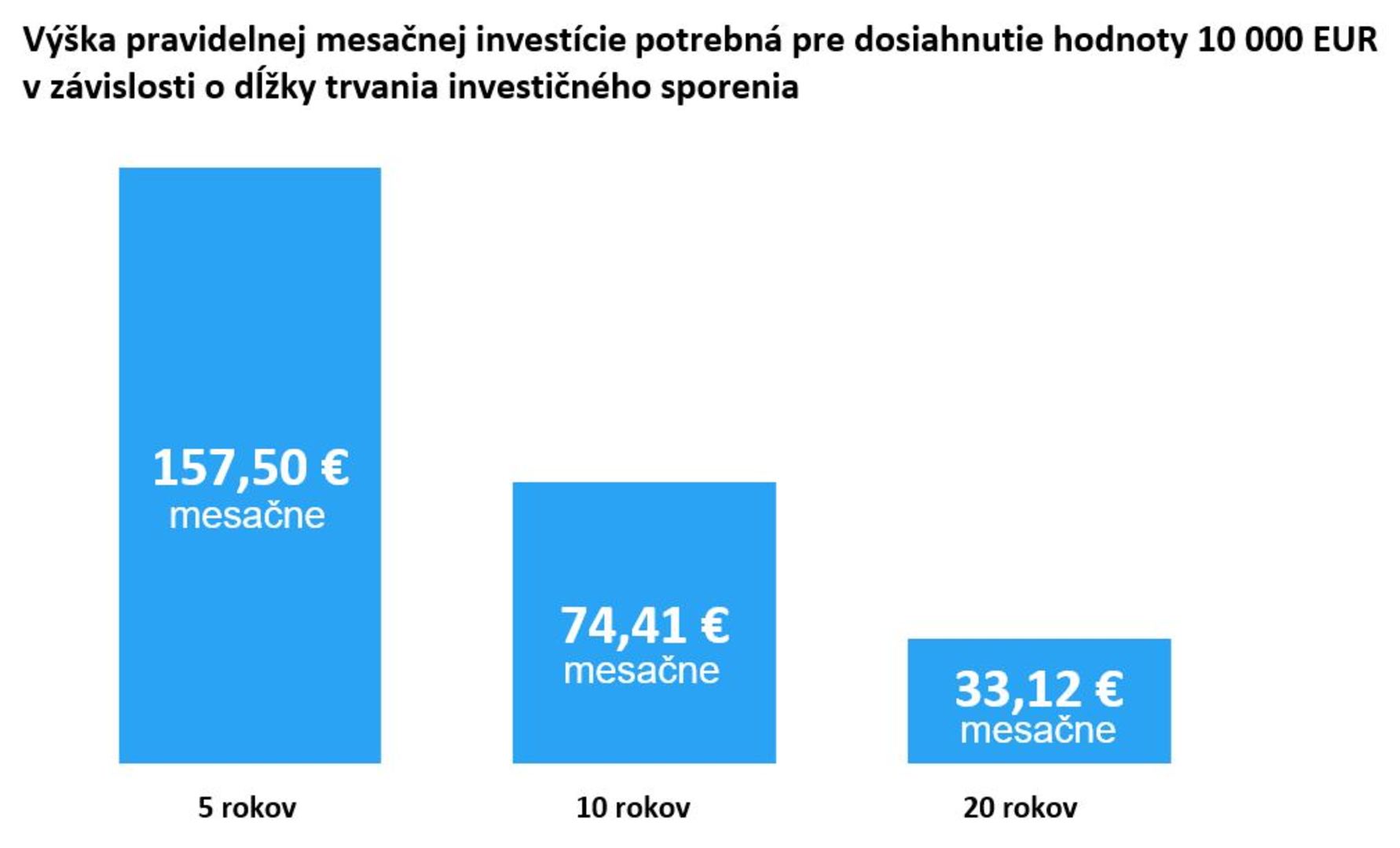 The calculation assumes an appreciation of 2.23 % p. a. and making a regular investment at the beginning of each month. The calculation does not take into account the effect of year-on-year inflation over time.
Learn more about Investment savingsTB.
The benefits of long-term investment savings over time
Another example shows the benefits of longer-term regular investment. Even in this case, time plays in your favor. The chart shows and compares the amount saved and the expected return on regular investment on a monthly basis for periods of 5, 10 and 20 years.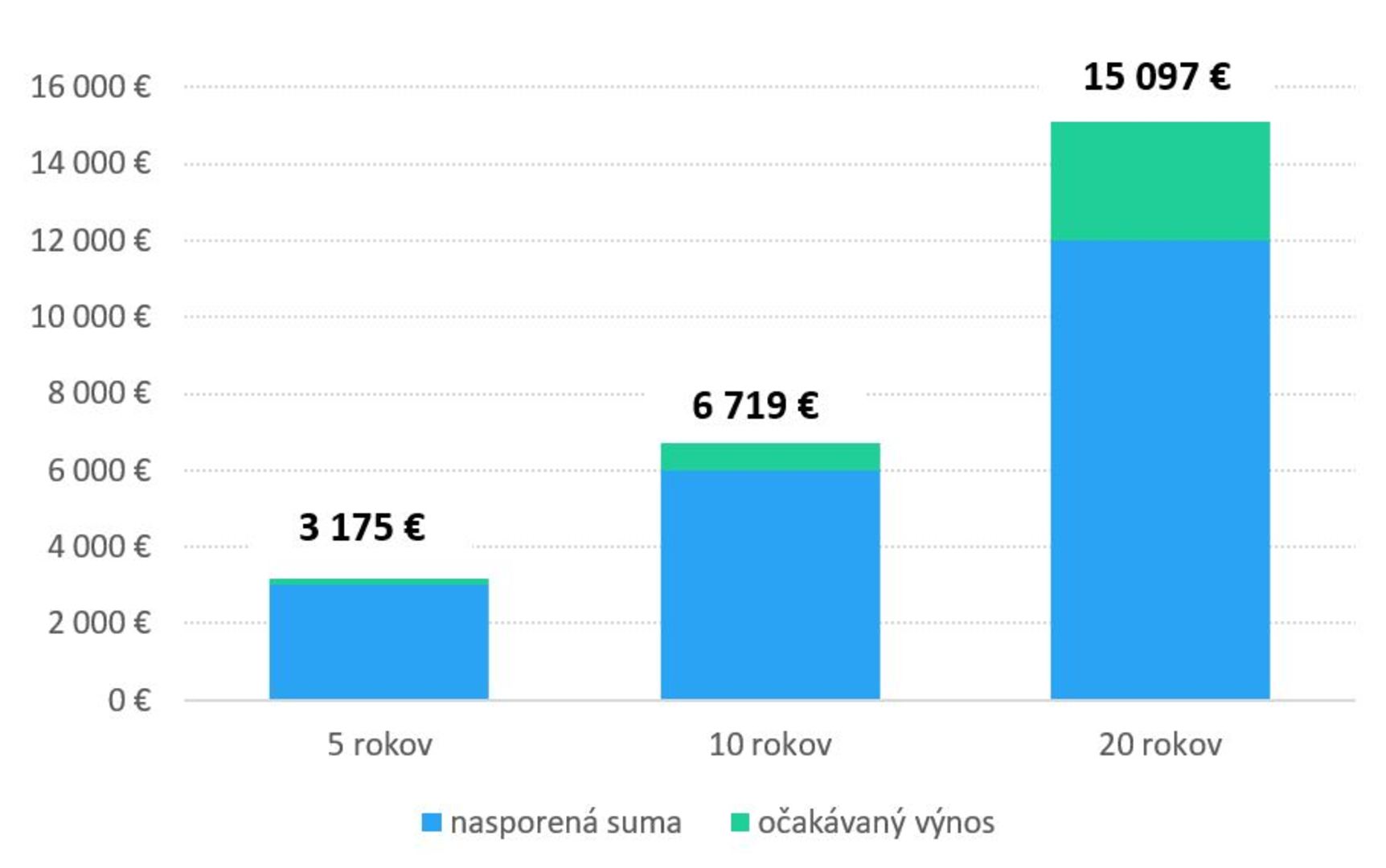 The calculation assumes an appreciation of 2.23 % p. a., which corresponds to a mutual fund from the growth strategy and the implementation of a regular investment of 50 EUR at the beginning of each month. The calculation does not take into account the effect of year-on-year inflation over time.
Plan your investments according to your time needs
Each of us has several goals that we try to fulfill by investing. Whether it is quality housing, a nice car, a holiday, securing your children and enabling them to study at a good school or university, ensuring a satisfied pension for the future, as well as many others. These goals can have different time aspects. Plan during which time period (until when) you want to achieve the goals. Then spread your savings across multiple products to cover both short-term, medium-term and long-term investment goals. When making a decision, also pay attention to the comfortable level of risk, which you are willing to accept as a price for the possibility of achieving higher returns.
Setting and tracking goals is the key to achieving them successfully. Set financial goals for your products in Tatra banka or another bank and monitor their fulfillment. You can set everything up quickly and easily thanks to the Tatra banka application, which will make your life easier. Join satisfied clients using the benefits and availability of digital access and log in to the Tatra banka mobile application.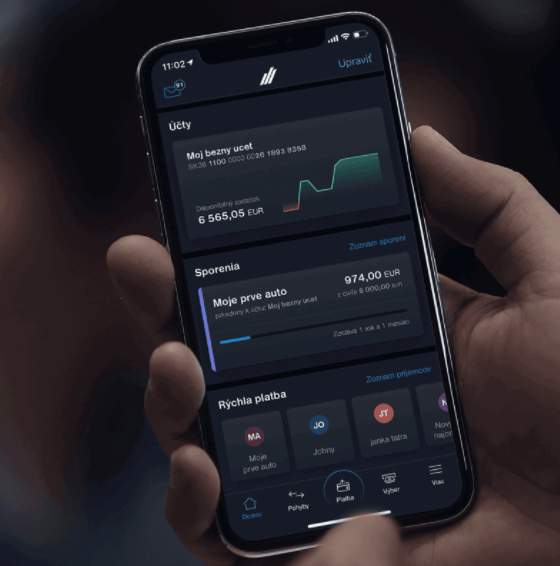 Choose from our range of solutions
Invest in mutual funds from the largest Slovak management company
company and treat your savings to professional care.
Find out about other options for investing in securities and ongoing issues.
Contact us
Would you like to value your savings more efficiently, but you don't know how?
Contact us and we will be happy to advise you on choosing a savings or investment product to best suit your goals and needs.
Arrange a personal meeting and get an overview of the possibilities of valuing your savings.
Send us your contact and we will call you.
Advantages of investing with Tatra banka
Professional care for your money
Do you not have sufficient information resources, technological or professional background or simply do not have enough free time to take care of your savings full time? Take advantage of our many years of experience, the know-how of the international banking group RBI and our presence on the capital and financial markets. Invest comfortably and safely.
Wide range of investment solutions
We have solutions for you, whether you are a less experienced or a long-term investor with previous experience, more conservative or dynamic.
A modern way of investing
Tatra banka's investment products are designed with regard to current trends in order to offer their investors the best of the world of investment, with the assumption of an attractive return on investment. We offer solutions that aim to make it easier and help you meet your needs, goals and dreams faster and more efficiently.
Transparency, clarity and security
You always have information about the current value of your investment and its current composition. You know exactly where your money was invested.
Information conveniently also in digital form
Thanks to Internet bankingTB and the mobile application Tatra banka, you always have information about your investments at hand.
We will be happy to help you with your selection
Tatra banka's investment specialists with many years of experience, knowledge and expertise will be happy to help you choose a suitable solution. We are here for you every day at Tatra banka branches as well as 24/7 at the DIALOG Live contact center.
Even a small amount is enough for you to invest
Thanks to investment savings, access to global financial markets is available to virtually everyone. Even with small amounts, you also have the opportunity to invest in stocks, bonds, real estate, commodities and other assets from reputable companies and discover an attractive world of investing.
Investment savings
By investing regularly, albeit at a lower amount, you will save gradually and with lower risk thanks to cost averaging, you can achieve the fulfillment of your dreams. You have a dream vacation, a renowned school for your children or a better pension at your fingertips.
Warning
There is also a risk associated with investing in a mutual fund and past performance is no guarantee of future performance. Analyzes prepared with professional care were used in the preparation of information on the expected assessment. As there is risk and uncertainty about future developments, there is no guarantee that expectations and estimates will be achieved and that expected performance will be achieved. The expected return on investment in mutual funds used represents the median realistic estimated return by the management company Tatra Asset Management, správ. spol., a.s., on the basis of the expected composition of the mutual fund within the growth strategy and as well as on the basis of the estimated ten-year return of individual asset classes in which the selected fund can invest within the growth strategy, without taking into account the future tax burden. The expected appreciation is after deduction of interim fees in terms of key information for mutual fund investors within the growth strategy. The Articles of Association, sales prospectus and key information for mutual fund investors are available at Tatra banka branches, a. s. in Slovak language.
Open Investment savingsTB to Mutual FundsTB
via mobile application or Internet bankingTB
www.tatrabanka.sk | Dialog: *1100 | Tatra banka a.s.
https://www.tatrabanka.sk/en/personal/savings-investments-insurance/effective-finance-management/