Current account with the
Tatra PersonalTB service package
Create a new account through the Tatra banka app. Thanks to Face biometricsTB, we will quickly and securely verify you*.

Open a current account with Tatra PersonalTB service package via the Tatra banka app now and get it for 12 months without an account maintenance fee. Read the detailed terms for the offer.
*To open a bank account via app and Face biometry, you need a valid Slovak citizen ID.

Card immediately or delivery by courier directly to you

User-friendly Internet bankingTB

Most award-winning mobile banking in the SR

Free or discounted thanks to Reward ProgramTB
Benefits of the Tatra PersonalTB current account
Open an account with a service package, with which you automatically get:
access to your account via award-winning Tatra banka mobile app or Internet bankingTB,
unlimited cashless payment transactions via Internet bankingTB, Tatra banka mobile app, VIAMO and MobilePayTB,
unlimited number of cash deposits and foreign currency withdrawals in Tatra banka branches,
unlimited SEPA direct debits and standing orders within the SR,
unlimited number of cash withdrawals from ATMs of Tatra banka and also withdrawals abroad from ATMs of Raiffeisen Bank International AG,
unlimited number of electronic statements, with number and frequency chosen by you,
unlimited cashless payment transactions in CZK (Czech crowns) via Internet bankingTB to the accounts of customers of Raiffeisen bank Czech Republic.
Unlimited payments via Google Pay and Apple Pay.
Get 50 to 100 % discount on your account management fee
The maintanace fee for account with Tatra PersonalTB service package is 7 EUR. Thanks to the Reward ProgramTB, however, you can get a 50 % to 100 % discount on the fee. The amount of the final discount depends on the combination of your age, the active use of innovations and the number of product categories you have set up in the Tatra banka.
Calculate your account maintenance fee
Enter your age here
years
Are you a full-time student?
How many times a month do you use innovations?
Cash withdrawal from an ATM using the Tatra banka mobile application.
Making a payment using the Tatra banka mobile application.
Sending money to a phone number using the Tatra banka VIAMO application.
Payment online using a one-time card number using the Tatra banka or MobilePayTB application.
Do you have a product in Tatra banka belonging to one of these product categories?
Supplementary Pension SavingTB
Mortgage repayment insurance
Business account/Self employed accountTB
Content of Tatra PersonalTB with service package
With your account with the Tatra PersonalTB service package you are automatically getting:
instant contactless debit card VISA Electron,
optional overdraft
Account savingsTB with three saving methods
With your service package Tatra PersonalTB you can:
pay contactless with your smartphone with a Visa debit card thanks to Google Pay/Apple Pay
always have an overview of your expenses thanks to the Spending reportTB features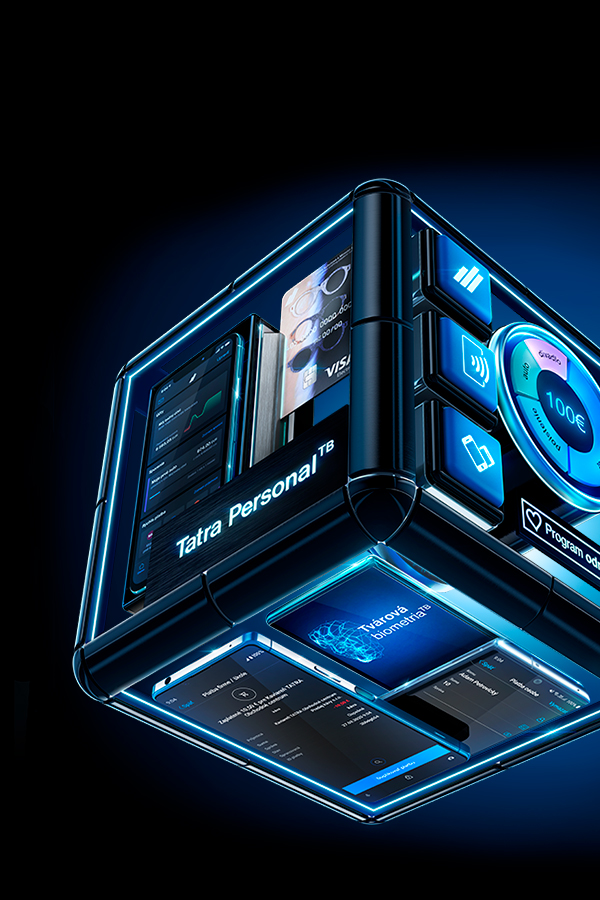 Push notifications about account transactions
Push notifications serve to alert the user to an important event even when they are not using Tatra banka application. They appear on each device on which the app is enabled. Messages or notifications contain information about the deposit or withdrawal from the account, the amount and the currency of the transaction, and the last 4 digits of the account number.
Advantages of push notifications about current account transactions
They allow you to click directly into the app to get more detailed information about the transaction
You do not have to delete them as SMS because they are not stored on your mobile device
Changing the way you are receiving messages from SMS to push notifications is easy
You can set up push notifications on your bank account transactions via Internet bankingTB and Tatra banka mobile app. In both applications, open the menu after signing in and select the B-mail tab in Settings. Select PUSH notification as a way to deliver a message.
How to get Tatra PersonalTB
Open your new bank account with a service package Tatra PersonalTB easily through your mobile app. All you need is your slovak ID card.
Current account transfer
Transfer your account and enjoy the unlimited.

Open a curent bank account with Tatra banka
Request a transfer of your account at a Tatra banka branch
Everything else will be arranged for you
www.tatrabanka.sk | Dialog: *1100 | Tatra banka a.s.
https://www.tatrabanka.sk/en/personal/account-payments/current-account/