Special offer
If you invest in Mutual fundsTB or open Investment savingsTB in them until September 30, 2023, you will have them forever without entry or exit fees.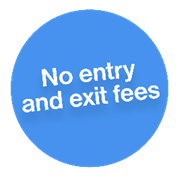 Mutual FundsTB
Invest in the mutual funds of the largest Slovak asset management company
and treat your savings with professional care.
What are mutual funds?
The road to revenue. Higher returns are achieved in the financial markets than in ordinary deposit products. Mutual funds are the easiest and most popular way to get there.
Professional care for your savings. Millions of people around the world use mutual funds to make their savings more thanks to professionals who constantly take care of them.
Save your time. Don't have time to worry about your money? Thanks to mutual funds, you can pursue your hobbies, family... And we will take care of the rest.
Why invest
to mutual funds?
If you want to get better, you should value your money. Mutual funds can easily help you with that.
Protection against inflation. You definitely want to buy at least 5 years for your savings, at least what you buy for them today. Remember that prices are rising in the long run. Is the value of your savings also growing?
Investing is a good way to value money. However, doing it on your own is extremely challenging. Thanks to mutual funds, really anyone can easily invest.
How to invest?
Regularly and for a long time. If you want to increase the value of smaller amounts on a regular basis, choose Investment SavingsTB. To invest larger amounts, you can use an extra payment to Investment SavingsTB or a lump sum investment.
When funds fall, they are cheaper at the time and bring more interesting returns when they grow again. You buy in declines, you earn in increments.
Give your money enough time to earn more. The recommended investment period is at least 5 to 10 years. The longer you invest, the more interesting the return you have.
Calculate how inflation has devalued
your money in the current account:
Inflation Calculator
on the current account since
Now the purchasing power of your savings is only**
How to beat inflation?
Thanks to Mutual FundsTB, which you can safely obtain through Investment SavingsTB or a lump sum investment of a larger amount.
Don't leave your savings in current accounts where they lose their fair value. Instead, invest them where they can grow. Open Investment SavingsTB or invest a larger amount and keep fair value with your money.
*Money you have in a current account, savings account or money deposited at home with a 0% annual interest rate.
**The amount for which you could buy the same amount of goods in the past as you can today for the total amount of savings. The calculation took into account the actual inflation in Slovakia in the years 2000 to 2022 according to the ŠÚSR.
Are you still hesitant?
View the performance of each fund in the fund results.
Need more information?
Leave us your phone number and we will call you.
Disclaimer
Risk is associated with investing in a mutual fund. The Statute, Sales Prospectus, and Key Information Document of mutual fund are available at Tatra banka, a. s. branches in Slovak language.
Blog and News
We have been moving the world of investment for over 28 years.
Blogs
The key to success is choosing the right fund, not to panic at times of decline and give your investment enough time
Blogs
How can Einstein's genius help your money?
Tips and tricks
Send an extra payment at any time in any amount
www.tatrabanka.sk | Dialog: *1100 | Tatra banka a.s.
https://www.tatrabanka.sk/en/tam/mutual-funds/